Orbit B-HYVE 6 Station WiFi Outdoor Controller
Zones: 6 (fixed)
Enclosure Type: Outdoor
Power Source: AC Powered
Features & Benefits
Putting Smart in your Smart Yard
The B-hyve Sprinkler Timer allows you to water-smart by helping you make watering decisions based on the ecological needs of your yard while giving you the freedom to control your watering from anywhere with your smartphone.
Easy-to-Use App
The B-hyve app allows you to completely program and control your timer straight from your smart device. Additionally, B-hyve connects to local weather data giving your landscape the exact amount of water that it needs.
WeatherSense
Smart WeatherSense receives local weather data and automatically adjusts your controller to deliver the right amount of water to your plants. It does the work - allowing you to sit back and enjoy the results.
Water From Anywhere
The B-hyve WiFi timer allows you to control your timer from anywhere with a cell or internet connection. So whether you're in the garage, the comfort of your bed, at work, or half way around the world, you can monitor and control your sprinklers as if you were right next to the timer.
B-Hyve 6-Station Smart Wifi Sprinkler Timer
Adding to its legacy of top-of-line controllers, Hydro-Rain is pleased to announce the addition of our most intuitive, feature-rich controller to date. The HRC 400 Wi-Fi combines the easiest to program the controller on the market with the remote capabilities of Wi-Fi. But not to worry, for locations without Wi-Fi, contractors can use Bluetooth on their phone to set-up the controller or just simply use the intuitive interface to program the controller.
A great controller for replacement applications, the HRC 400 Wi-Fi is available in 8 and 16 stations to cover most residential and light commercial applications. For site managers and professionals, the multi-site management feature allows you to access all of your HRC 400 Wi-Fi connected controllers from your phone. Simply pick the controller you need to connect with from anywhere in the world and you have the controls. No more driving to job sites to change a run time or watering day.
And there's more! You can set up the schedule or let the controller do it for you. We've integrated the award-winning catch cup application right into the controller app! Once you enter your catch cup results, the controller will program itself based on those results and automatically adjust for seasonality. A rain sensor can be added to interrupt watering during rain events, or the weather feed can automatically adjust watering to prevent water waste.
The HRC 400 Wi-Fi builds on the easy programming & reliability of the HRC 100, offering all of the features you've come to love and so much more! The revolutionary dial on the HRC 400 Wi-Fi makes programming at the controller faster than ever.
The age of the Wi-Fi controller has arrived with the HRC 400 Wi-Fi!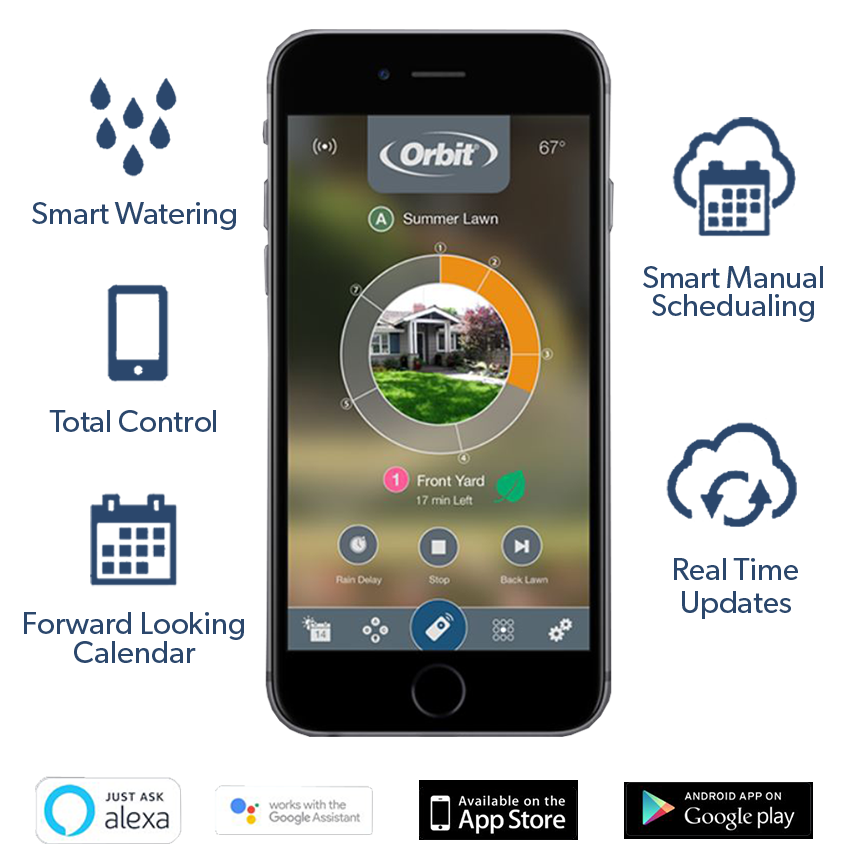 *Phone not included
Product Details
Built for Speed Advantages
Fast & Intuitive Programming - Large display and an easy turn and select dial make for a simple efficient programing process at the controller. Bluetooth and Wi-Fi app access via smartphone offer even faster programming options.
Fast to Install - Eyelet center hanger, easy access knock out conduit ports, and essential mounting hardware included make installation simple and convenient.
Hinged Panel - Removable, hinge panel door allows quick and easy access to programming interface and wiring access.
Multi-Site Management - Control multiple devices from one mobile app or from your desktop.
Remote Control - Use the controllers Wi-Fi or Bluetooth based communication with your smart phone to manually control and or test each zone.
Built for Green Advantages
EPA Watersense Certified - Using the HRC 400 WiFi Smart programming feature can save up to 50% on your landscape water usage.
Irrigation Audit App Integration - HRC 400 Wi-Fi integrates a catch cup audit and site data with Hydro-Rain's award-winning audit application. This integrated audit combined with cloud based weather data customizes and implements a watering schedule just for your location and landscape.
Site Control/Shared Access - Save resources by not having to send a service truck across town to adjust a clients controller. Water history, upcoming calendar, and programming schedules are all available online.
Rain Delay - Rain sensor bypass technology allows manual or automatic rain delay of 24, 48, 72 hours, or 4 to 32 days.
24 Volt Out Rain Sensor Terminals - Make installation of a wireless rain sensor receiver quick and convenient.
Cycle and Soak Watering - Prevents run-off and provides optimal watering options for different soil types, slopes, and plants.
Three Programs - Programs A, B and C offer multiuse and flexible watering schedules by days of the week, even or odd days, or at intervals of 1 to 32 days.
4 Start Times Per Program - Flexibility to manage schedules for variable plant requirements and soil types.
Program Data Safely Stored - Power out? No worries! All programming information is stored with battery backup.
Manual Advance - One-button station affords convenience of quick select and advance during manual watering.
Indoor/Outdoor UL® Cabinet - Weather tight and locking for safety, security and peace of mind.
Three Year Unconditional Parts Warranty - HydroRain® warrants that its product will be free from defects for a minimum of three years from the date of purchase.
Operating Specifications
Station Timing: From 1-240 minutes.
Automatic Starts: Up to 12 start times per day.
Programming Schedule: Days of week, watering intervals and odd/even days.
Rain Delay: Setting for 24, 48, 72 hours, or 4 to 32 days.
Water Budgeting: Adjusts for seasonal watering demands (10% to 200% in 10% increments).
Electrical Specifications
Transformer Output: 24VAC/26VAC, 1 Amp.
Battery Backup: 3V lithium (program saved in nonvolatile memory).
UL/CL: Approved.
Wire Terminals: Angled for easy wiring.
Protection: Built-in fault and surge protection.
Technical Specifications
App Compatibility: iOS - iPhone, iPad and iPod Touch running iOS 8 and higher. Android - Android version 4.3 and higher.
Smart Home Compatibility: Amazon Alexa
Zones: 6 or 12
Size and Weight: Length 3.75" (9.5cm) Width 9.375" (23.8cm) Height 8.625" (21.9cm) Weight 3.7 lbs (.45kg)
Power Requirements: 120V AC/60Hz Input 24V AC Output 5 ft. Power Cord UL 1951 Approved
WiFi 2.4Ghz
Sensor Add-ons Supports Most Rain/Freeze Sensor
Master Valve/Pump Relay Support Yes
Warranty 2 Years
Enclosure Locking Indoor/Outdoor
EPA/Watersense Approval Yes
Browse 3 questions
Browse 3 questions and 4 answers
How do you set this controller to run multiple zones at the same time? I have a few zones that are much smaller than my other zones, I usually run them at the same time as one of my other larger zones with no problem. However with this controller it only runs one zone at a time. This causes high water pressure on these smaller zones and my sprinklers are now going nuts. Not to mention working the pump harder.
can this product be operated directly and not necessarily by a smart phone app?
BEST ANSWER:
Yes. It has the controls built into the unit and does not require a smart device to operate it. We really like this controller and the cost was perfect. We do use it with phone app and that works flawlessly as well. Great choice.
Wayne S

on May 10, 2020

Purchased on Apr 12, 2020
Can I use this timer to replace my old hunter timer?
BEST ANSWER:
Yes. It may require new mounting holes however
D J

on May 10, 2020

Purchased on Apr 22, 2020
We found other products you might like!