DIG Two-Dial Hose End Timer
Zones: 1 (Fixed)
Power Source: DC Powered
Max Station Run Time: 4 hours
Features & Benefits
The B092A 3/4" Two-Dial Hose End Timer has joined DIG's innovative and rugged line of battery operated controllers and timers, offering simplified programming and improved monitoring of battery power for reliable operation. With a higher flow rate at lower inlet pressures and a range of simple programming features, the B092A delivers a reliable and cost-effective solution for residential uses.
The timer has up to four start times per day with a two minute to four hour programming duration and an operating flow range of .1 to 6.3 gallons per minute for use in a wide range of applications, including drip irrigation or micro sprinkler systems connected to a garden hose or faucet/spigot. It uses one 9-volt alkaline battery that can last for up to one year.
3/4" in FHT inlet and MHT outlet
Watering duration from 2 minutes to 240 minutes
Eight watering intervals ranging from every six hours to once per week
Low battery auto lock out to ensure the timer cannot open unless it can close
Low energy use (less than 20 micro amps in standby mode) ensures long battery life
Easy manual operations using a single button
High water flow at normal water pressures
Operates on low water flows of less than 0.5 GPM
14% of higher flow at 30 PSI
High strength female hose thread connection with easy removal via spring clip
Powered by one 9-volt alkaline battery with battery life up to one year
Weather resistant
Three year limited warranty
Flow rate up to 6.3 GPM at 30 PSI (24 L/PM at 2 Bar)
Temperature range: 40°F to 125° F (3° C to 50° C)
Operating pressure 10 PSI to 80 PSI (0.6 – 5.5 Bar)
Power source: 9-volt alkaline battery (not included)
Solenoid: durable electric motor
Power consumption 20 micro amps in standby mode
Materials: body ABS and inner parts of high-impact plastic
Dimensions: 6: in. D X 4: in. W x 6.5" in. H ( 15.2 cm X 10.0 cm X 16.2 cm)
Product Details
Programming Features
Eight pre-set watering durations from 2 minutes to 240 minutes
Watering frequency: eight watering intervals ranging from every six hours to once per week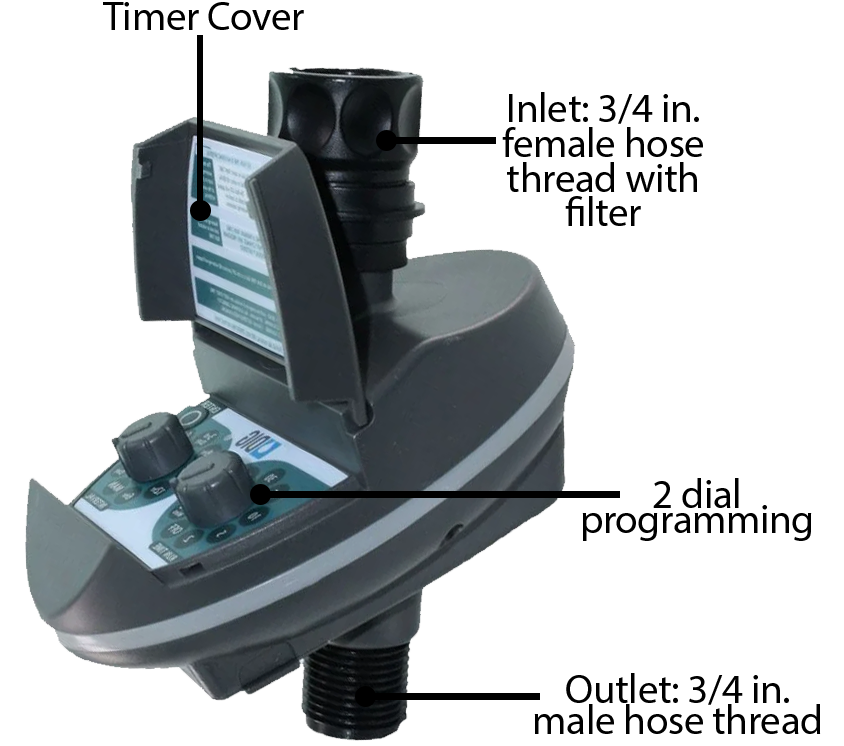 Max Station Run Time (HRS):
We found other products you might like!