EVO 100 Solar Powered Digital Hose End Timer (Tap Timer)
Enclosure Type: Waterproof
Power Source: Solar Powered
Zones: 1
Features & Benefits
DIG EVO100 is a Solar Powered Hose End Tap Timer with a 3/4 female thread inlet and male thread outlet. Power is derived via a patented, time-tested internal photovoltaic module and microelectronic energy management system that is fueled by the surrounding ambient light (solar). After being charged, this efficient energy system provides enough power for the timer to function at any time, night or day, and in any weather with no direct sunlight required. This energy system also makes the timer environmentally friendly, functioning only on clean, renewable solar power without the need for a backup battery or AC power.
The EVO 100 features a large, easy-to-read LCD screen and simple icon-based programming with weekly or cyclical programs, four start times per day, durations of up to six hours, program delay of up to 99 days, system off, manual operation and a sensor wire connection to accept a rain sensor.
Powered by a patented, time-tested internal photovoltaic module and microelectronic energy management system fueled by ambient light (solar)
Easy to install and program
Watering flexibility with a selection of watering frequencies and four start times per day
Seven buttons and an integrated large, high resolution screen
Easy-to-read LCD display with an AM/PM clock and icon-based programming for easy navigation
Blinking notification on days the hose end timer is active
12- or 24-hour time format
Non-volatile memory retains program integrity (excluding time)
Manual irrigation cycle can be performed via the manual program button
Quick-release faucet swivel adapter for easy programming, installation and removal
One button program off for easy irrigation suspension
Energy conservation feature automatically turns the hose end timer screen off after 15 minutes
Power level meter indicates the approximate charge (energy available)
Semi-automatic, automatic or manual operation
High flow diaphragm valve with DC solenoid available in 3/4" FHT inlet with screen and MHT outlet, or BSP thread
Easy rain sensor installation through external wire
Waterproof construction ensures reliable operation in harsh environments
Environmentally friendly and energy independent; utilizes RoHS compliant components
Three year warranty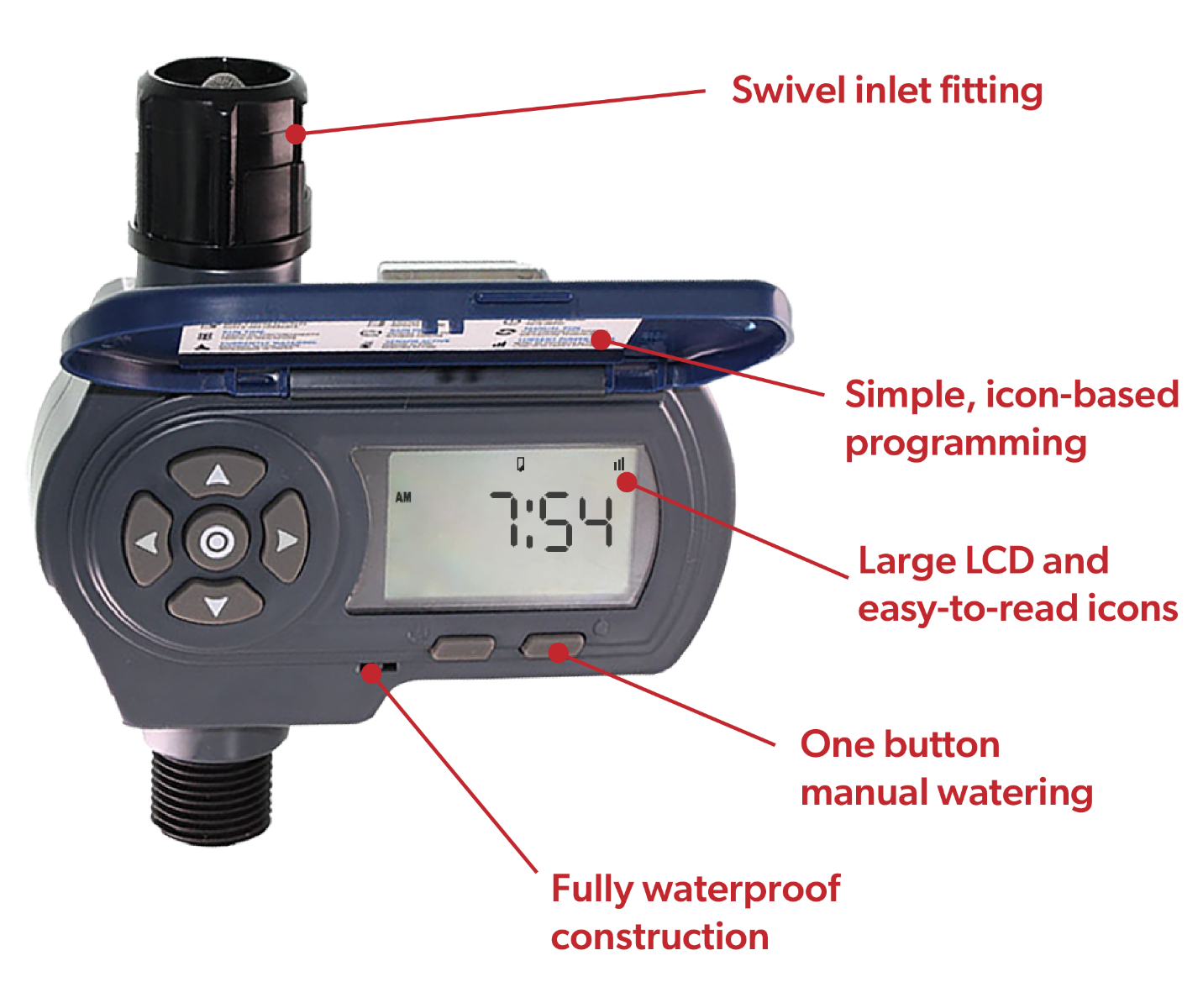 Product Details
Operating pressure: 10 to 100 PSI (.7 to 6.8 bar)
Flow range: .1 to 8 GPM (.38 to 30 L/H)
Temperature range: 38 - 130° F (3 - 54° C)
Connection: female hose thread inlet (FHT) x male hose thread outlet (MHT) or British standard thread for tap (BSP)
Power source: ambient light (solar)
Sensor connection: yellow wire for closed contact rain sensor
Power source: Ambient light (PVM)
Input: 3,000 - 100,000+ LUX
Sensor connection: yellow wire for closed contact sensor
Controller dimensions: 5.75" W x 6.76" H x 2.25" D (14.6 cm W x 17.1 cm H x 6.3 cm D)
Unit Weight including plastic clam shell packaging: 1.02 pounds (.47 kg)
UPC code: 840620100038
Materials: Timer housing: high impact plastic, Inlet valve and solenoid: glass reinforced nylon with stainless steel plunger and spring
Programming Options
Before programming, the EVO 100 will need to be charged for one to two hours in sunlight to get up to full power. Once its full though, as long as it gets around 10 minutes of ambient light per day, it will stay at full charge.
Watering duration: One minute up to five hours and 59 minutes set in one minute increments
Watering frequency: weekly or cyclical schedule with odd days, even days or intervals from 1- 30 days, utilizing a 365 day yearly calendar with leap year

In the weekly schedule, the hose end timer (tap timer) can be programmed to operate on any day of the week, such as Monday, Wednesday, and Friday
In the cyclical schedule, the hose end timer can be programmed to operate on odd days, even days, or at specific intervals such as every three days

Up to four start times per day in weekly or cyclical schedule provides added flexibility for any type of watering application
Rain off/delay option with automatic restart up to 99 days
Program off option stops program until reactivated
Manual cycle via the program with automatic shutoff option
Related Articles & Videos
Articles
Videos
Max Station Run Time (HRS):
Browse 4 questions
Browse 4 questions and 15 answers
How do you replace defective batteries? This is the only flaw I see...
BEST ANSWER:
Uses Clean Solar Power - Does not contain batteries.
The EVO 100 controller's innovative design and patented technology utilizes solar power by collecting surrounding ambient light and then storing this energy in internal, lead free super-capacitors.
It has a 3 year warranty.