DIG LEIT Solar Powered Controller with 1-1/2" Valve
Zones: 1
Expandability: Fixed
Enclosure Type: Waterproof
Features & Benefits
LEIT Controllers are an advanced "ambient light powered" water management irrigation control system. Power is derived by a time-tested, internal photovoltaic module and microelectronic energy management system that is fueled by ambient light (solar). This provides power to the controller in any kind of weather, anywhere in the world.
No backup battery or AC power necessary - uses clean solar energy.
Simple, icon based intuitive programming.
Operates drip or sprinkler system.
Daily and monthly programming complies with city and municipal watering restrictions.
Manual On/Off button opens the valve and shows the time left to run.
Waterproof and humidity resistant
Power level meter indicates the approximate charge (energy available).
On activation, the controller display indicates when a program is running and when any programming feature is active.
User reset option allows erasing of all programs to default settings except time, day and date.
Program On/Off button: allows the user to turn off the controller/ valve and reactivate it as desired.
Available valves from 3/4 to 2 in.
Non-volatile memory.
Rain sensor connection
3 year warranty
Uses Clean, Sustainable Solar Power
No batteries to change or replace
No direct sunlight required
No wires
Programming Features
Five start times per day provides added flexibility for any type of watering application including sandy or clay soil.
Valve duration up to 5 hours and 59 minutes in one-minute increments.
7 day programming schedule or 1-30 day intervals
20 Preset Historical ET programs with 10 climate zones, 10 for drip irrigation and 10 spray systems.
Rain delay up to 99 days with auto restart.
Monthly seasonal adjustment budget ( 0 to 200%) in 5% increments without modifying the controller's program duration; also can be used to fine-tune the preset ET program for each month.
In-line Valve Features
Flow control handle for water flow adjustment and manual shutoff.
Rugged, reinforced self cleaning diaphragm provides reliable operation even with contaminated water
High flow with low pressure loss
Internal bleed, manual override for manual On/Off.
Easy in-line maintenance
Non corrosive materials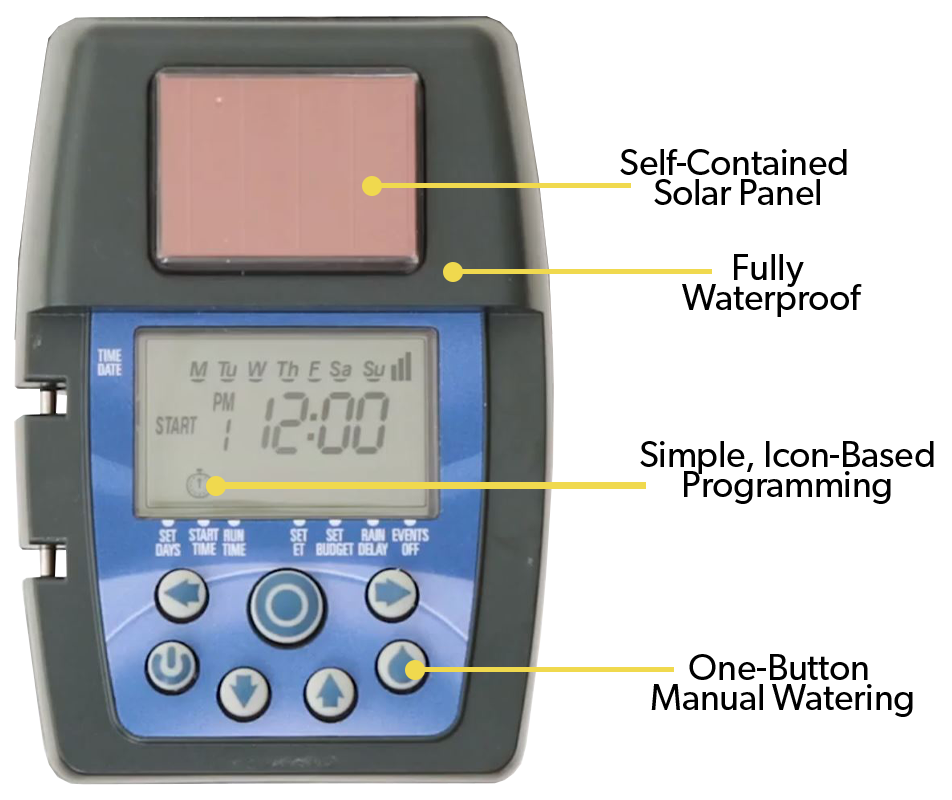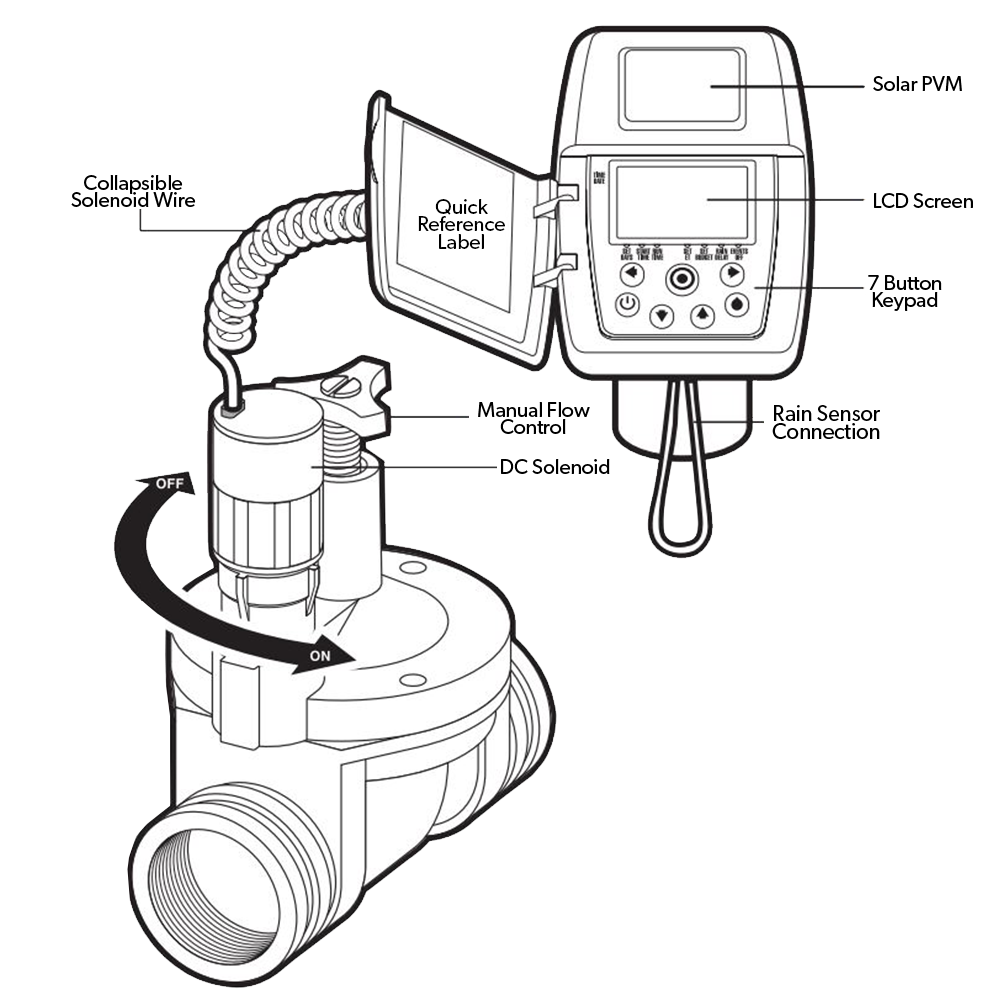 Product Details
Flow Rates:

3/4 in: .1-28 GPM (.23-6.4 m3/h)
1 in: 2-35 GPM (.45-8 m3/h)
1-1/2 in: 20-132 GPM (4.5-30 m3/h)
2 in: 30-160 GPM (6.8-36 m3/h)

Operating Pressure: 10-150 PSI (.7-10.5 BAR)
Temperature Range: Up to 170 ½ F (76.7 ½ C)
Body Style: Globe
3/4, 1, 1-1/2 and 2 in. FNPT Inlet and Outlet
Dimensions
Controller only: 4.214 in. H x 5 in. L x 3.6 in. W
Controller plus 3/4 and 1 in. valves: 8 in. H x 5 in. L x 3.6 in. W (20 cm H x 12.7 cm L x 15 cm W)
Controller plus 1-1/2 and 2 in. valves: 10.5 in. H x 8.5 in. L x 5 in. W (27 cm H x 22 cm L x 12.7 cm W)
Max Station Run Time (HRS):
Commercial, Light Commercial
Light Commercial and Commercial
5 Stars, 4 Stars , 3 Stars , 2 Stars , 1 Star
LEIT-1ILV-150 is a great device
I have a 3,000 gallon tank that is connected to three standpipes on separate fields. I can move my reel impulse sprayer around. When not irrigating, the standpipe valves must be kept closed in order to prevent siphoning water from the tank. I'm using this solar valve to supply siphon water to a simple drip irrigation system for lavender when I'm not irrigating. Works well, very programmable, great price.
April 28, 2018
Purchased
over 2 years ago
We found other products you might like!