Greenlee Wire and Valve Locator
(2 Day Rental)
Case Dimensions: 33.5 in x 8.25 in x 3.75 in
Battery: Eight D-cells and one 9 Vdc
Voltage: 750 Vpp, 285 V RMS
This product does not qualify for free shipping. When you check out, our system will appear to show, "Free Shipping", however, the actual shipping cost will be added to your rental fee upon return of the rental item.
Features & Benefits
At Sprinkler Warehouse, we understand that our customers come to us to find the highest grade products for their property. We carry top of the line wire and valve locators available from the leaders in the industry. No matter where you live in the U.S., you can shop the best selection of products for your sprinkler system.
We are proud to offer the new model 521A for your sprinkler valve locator rental needs. The upgraded model features several innovative benefits, including:
Loudspeaker listening capacity
Easy to operate wand locator
Uses D cell batteries
Adjustable rate of transmitter power
The model 521A is a highly rated irrigation wire and valve locator. It comes with a sensitive locating receiver, so even the buried valves and wires can be rapidly and accurately detected. We promptly ship your sprinkler valve locator rental or purchase anywhere in the country.
Greenlee's 521A Wire and Valve Locator is a universal troubleshooting and maintenance tool for electrically controlled sprinkler irrigation systems. It is capable of locating the wire path, depth, wire breaks, large nicks, and solenoid valves.
Related Articles & Videos
Articles
Videos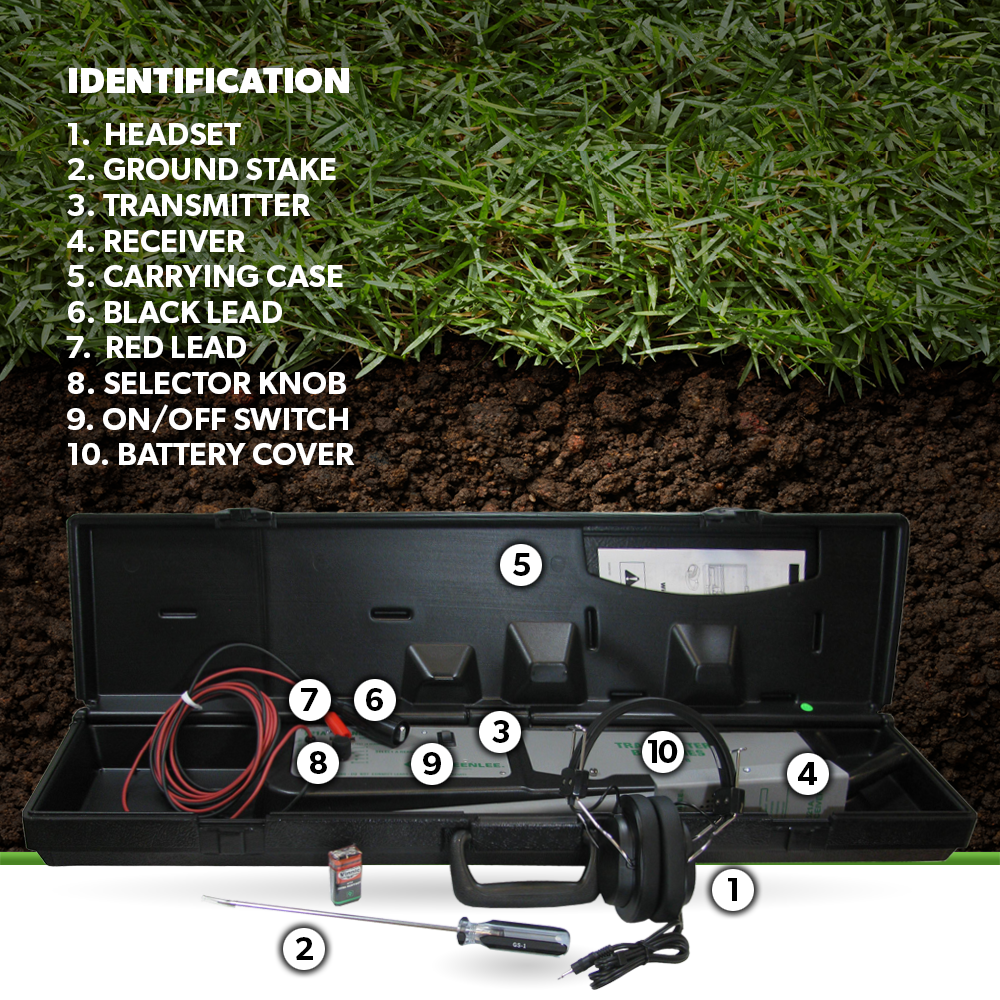 Product Details
High power transmitter offers extended long range and allows use on higher resistance wire paths
Adjustable transmit power allows you to select the best signal for maximum performance
Receiver provides adjustable loud speaker audio, headset audio and visual indications of signal strength
Long-nose receiver wand makes it easy for you to move along quickly to locate even the longest wire path
Valve solenoid hotspot signal makes pinpointing valves easy
Rugged headphones block ambient noise
Includes transmitter, receiver, headset, ground stake, and slim-line carry case
Battery-operated (eight D cell batteries and one 9 V included)
1 YR warranty
Automatic Shut-Off : 90 MINT For Receiver, Turn-Off Bumper For Transmitter
Battery : Eight D-Cells And One 9 VDC (Included)
Battery Life : Transmitter: 50 HR Nominal, Receiver: 100 HR Nominal
Dimensions : 33.5 (851 MM) Length X 8.25 (210 MM) Width X 3.75 (95 MM) Height Case
Transmitter Frequency : 1748
Transmitter Power : 750 Vpp, 285 V RMS
locater
Nice locater. Works for me for the price. others are more expensive and have used many.
July 18, 2019
Purchased
1 year ago
Browse 1 question
Browse 1 question
We found other products you might like!