Hunter I90 3" Rotor Series
Overall height: ADV/36V: 11"
Pop-up height: 3"
Exposed diameter: 3½"
Inlet size: 1½"
Features & Benefits
The I-90 is Hunter's longest distance rotor specifically designed for natural turf, parks, sports fields, and public areas. With a radius of up to 101 feet, the I-90 boasts the longest throw capability of all natural turf rotors. Yet, its reduced-size diameter and cushioned rubber cover make it the perfect choice for parks and wide-open lawn areas, as well as perimeter watering of athletic fields and horse arenas.
The rotor is also easy to service, with a "jar-top" body cap that allows quick access to the filter screen and check valve with no extra pieces, parts, or tools required. The I-90 is offered in two models: a full-circle opposing-nozzle version or an adjustable arc model, each with color-coded nozzles that can be field-changed to match the specific needs of any large site.
Opposing Nozzle 360° Model
The opposing nozzle design offers excellent water distribution. With primary and secondary nozzles on opposing sides of the turret, streams arc in opposite directions as the sprinkler rotates for outstanding mid-range and close-in watering.
I-90 Dual Trajectory Color-Coded Nozzles
All I-90 Series rotors have color-coded nozzles for easy identification and, the nozzle numbers approximate the flow in gallons per minute. Choose from the eight standard 22.5-degree trajectory nozzles or the eight 15 degree nozzles for low-angle applications.
Standard 22.5 degree trajectory nozzles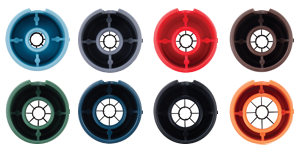 Low-angle 15 degree trajectory nozzles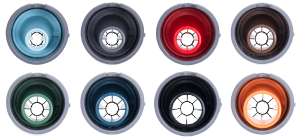 I-90 Reclaimed Water ID
Purple logo caps indicate the use of non-potable irrigation. They are available as a factory installed-option or as a replacement part.
I-90 Drain Check Valve (Up to 7 ft. elevation)
As the air in the system piping can cause long-term damage to rotors and plumbing, the drain check valve keeps lines from draining when the system is shut off. This saves water, reduces liability, and increases system life.
Product Details
Model: 3"
Arc setting: Full Circle
Dual trajectory nozzle choices: 8 standard trajectory (22.5°), 8 low angle trajectory (15°)
Nozzle range: #25 to #73
Exclusive PressurePort™ nozzle technology
Through-the-top arc adjustment
Quick check arc mechanism
Water lubricated gear-drive
Standard factory installed nozzle: #53
Factory installed rubber logo cap
Warranty period: 5 years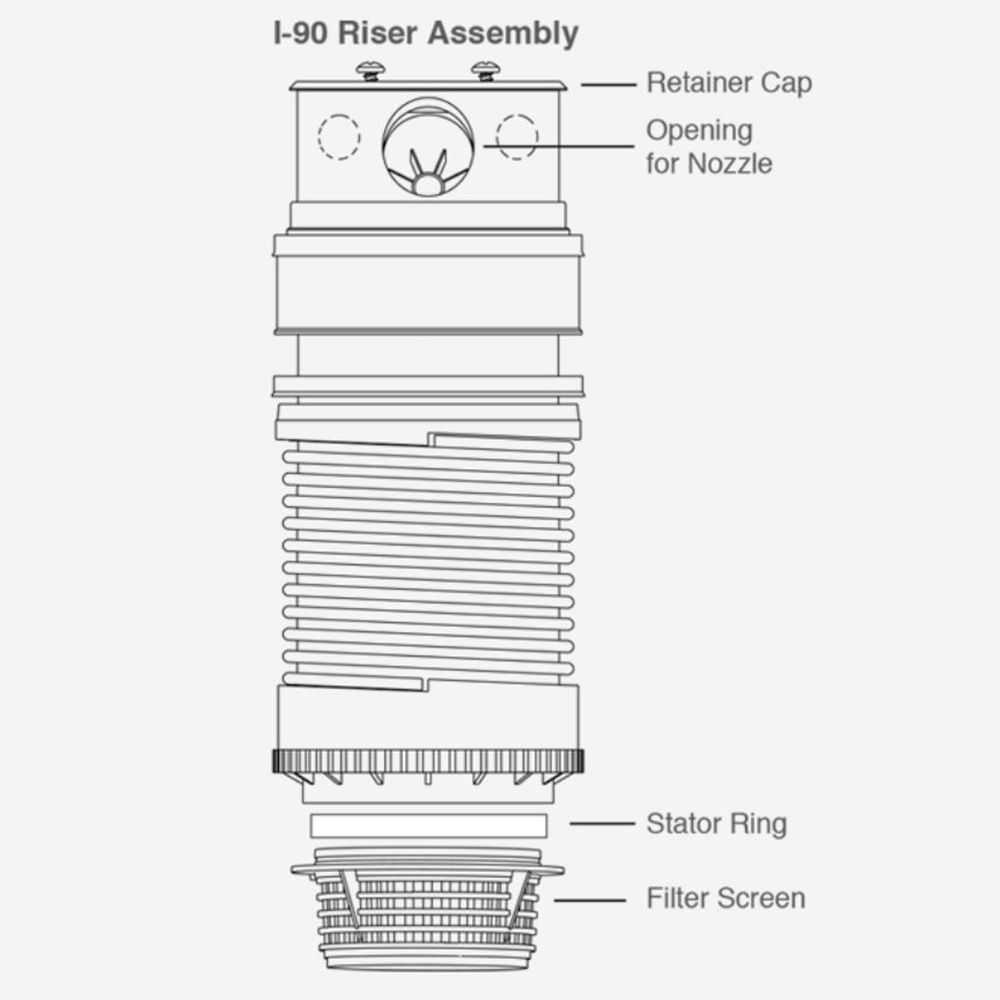 Nozzle/Stator Chart

| | |
| --- | --- |
| 25 - LT. Blue | 25 |
| 33 - Gray | 33 |
| 38 - Red | 38 |
| 43 - Dk. Brown | 43 |
| 48 - Dk. Green | 48 |
| 53 - Dk. Blue | 53 |
| 63 - Black | 63 |
| 73 - Orange | 73 |
Non-Potable / Reclaimed Water
Check Valve, Non-Potable / Reclaimed Water
Browse 5 questions
Browse 5 questions and 10 answers
Why did you choose this?
SprinklerWarehouse.com

Store
Used on a wildlife food plot irrigation system. No other head can match the distance needed.
Used on a wildlife food plot irrigation system. No other head can match the distance needed.
Hunter I-90 Sprinkler Rotors I NEED THE ONE THAT I CAN ADJUST TO ONLY 180 DEGREES OR LESS NOT A FULL CIRCLE ONE I DO NOT SEE THAT LISTED BUT NOTED IN THE COMMENTS PLEASE ADVISE???
We found other products you might like!