Hunter I20-04 4 in. Pop-Up Adjustable Arc Rotor
Hunter Rotor with Check Valve (I20-04)
Series: I20
Pop-Up Height: 4 Inches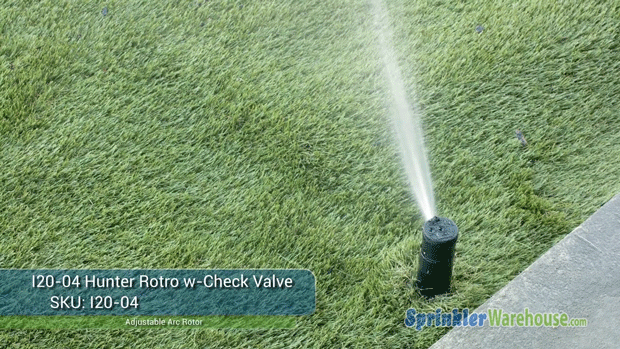 With 34 nozzle choices, a 17' to 46' radius, and 6 body choices, the I-20 is an indispensable rotor. Whether you've got a small area, sandy soil, or a mix of shrubs and grass, the I-20 is ready to water with efficiency and reliability. Recent improvements include automatic arc return; non-reversing 360, from 50 to 360 degrees; and a non-strippable, vandal-proof drive mechanism that prevents gear stripping and saves repair costs. Adding FloStop control, easy through-the-top arc adjustment, and a standard drain-check valve all equate to a rotor that stands second-to-none in its class.
Features & Benefits
Arc setting: 50 to 360 degrees
Factory installed rubber cover
Through-the-top arc adjustment
Quick check arc mechanism
Water lubricated gear-drive
Nozzle choices: 34
Product Details
Models: Shrub, 4", 6", 12"
Models stainless riser: 4", 6"
Nozzle racks: 1.5 to 8.0 Blue, 2.0 to 4.5 Low Angle Gray, 0.50 to 3.0 Short Radius Black, 6.0 to 13.0 Green, MPR-25, MPR-30, MPR-35
Warranty period: 5 years
Residential And Commercial
Check Valve, Flow Shut-Off
Part Circle Adjustable (50 - 360)
We found other products you might like!