Hunter PGP-04-PRB Pressure Regulated Ultra Rotor
This Upgrade of the First-Class PGP is Packed With New Features
The PGP Ultra takes the foundation of the best-selling PGP Rotor and raises the bar with a variety of new features developed over three decades of research, customer feedback, and lab testing. Among the most notable improvements of the PGP Ultra is its non-strippable drive and automatic arc return. These two features work to allow the turret to be turned without causing damage, and return the turret to its original arc regardless of where it is turned. The PGP-04 pressure regulated bodies will take incoming pressures of 50-100 PSI and reduce them to 45 PSI. The Hunter PRB rotors allow the nozzles to operate at peak efficiency, saving up to 25 percent more water. Having the pressure regulator in the body allows it to remain in place and functional even if the original riser is removed and replaced for service.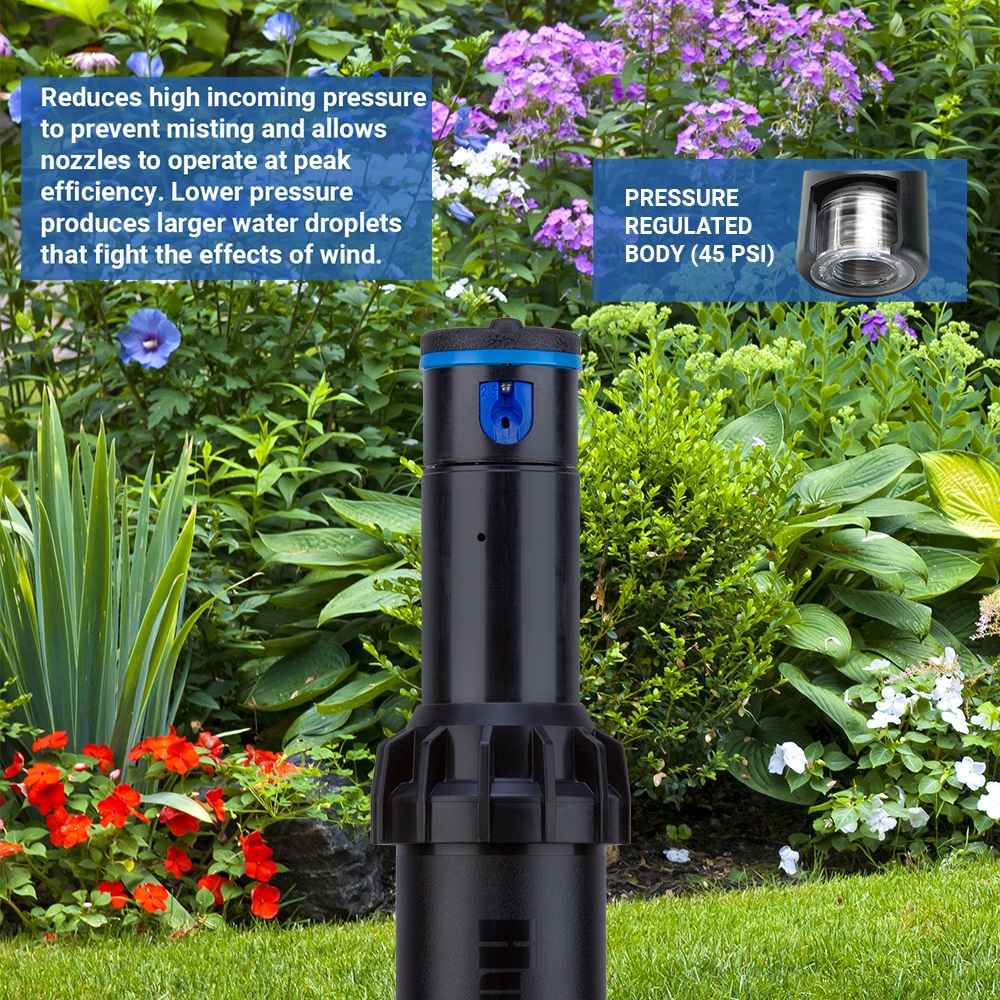 Product Details
Models: Shrub, 4", 12"
Arc setting: 50 to 360 degrees
Factory installed rubber cover
Through-the-top arc adjustment
Quick check arc mechanism
Water lubricated gear-drive
Nozzle choices: 30
Nozzle racks: 1.5 to 8.0 Blue, 2.0 to 4.5 Low Angle Gray, 0.50 to 3.0 Black, 6.0 to 13.0 Green, MPR-25, MPR-30, MPR-35
Warranty period: 5 years
Stainless Steel Riser
Automatic Arc Return
Non-strippable
Part and Full Circle in One Model
Headed and Slotted Set Screw
Residential And Commercial
Part Circle Adjustable (50 - 360)
Consistent spray pattern
Caution, these are 1" taller than the non PRB sprinklers, which I hadn't noticed until after I bought them. This made installation more of a pain, but worth it in the end. I had problems with my previous sprinklers where one might not pop up when the irrigation pressure was low. I haven't had that problem with these sprinklers.
August 10, 2018
Purchased
over 2 years ago
Excellent product
We have been using this product for some years and have had great success and will continue with this product
April 16, 2019
Purchased
1 year ago
Wet my whistle!
Rotor worked as expected. These are Ultra rotors, so the nozzles are different than PGP-ADJ. They came with a set of blue+grey nozzles. 1 Nozzle had the spring inside pinching the wiper seal which kept it from extending and retracting well, but trivial to fix once you realize the issue.

I recommend getting the rainbird leveling clip for installing them.
August 2, 2020
Purchased
2 months ago
Browse 3 questions
Browse 3 questions and 1 answer
Does this come with the complete nozzle rack? What pressure is the regulator set for? I need the MPR-25 nozzle with a 45 psi regulator...
I have water pressure issues with the rainbird high impact sprinklers that I'm using now. When the pump refills the sprinklers won't run. Would this sprinkler solve that problem?
We found other products you might like!