Hunter Flow-Clik Flow Sensor Kit
Standard kit for all 24 VAC controllers. Includes sensor and interface module, sensor requires FCT for pipe installation.
A ruptured pipe or broken sprinkler left undetected can result in substantial damage. Plants and ground cover can be flooded, slopes can be eroded, and hundreds of gallons of water can be wasted. Hunter created the Flow-Clik flow sensor to guard against these damages in the event of a rupture. The Flow-Clik can be programmed at a specified level of flow. It will shut down irrigation if it detects a flow rate higher than the programmed limit. Therefore, the amount of water loss and system damage is substantially reduced in the event of high external leakage.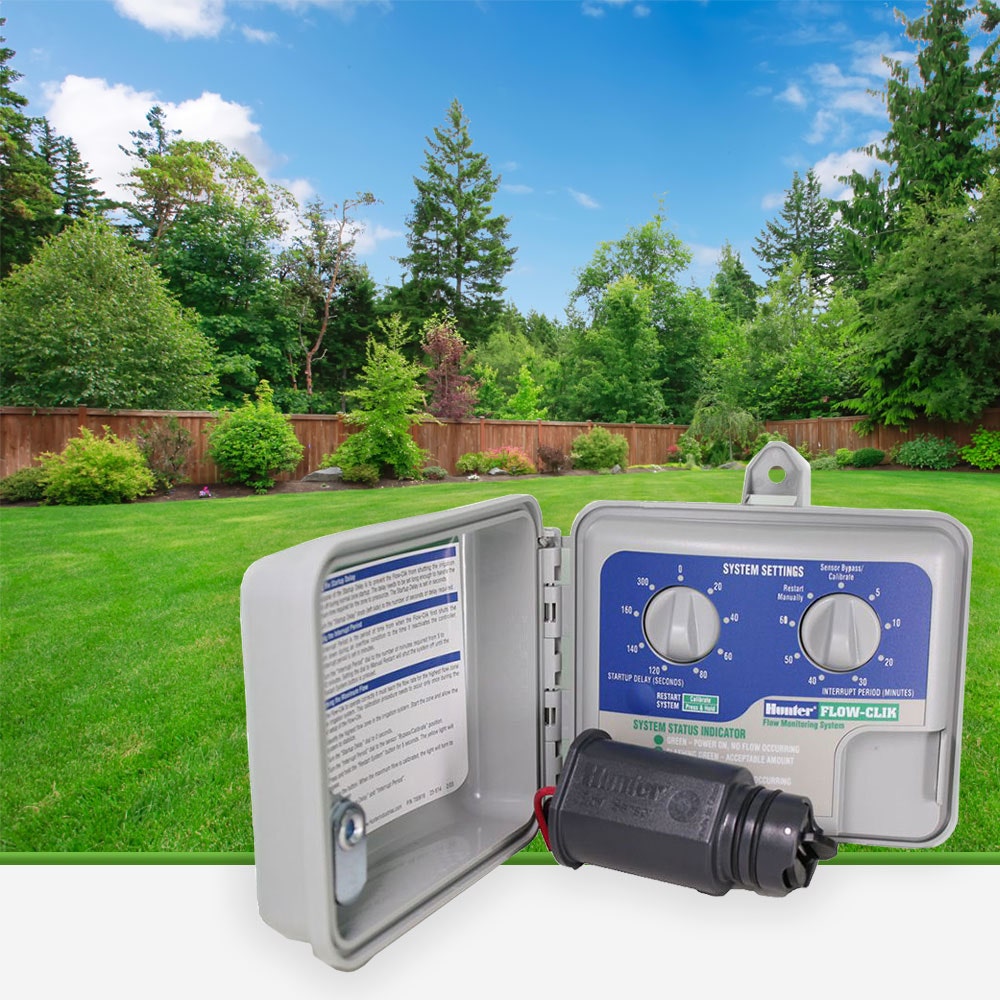 Product Details
Automatically shuts down system if an overflow condition occurs
Protects against flood damage and erosion
Calibration for exact system control: Single button allows each system to be programmed at a specified flow level
Works with all Hunter and most non-Hunter controllers
Multi-color LED provides system status to display when power is applied, and indicate if flow is within limits
Compatible with most commercial and residential piping systems: Large flow range provides complete flexibility
Warranty period: 5 years
Flow-Clik Interface Panel: 36" leads provided for easy wiring to controller (2 wires to controller, 24 VAC terminals and 2 wires to sensor)
Current draw: 24 VAC, 0.025 A
Switching current: 2 A maximum
Max. distance between interface panel and sensor: 1000 ft. (18AWG minimum wire size); 2 wires required for Flow-Clik sensor.
Sensor Wiring: 2 x direct burial, 18 AWG or greater, color-coded or marked forpolarity, up to 1000' from controller
Programmable start up delay: 0 to 300 seconds
Programmable interrupt period: 2 to 60 minutes
System status indicator light
One button system calibration to set highest flow zone
Wisdom
Having a sensor to stop water flow in a system when a zone has a broken line or head is wisdom
I highly recommend
We installed this because of an $1,100.00 bill in one month
August 12, 2018
Purchased
over 2 years ago
Great product
Very useful for saving water, works as described
Quick delivery. Good condition and works fine.
It is strange the review comment requires at least 50 characters
September 3, 2019
Purchased
1 year ago
We found other products you might like!