Hunter ACC, ACC2, and I-Core Flow-Sync Sensor
Flow-Sync sensor, use with ACC and I-Core controllers, sensor requires FCT for pipe installation. The Flow-Sync is a simple and economical solution for metering and reacting to actual flow conditions. A proven water saver, the Hunter Flow Sync (HFS) connects to the ACC and I-Core controllers to measure actual flow, and provides automatic reaction to high or low flow conditions during irrigation. The Flow-Sync is designed for use on pipe sizes up to 4 inches. When installed in conjunction with a master valve, the HFS can be a key source in preventing water waste resulting from line breakage.
This section will give you a brief overview of some of the components of the Flow-Sync system.
Flow-Sync Diagram
A - Impeller
B - O-rings
C - Wires
D - Flow-Sync Tee
E - Plug
F - O-rings
G - Cap
H - Cover
Note: FCT Tees are ordered for the desired pipe diameter separately from the Flow-Sync.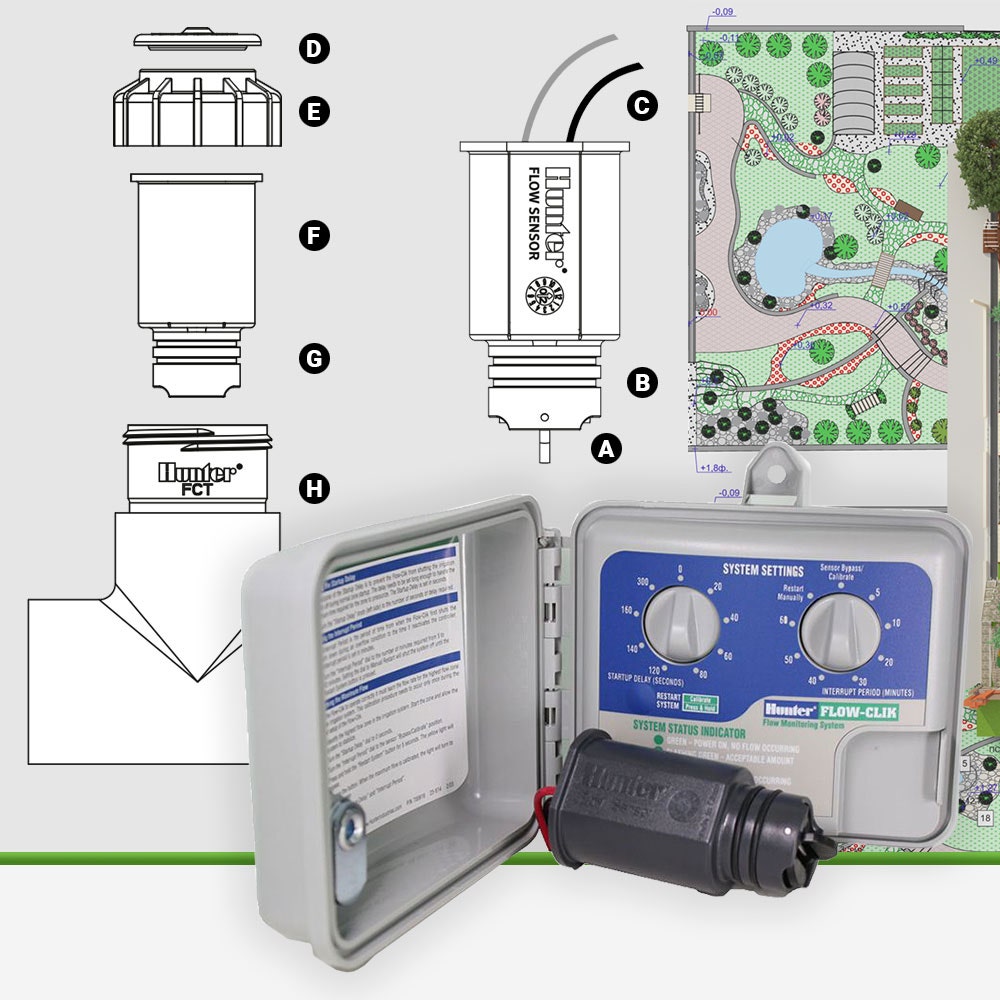 Product Details
Simple two wire connection to ACC and I-Core controllers (up to 1000 ft/300 m)
Feeds flow data (gallons or liters) to controller, for flow recording and monitoring purposes
Robust waterproof construction (used with appropriate FCT tees for pipe diameter, see table)
Provides station level flow monitoring for reaction to high or low flow conditions
Prevents damage and waste from leaks and breaks in piping system
Recommended pressure range: 0 - 220 PSI
Pressure Loss: 0.13 PSI
Wiring: 2 x direct burial, 18 AWG or greater, color-coded or marked for polarity, up to 1000' from controller
Absolutely Required
If you have a sprinkler system and wish to avoid huge expense due to leaks, this is the answer. I was able to identify which zones had major leaks and save myself over $300 in water usage in one month.
September 14, 2019
Purchased
1 year ago
Works as advertised. It would be nice if it could read lower flow rates for drip irrigation zones.
May 7, 2019
Purchased
1 year ago
Direct replacement, works
Was getting about half flow, replaced flow sensor and everything worked.
March 24, 2020
Purchased
1 year ago
Browse 5 questions
Browse 5 questions and 15 answers
will the Hunter HFS flow sensor work with a Rainmaster Eagle Plus (EGP-TWI-SP) controller?
BEST ANSWER:
Dustin, I installed mine(FCT-100 with HFS) last spring with a Hunter I-Core controller. Most of the big name irrigation manufacturers will say that there flow sensor is compatible with the others controllers. I think the biggest thing is to follow or exceed the straight pipe distance before and after the flow sensor for the greatest accuracy. Check with your particular controller to see if it allows for manual adjustment (calibration) of the unit once installed. You can always check your water meter by doing a 10 minute run time and comparing that reading to your HFS reading. Norm Mill-35 years in the industry-Irrigation Association Certified Irrigation Designer-Commercial and Certified Landscape Irrigation Auditor
Norman M

on Mar 7, 2016

Purchased on Apr 11, 2015
We found other products you might like!