Hunter Soil-Clik - Prevents Watering Already Wet Soil
The Soil-Clik simplifies soil moisture sensing. The Soil-Clik probe uses proven technology to measure moisture within the root zone. When the probe senses that the soil has reached its desired moisture level, it will shut down irrigation, preventing water waste.
Soil-Clik has two components: A moisture sensor probe, which is placed in the soil, and an electronic module, which communicates with the probe and the controller. The probe is easy to install – simply bury it to the correct root depth for your plant material. It can be placed up to 1000 feet from the controller. The easy push-button operation allows adjustments to the desired moisture level, with an immediate update of actual measurements.
The module attaches to all AC powered Hunter controllers and will work with most other manufacturers' AC powered controllers. Soil-Clik can be programmed to shut down irrigation when it senses adequate moisture.
Backed by Hunter's 5-year warranty, the Soil-Clik is an effective water-saver either by itself or as a companion with Solar Sync® for an environmentally responsive solution.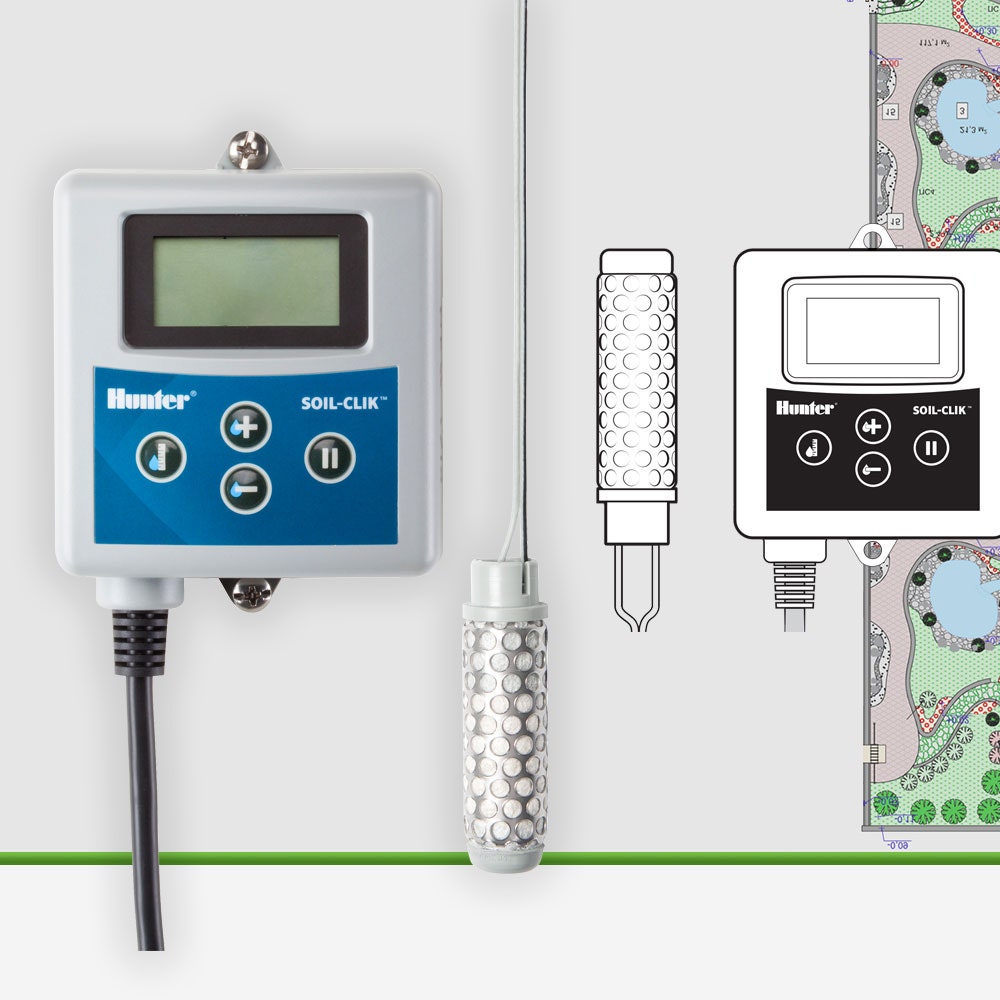 Product Details
Soil moisture level and status at a glance
Shuts down irrigation when desired moisture level has been reached
The one-touch override allows soil moisture bypass for special conditions
Low voltage outdoor enclosure powered by the host controller
Simple installation allows the probe to be up to 1000' from the controller
Connect to Hunter sensor inputs, or use to interrupt common wires in virtually any 24 VAC irrigation system
Use with X-Core, Pro-C and I-Core, and ACC Clik sensor inputs
Ideal companion sensor to Solar Sync
Warranty period: 5 years
Max distance, the control module to the controller: 6'
Max distance, the control module to sensor probe: 1000'
Input power: 24 VAC, 100 mA max
Output: Normally-closed dry contact closure
Enclosure: NEMA 3R, indoor/outdoor
3 Stars , 2 Stars , 1 Star
Great product saves water to boot!
Works wonderfully no issues and saves a TON of water! I have yet to see anything wrong with the unit or probe.
May 25, 2015
Purchased
over 5 years ago
Probe Defective
Did install in accordance with the instructions and after several days of dry weather the readout on the soil click monitor never changed. Talked to someone at Hunter Tech Support and they felt that I had a defective soil probe monitor., So I am returning the entire unit for another unit. hopefully I will have better luck with the second one. Will provide information after the second installation.
June 2, 2018
Purchased
over 2 years ago
Good idea
We only started the installation today. It will be a few weeks before we can provide any feedback
October 1, 2018
Purchased
over 2 years ago
Browse 7 questions
Browse 7 questions and 16 answers
Why did you choose this?
SprinklerWarehouse.com

Store
cut watering cost with irrigation. was flat rate up to 18000 gallons. now by the gallons used. reclaim water here in florida.
cut watering cost with irrigation. was flat rate up to 18000 gallons. now by the gallons used. reclaim water here in florida.
We found other products you might like!