Hunter SOLARSYNC Wired Rain Freeze and Sun Sensor with Module
The Solar Sync ET sensor is an advanced weather sensor that calculates evapotranspiration (ET) and adjusts Hunter controllers daily based on local weather conditions. Solar Sync measures sunlight and temperature and uses ET to determine the correct seasonal adjustment percentage value to send to the controller. The controller then uses its programmed run time and adjusts to Solar Sync's seasonal adjustment value to modify the actual irrigation runtime for that day. In addition, the Solar Sync ET sensor integrates Hunter's popular Rain-Clik and Freeze-Clik sensors providing quick response in shutting down your irrigation system during rain and/or freezing conditions. The Solar Sync is compatible with most Hunter controllers and applicable to residences, businesses, and municipalities alike.
Diagram Details
A - Solar radiation sensor
B - Rain-Clik ring
C - Vents
D - Quick Response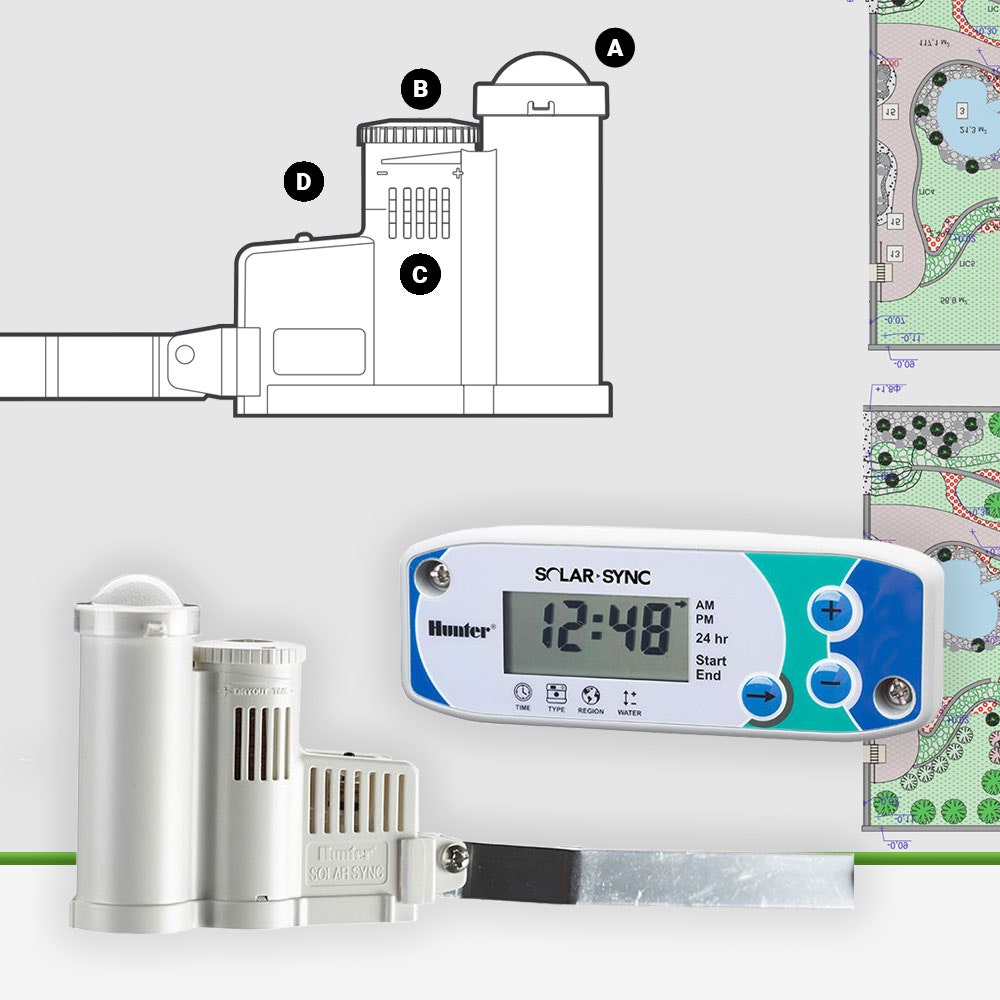 Product Details
Provides automated daily adjustment to program run times
Wired and wireless models available
No Water Window programming available (except X-Core)
Rain and freeze shutoff
Gutter mount bracket included
Warranty period: 5 years (10-year battery warranty for wireless model)
Maximum distance sensor to the module: 200 ft. (wired model) or 800 ft. (wireless model)
40 ft. of wire included in the kit (wired model)
Solar Sync and Wireless Solar Sync compatible with Pro-C and PCC controllers
Solar Sync Sensor and Wireless Solar Sync Sensor are compatible with X-Core, I-Core, and ACC controllers
Rain and Freeze sensor shutdown capability included in the sensor
Approval: FCC, CE
Rain, Freeze and Sun Sensor
Rain, Freeze and Sun Sensor
good product
Both items are working fine.
Hunter warrants these for 5 years. There is a date stamp on both pieces. Mine were dated for the year 2014. Will Sprinkler Warehouse cover the warranty on mine?
January 16, 2019
Purchased
1 year ago
A word to potential buyers
I'm not so sure about how much this unit makes in daily adjustments, but it definitely does make large seasonal adjustments both reducing and increasing watering times and it does shut off the system when it rains. I gave it a low score because the outside sensor doesn't last. From my own personal experience and from what I've managed to find on various forums, the sensor routinely fails shortly after the 5 year warranty is up. So although the unit seems to work fairly well, you need to be prepared to replace the external sensor every 5 years which makes up almost 90% of the cost of the entire Solar Sync option. If your water bills aren't very high, I wouldn't recommend this option.
June 19, 2016
Purchased
over 9 years ago
Very simple to install.
The product comes with all componets needed and simple instructions.
Browse 17 questions
Browse 17 questions and 77 answers
Why did you choose this?
SprinklerWarehouse.com

Store
Saves on water and rust control. I have a Rid-O-Rust system and it can get expensive when you are watering 4 acres.
Saves on water and rust control. I have a Rid-O-Rust system and it can get expensive when you are watering 4 acres.
We found other products you might like!