Hunter SOLARSYNCSEN Wired Rain Freeze and Sun Sensor
The Solar Sync ET sensor is an advanced weather sensor that calculates evapotranspiration (ET) and adjusts Hunter controllers daily based on local weather conditions. Solar Sync measures sunlight and temperature, and uses ET to determine the correct seasonal adjustment percentage value to send to the controller. The controller then uses its programmed run time and adjusts to Solar Sync's seasonal adjustment value to modify the actual irrigation run time for that day. In addition, the Solar Sync ET sensor integrates Hunter's popular Rain-Clik and Freeze-Clik sensors providing quick response in shutting down your irrigation system during rain and/or freezing conditions. The Solar Sync is compatible with most Hunter controllers and applicable to residences, businesses, and municipalities alike.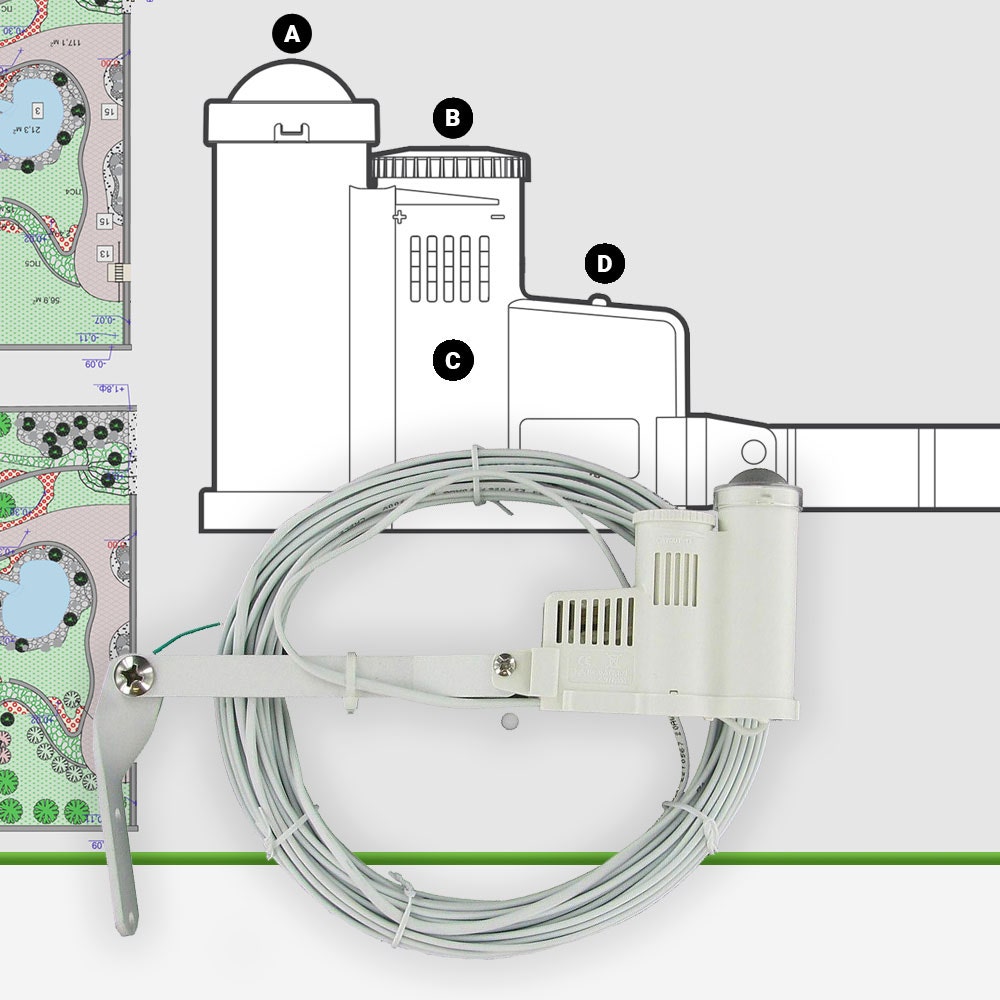 Product Details
Provides automated daily adjustment to program run times
Wired and wireless models available
No Water Window programming available (except X-Core)
Rain and freeze shutoff
Gutter mount bracket included
Warranty period: 5 years (10 year battery warranty for wireless model)
Maximum distance sensor to module: 200 ft. (wired model) or 800 ft. (wireless model)
40 ft. of wire included in kit (wired model)
Solar Sync and Wireless Solar Sync compatible with Pro-C and PCC controllers
Solar Sync Sensor and Wireless Solar Sync Sensor are compatible with X-Core, I-Core and ACC controllers
Rain and Freeze sensor shutdown capability included in sensor
Approval: FCC, CE
Rain, Freeze and Sun Sensor
Rain, Freeze and Sun Sensor
Super Easy Install
Great device. Automatically worked with my x-core controller with no problem. It does come with 40ft of wire. I picked up 18ga thermostat wire for $8 at hardware store. Install is as easy as you want. I strung mine through the roof and behind a wall because I am picky. But connecting it was a piece of cake. And after it gathered data, it auto calibrated the controller. Love this product. A must buy to make your irrigation system perfect and complete.
Great irrigation water saver
I have had a much more sophisticated device from Hunter to control my irrigation but it died after over 10 years. Oh well but it was no longer made. But I needed something quickly to control my existing Hunter Irrigation Controller as we were going on vacation for 4 weeks and summer heat was coming in. So I bought this as a stop gap until I could research the subject. No need this reduces the water used fine when there is not much sun and some rain. This may well my long term fix
May 17, 2019
Purchased
1 year ago
Works delivery a little slow though. Works well as can be expected. Can't write anything else for 50 characters
August 15, 2017
Purchased
over 3 years ago
We found other products you might like!