Hunter WRF-CLIK Wireless Sprinkler Rain Freeze Sensor
Product Type: Rain and Freeze Sensor
Sensor Connection: Wireless
Compatible with most irrigation controllers
Features & Benefits
Most rain-sensing devices work by accumulating a set amount of rainfall before a switch is activated that interrupts the circuit from the controller and shuts off the system. In that "accumulation time", the system will unnecessarily continue to water. This can look especially bad for conservation-conscious municipalities, businesses, and residences. With built-in Quick Response technology, the Hunter Rain-Clik and Wireless Rain-Clik can command a controller to shut off right when it starts to rain. The Rain-Clik can be mounted on an eave or any flat vertical surface like a wall or fence. A gutter mount is also available that allows for easy installation of the Rain-Clik on the edge of a gutter.
Maintenance-free design with integrated battery for wireless models
Adjustable vent ring allows for longer or shorter reset period
Rugged polycarbonate housing and metal extension arm
Wired models include 25' of 20 AWG sheathed, two-conductor, UL-approved wire
Wireless model range is 800' line of sight from sensor to receiver
Multiple receivers can be operated from a single sensor
Warranty period: 5 years
Compatible with most irrigation controllers
Product Details
Wiring: "normally open" or "normally closed"
Time to turn off irrigation system: 2 to 5 minutes approx. for Quick Response
Time to reset Quick Response: 4 hours approx. under dry, sunny conditions
Time to reset when fully wet: 3 days approx. under dry, sunny conditions
Switch rating: 24 VAC, 3 A
Freeze sensor shuts system off when temperatures fall below 37° F (Rain/Freeze-Clik model)
System operating frequency: 433 MHz (wireless model)
Repair Parts
Safeguard Yourself From the Elements

Installing Clik sensors allows a controller to sense rapidly changing weather and react to individual conditions like rain, high wind, or freezing temperatures.

Sensor Type
Available Wireless
Compatible Controllers
Quick Response™
Warranty
Applications
Rain/Freeze
Yes
ACC2, ACC, I-Core, ICC2, Pro-C, PCC, X-Core, XC Hybrid*, NODE*, WVC*
Yes
5 Years
Rain Sensor, Freeze Sensor

* For use with wired models only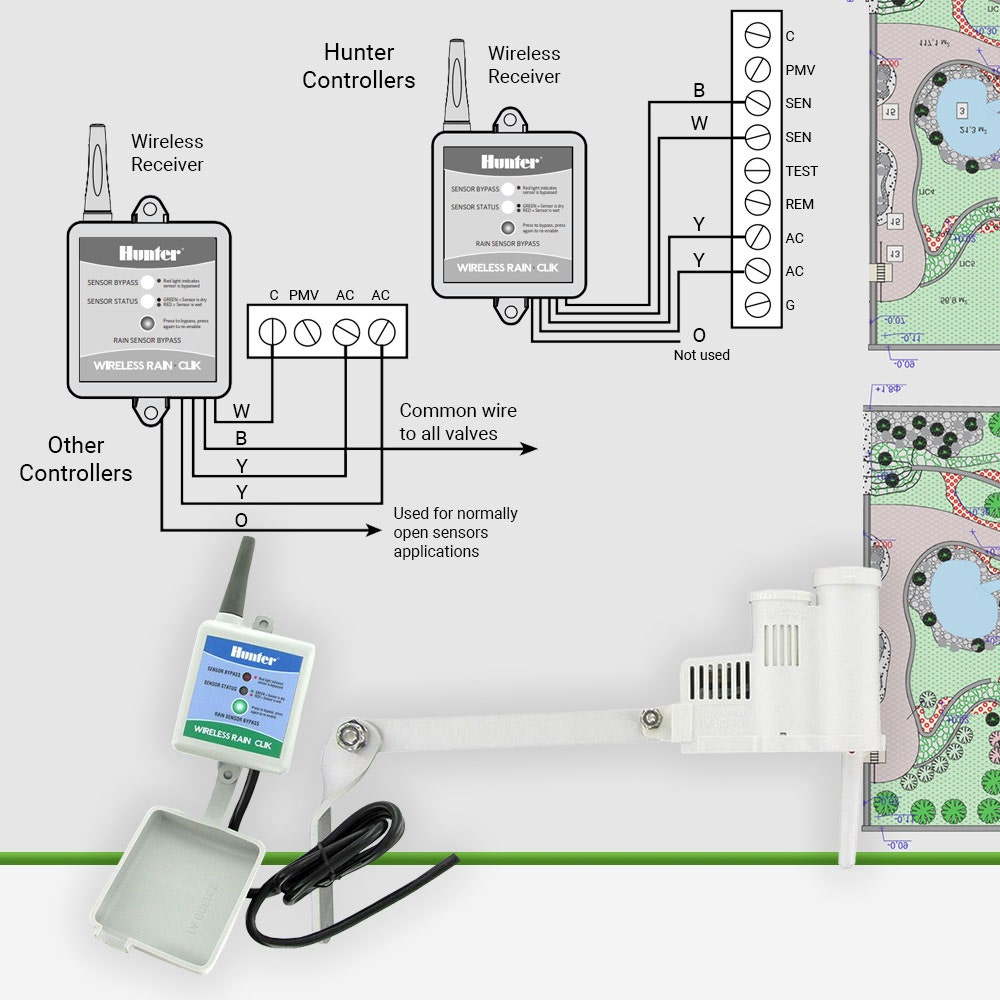 Related Articles & Videos
Articles
Videos
Browse 27 questions
Browse 27 questions and 122 answers
Why did you choose this?
SprinklerWarehouse.com

Store
had great experience with this product
Replacement for old WR-CLIK that was like 13 years old.
We found other products you might like!