Hunter WSSSEN Wireless Solar Sync Sensor and Receiver Only
Type: Sun Sensor
Sensor Connection: Wireless
Range: 800 ft line of sight from sensor to receiver
Features & Benefits
Wireless Solar Sync for use with ACC, I-Core, new Pro-C 400/PCC Series, and X-Core controllers. Includes Wireless Solar Sync Sensor and a wireless receiver. Wireless full kit with Sensor and Module. Compatible with Hunter Pro-C, PCC, ICC and I-Core Controllers / Timers. The Solar Sync continually gathers on-site solar and temperature data used in the calculation of evapotranspiration (ET), then determines watering requirements.
The Module automatically calculates water requirements and makes adjustments taking into account your regional weather characteristics. Air temperature is monitored and used to calculate watering requirements. Too hot? Solar Sync knows to be efficient and waters your lawn as needed. Freezing morning? Keep those mittens off, because below 37 degrees F, Solar Sync smartly waits for warmer temperatures. Passing showers require a sensor that can react quickly. The built-in "Quick Response" feature does just that. For soaking showers, the adjustable Rain-Clik sensor ensures your lawn isn't watered unnecessarily. Let the sunshine in. The solar sensor measures the sun's rays to keep your lawn at peak performance with optimal watering.
Product Details
Provides automated daily adjustment to program run times
Wired and wireless models available
No Water Window programming available (except X-Core)
Rain and freeze shutoff
Gutter mount bracket included
Warranty period: 5 years (10 year battery warranty for wireless model)
Maximum distance sensor to module: 200 ft. (wired model) or 800 ft. (wireless model)
40 ft. of wire included in kit (wired model)
Solar Sync and Wireless Solar Sync compatible with Pro-C and PCC controllers
Solar Sync Sensor and Wireless Solar Sync Sensor are compatible with X-Core, I-Core, and ACC controllers
Rain and Freeze sensor shutdown capability included in sensor
Approval: FCC, CE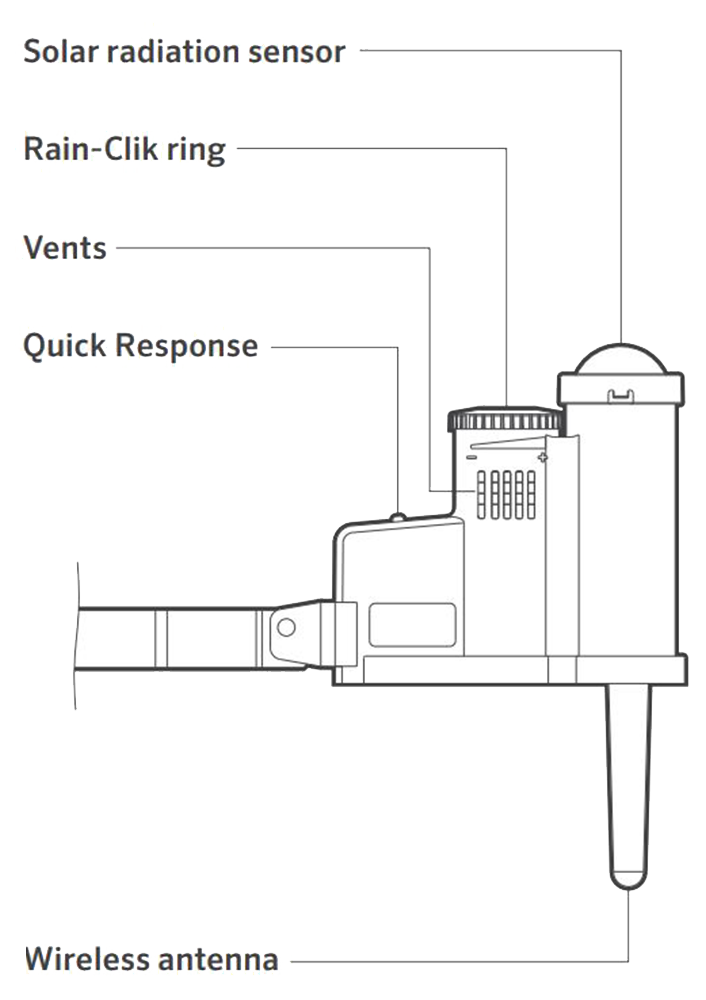 Choosing the Sensor Location

Note: Place the Solar Sync sensor where it can receive full sun.
We found other products you might like!