Hydro-Rain HRC-100-RS-HW HRC 100
Hard Wire Rain Sensor
Hydro-Rain's HRC 100 hardwire rain sensor is designed to save water and limit damage to foliage by turning off sprinkler systems during rainy weather. A must-have for every sprinkler system the HRC 100 Rain Sensor is easy to install and will provide years of reliable, accurate performance. Constructed of heavy-duty, UV-protected ABS, aluminum mounting bracket, and heavy-jacketed wire, the HRS 100 is the right choice for your sprinkler system.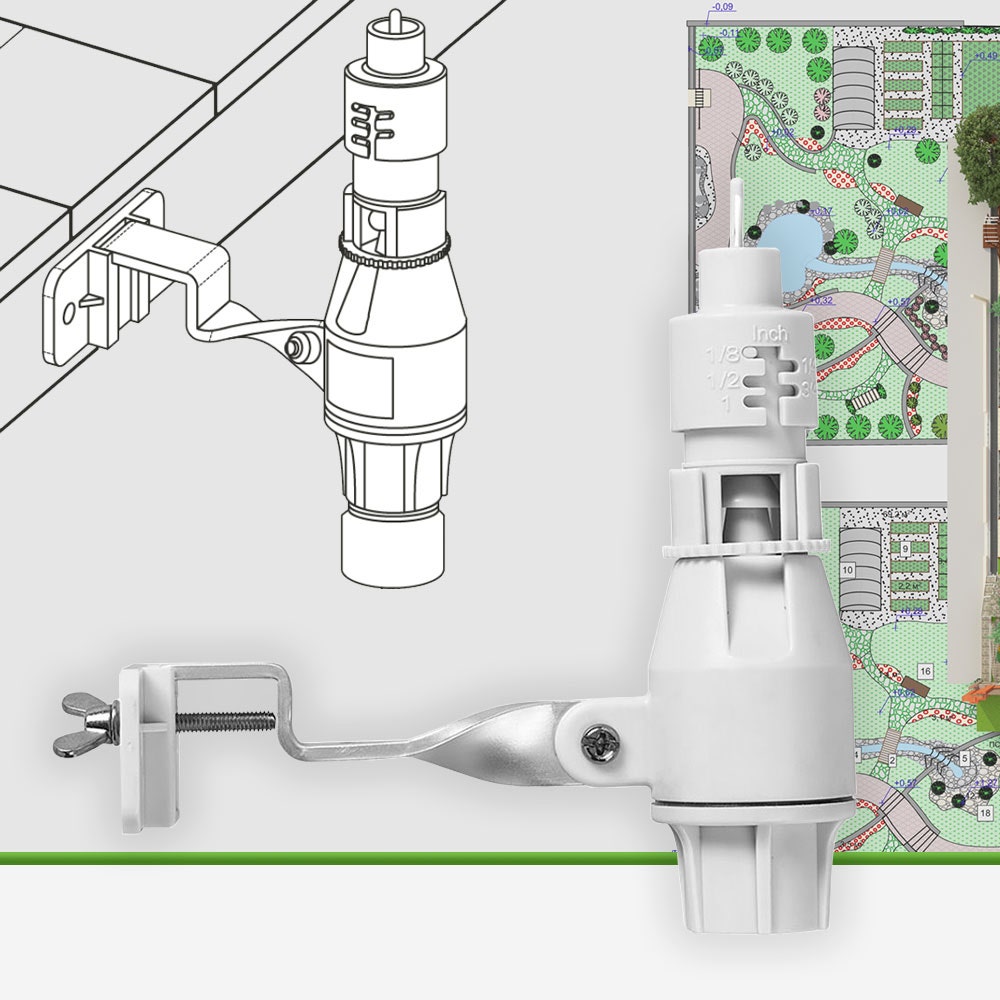 Product Details
Quick-Set Adjustment 1/8", 1/4", 1/2", 3/4", 1" quick-set rainfall settings for variable climates.
Rain Gutter Mounting Bracket No tools required for mounting sensor to a rain gutter.
Rain Off Variable rainfall settings keep the sprinkler system off during rain storms and then returns the system to automatic mode.
Hygroscopic Discs Absorb water to activate rain switch.
Universal For use with most brands of 24V output sprinkler controllers.
Heavy-Duty Jacketed Wire 30 feet of connection wire included and ready for installation.
Conduit Option Sensor can easily be mounted to conduit (adapter included).
Dry Vent Allows air circulation adjustment for fast or slow dry.
Three-Year Warranty Hydro-Rain ensures full quality performance for the warranty period or we'll replace it.
Sensor Type: Industry-standard hygroscopic discs
Rain Sensitivity: Adjustable nominal 1⁄8" to 1" (3-25mm)
Operating Temperature: 14° F~140° F ( -10° C~60° C)
Housing Material: UV-resistant
Dimensions: Height - 3½" (7,62 cm), Length: 4½" (11,2 cm)
Electrical Specification: AC Supply - 24~26VAC, Relay Contacts Output - Normal Open and Normal Close [email protected]
Wanted the wireless unit . Can't use the wire unit.
July 14, 2020
Purchased
4 months ago
Hard wire rain sensor
I tried to set it at 1/8 inch but it would NOT go down that far and I didn't want to brake it.

So, I left it on 1/4 inch. It has never turned off the sprinklers. I don't think it works.............

I do like the controller and would recommend it.
September 4, 2019
Purchased
1 year ago
Browse 6 questions
Browse 6 questions and 18 answers
Is it compatible with HRC 990?
BEST ANSWER:
I believe it is. But the short answer is, if it is NOT compatible, with this rain sensor, you can simply break the common wire and put the black wire to one side of the break and the red wire to the other. All this is is a switch that shuts the sstem off when it gets wet.
Adam G

on Jun 18, 2020

Purchased on May 6, 2020
Do 2 wires go to sprinkler control? Or one?
BEST ANSWER:
take your common wire out of it's slot. Attach one wire from the sensor to that wire and the other wire goes into the common slot. Place the sensor somewhere that will get the most rain.
A L

on Jun 18, 2020

Purchased on Nov 19, 2019
We found other products you might like!