Irritrol RD600-EXT-R Rain Dial 6 Station Outdoor Remote-Ready Timer
Irritrol RAIN DIAL Indoor/Outdoor Controller
6 Station (Fixed)
Standard Controller
Features & Benefits
In addition to the numerous upgrades built into this popular, long-standing controller, the optional CLIMATE LOGIC Wireless Weather Sensing System makes the Rain Dial-R a "smart" controller on the cutting edge of water management. When governed by Climate Logic, the Rain Dial-R will automatically water more on warm or hot days and less on cooler days. Applying the right amount of water to maintain a healthy landscape, the Rain Dial-R and weather-based Climate Logic Weather System seriously reduce overwatering and its expense.
Climate Logic ready. Automatically reschedules Rain Dial-R watering based on the weather
Remote CONTROL ready. Compatible with CRR (Contractor Residential Remote) remote series
Rain sensor ready. Sensor bypass switch and terminal for sensor hookup
Three independent programs. Programming flexibility to meet the needs of a wide variety of plant material on the landscape site
Three water day choices- Any day of the week, skip days or odd/even dates - Skip days and odd/even dates have day exclusion option
Water Budgeting. For quick changes to the watering duration of all stations on a program at one time or pre-set a change in water budget for each month.
365-day calendar for Odd/Even date watering. Meets the odd/even date watering mandates often used for landscape water reductions
Water well recovery (delay between stations). Option of pump circuit ON or OFF during
Master Valve/Pump Start circuit Assignable per station. Stations requiring a booster pump can be supplied while other stations can run on street water pressure
Test All Stations program. Allows a quick test of all stations from lowest to highest number
Clear/erase memory by program. Saves time by quickly erasing only the program desired
Program stack or overlap option. Allows three programs/stations on at once or restricts operations to no overlapping station runs
Product Details
Station run times: 1-59 minutes in 1-minute increments or 1-5.9 hours in 1-hour (6 minute) increments
Start times: 3 per program per day for 9 starts total
Watering schedules per program - Any day of the week - Skip days from 1 to 31 days between irrigation days - Odd or even date watering
Control Your Sprinklers with SMRT LOGIC!*
*NOTE: These WiFi connectivity features REQUIRE the use of the SMRT Logic Gateway device & Climate Logic Wireless Weather Sensor System (Both Sold Separately)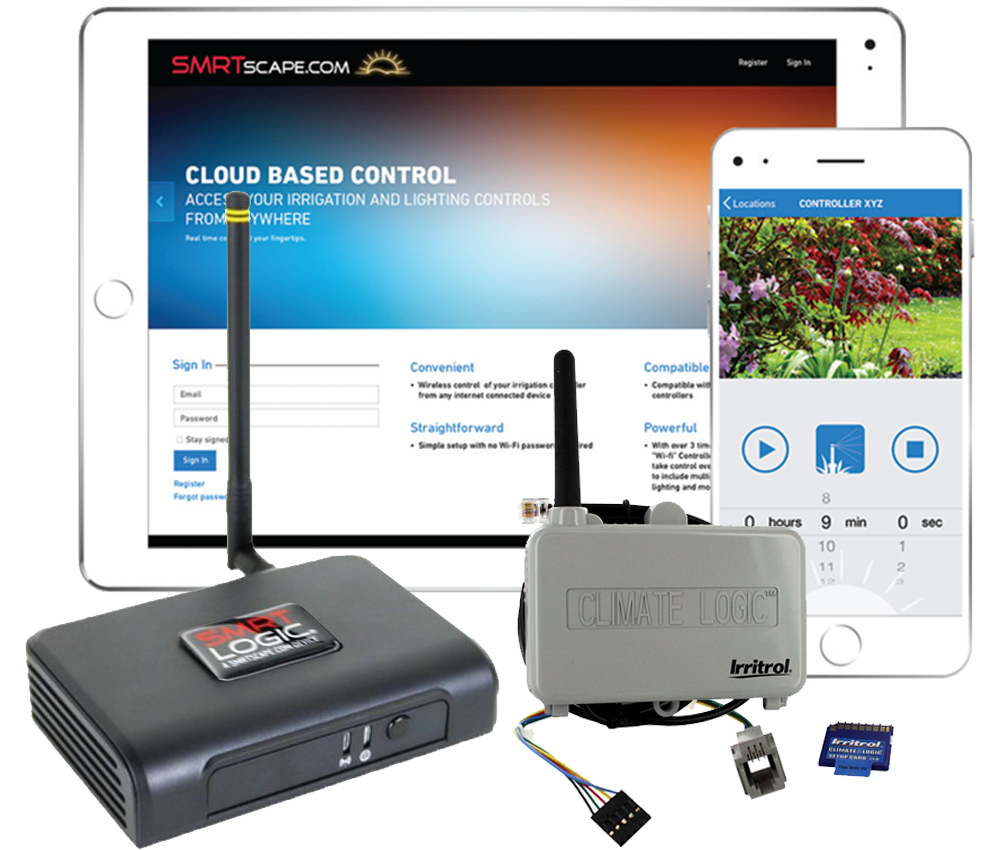 SMRT LOGIC is a cloud based hub for landscapes. SMRT Logic® is the connected solution for your outdoor space. When used in conjunction with a Climate Logic® Wireless Weather Sensing System (CL-100-WIRELESS) or CRR Series Mini Remote Receiver, it provides app-based control to the industry-leading lineup of controllers from Irritrol®. Simply plug the SMRT Logic into an available router port for network access and pair devices on the SMRTscape website. Experience up to 3 times the range of traditional Wi-Fi controllers along with added security and convenience features. Access irrigation, lighting, water features and pumps from a single interface through the same controller you have owned for years. All this and an industry-leading 5-year warranty make SMRT Logic the All-Pro solution for everyone.
Max Station Run Time (HRS):
We found other products you might like!