Irritrol CL-M1 Climate Logic Wireless Receiver Module
For simple, water saving, weather-following, automatic irrigation control, Irritrol introduces the Climate Logic wireless weather system. Consisting of two components; a wireless transmitting weather sensor for installation outdoors and a receiver module to attach to the Irritrol controller. The system monitors weather data, transmits them to the module and then alters the controller's program based on the weather. As for compatibility, the Climate Logic weather system works with the Rain Dial-R, the Total Control-R, KwikDial and a new generation of MC-E commercial controllers.
Diagram Details
A – Antenna
B – LCD Screen: Large-format LCD screen provides enhanced clarity and use of text and graphics.
C – Up/Down Arrow Keys: Control Menu cursor position, and adjust definable screen values.
D – Setup Card: Provides historical weather data for the regional location specified by ZIP code or Lat/Lon coordinates.
E – CMR-ADP KwikDial Adaptor Cable: Adapts RJ25 connector to KwikDial controller's 5-pin receptacle.
F – Cover: Provides weather-resistance and display protection in the closed position.
G – Connector Cable: Plugs into controller's remote control receptacle.
H – Multifunction Keys: Key function is configured for each screen as required.
I – LED Status Indicator: Remains On when irrigation is suspended; flashes when bypassed.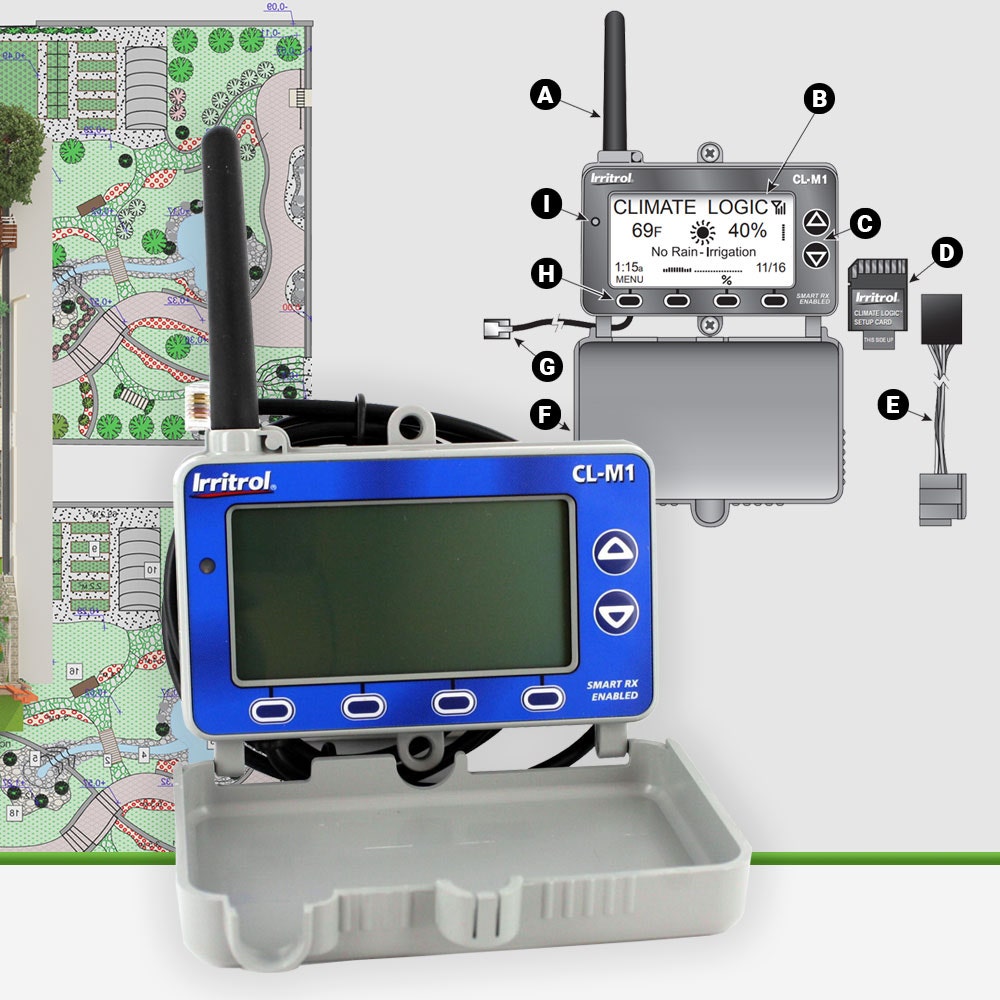 Product Details
Compatible with Irritrol Rain Dial-R and Irritrol Total Control-R Controllers and more
Receiver module ONLY
Built in radios for easy, wireless installation with less labor than wired systems
Rain sensor adjustable for amount of precipitation to shut off system (Not included with the CL-M1)
Solar sensor monitors the amount of the landscape site's sun exposure (Not included with the CL-M1)
Receiver module: Monitors the amount of the landscape site's sun exposure, Converts today's data from the weather sensor to percent of the hottest month's watering time to apply
Appropriately alters the controller's water budget
Weather SD Card: Contains the 10-year, historical weather information for North America with location access by zip code or latitude/longitude
Up to 1,000 line of sight signal range
Compatible with the following Irritrol controllers
Rain Dial-R series and earlier Rain Dial (Blue), Total Control-R series and Kwik Dial Series (with adapter cable CMR-ADP)
New generation MC-E
One weather sensor can communicate with multiple receiver modules
CL-M1 includes: Receiver module, Cable adapter and SD card with historical weather database
love it!
Had another brand that was too simple. This unit gives you great control and will also raise or lower watering times based on many factors.
Browse 3 questions
Browse 3 questions and 9 answers
how do you set up the zone times on the main timer to provide max water needed during hot weather?
BEST ANSWER:
We use these timers on our HOA common area so I can't look at the timer at this time since I am not currently at that location. However, you set each station for the max time either separately or you can do all stations at once (see the manual for this information). Then use the percentage of run time to lower the spring watering to maybe 50-80% depending on how much water you want to apply at a given time. When you need max water increase the percentage to 100%.
Lowell J

on Apr 3, 2017

Purchased on Jan 28, 2016
We found other products you might like!