Irritrol RS1000 Wireless Rain Sensor Plus
Taking water management to the next level, the proven Irritrol RainSensor Series makes watering in the rain a mistake of the past. The reliable wireless and wired rain sensors conserve water by preventing irrigation during or after sufficient rainfall, while the wireless rain/freeze sensor also helps reduce vegetation damage and icing conditions when the temperature drops below a predetermined set point. With its compact design and host of convenient features, the RainSensor Series is the perfect complement to any standard controller.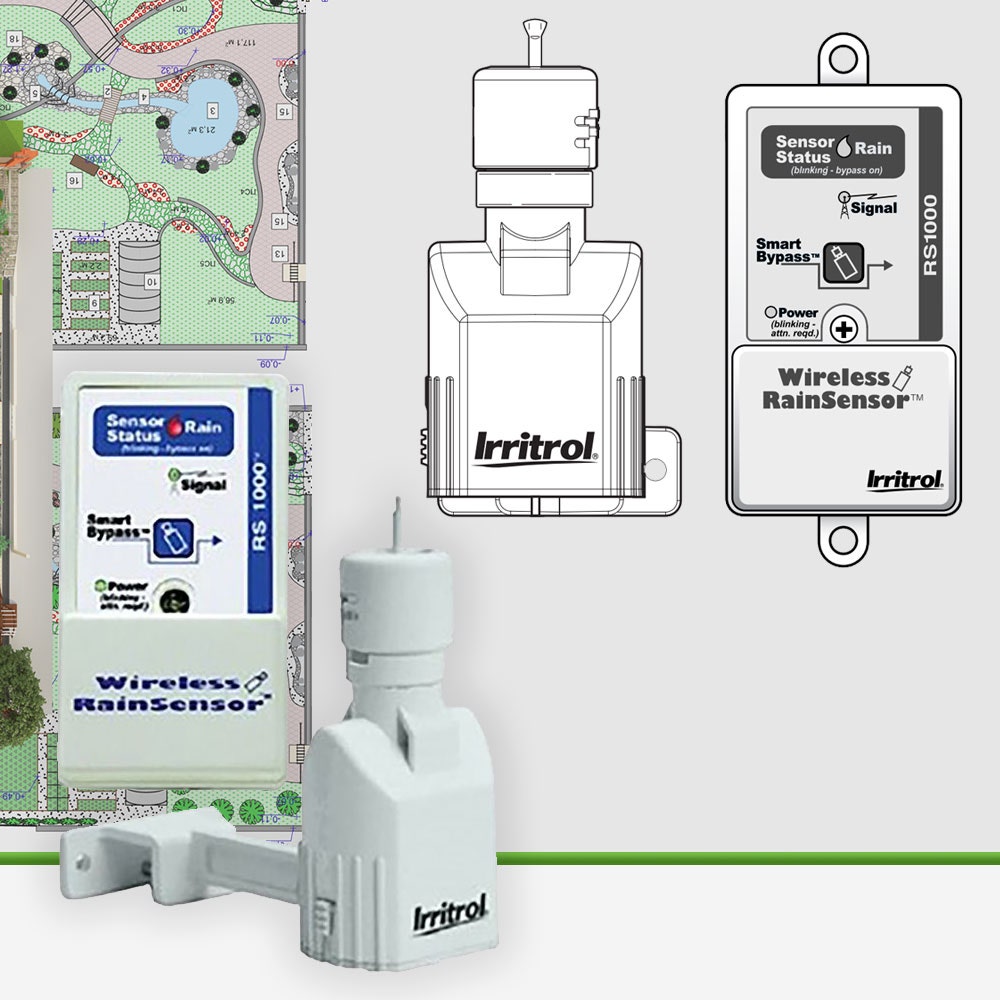 Product Details
Wireless models Require less labor for the installer
Constant communication between transmitter and receiver Assures that even after a controller power outage, the controller is continually updated with the sensor's (wet or dry) status
Versatile mounting options Requires no special tools Quick-Clip gutter bracket and conduit adapter included
Signal strength indicator
Ensures correct installation, communication link and signal integrity (wireless models)
Smart Bypass for easy system override
Allows for temporary deactivation while automatically resetting on next activation (wireless models)
Fully adjustable shutoff points
From 1/8" to 3/4" of accumulated rainfall
Dry-out rate adjustment for reset delay
Allows for setting the ideal dryout time
Patented wireless technology
Unsurpassed by the competition
Sensor type: industry-standard hygroscopic discs
Rain sensitivity; adjustable nominal 1/8" to 3/4"
Operating temperature: -20℃ F to 120℃ F
Housing material: UV-resistant engineered polymer
Wireless only features: - Transmission range: up to 500' line-of-sight - Battery: Two CR2032 3V cells, 5-year life (typical) - Frequency: 418MHz
Receiver power: 22-28 V ac/V dc, 100mA (to be used with Class 2, UL-approved (transformer)
Load rating: normally open or normally closed 3A @ 24 V ac
UL Listed, FCC, CE, IC
Dimensions
Transmitter: Height: 1-1/2" (3,8cm), Width: 1-3/4" (4,4cm), Depth: 3-3/4"(9,5cm)
Receiver: Height: 1-1/2" (3,8cm), Width: 1" (2,5cm), Depth: 3" (7,6mm)
Browse 17 questions
Browse 17 questions and 46 answers
Why did you choose this?
SprinklerWarehouse.com

Store
We found other products you might like!