NDS STANDARD 6" ROUND VALVE BOX WITH OVERLAPPING COVER:
6" round valve box with overlapping cover ensures easy removal and prevents dirt and grass from settling between body and cover along. UV inhibitors that hold 1 valve. Depth: 8-3/8 inches; Lid: 6-1/2 inches in diameter; Base: 8-3/8 inches in diameter.
The NDS STANDARD SERIES 6" round valve boxes overlapping covers prevent dirt and grass from settling between body and cover. The bayonet twist-on cover ensures easy removal. UV inhibitors are added to prevent discoloration and deterioration; such as cracking or blistering.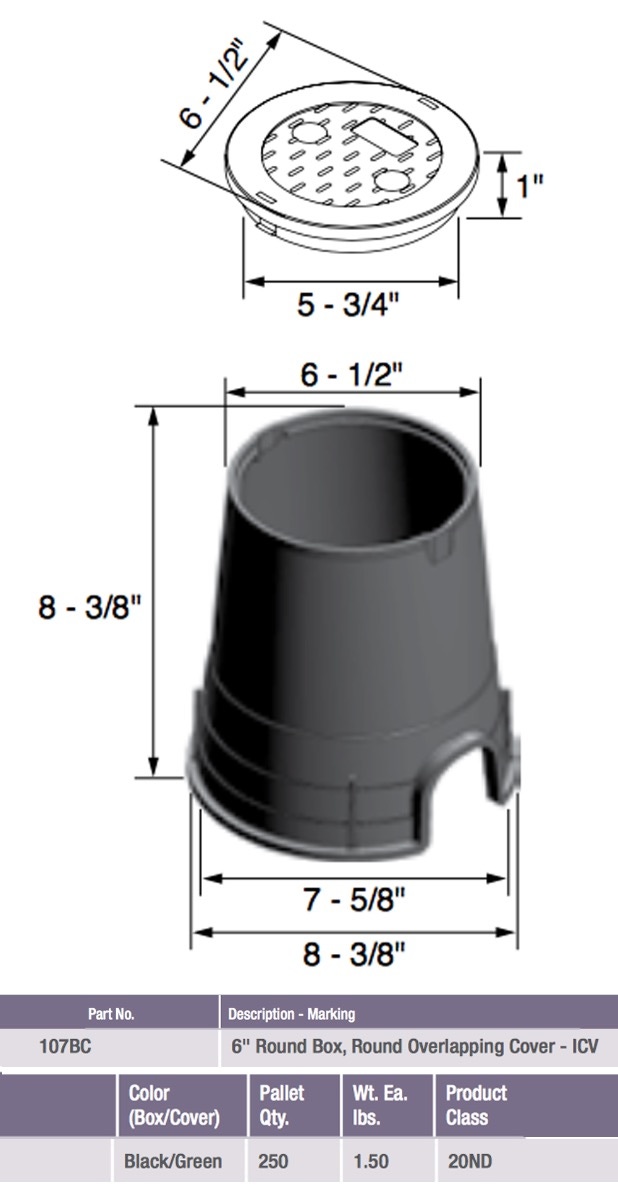 Features:
6" round valve boxes and covers are injection molded of recycled polyolefin material with a melt index between 10-12.
Coloring and UV stabilizers are added, along with processing lubricants when needed.
The 6" round body shall be tapered and have a minimum wall thickness of .200".
The body shall have a double wall at the top cover seat area with a minimum thickness of .130".
The bottom of the body shall have a .250" flange.
The 6" round cover shall have an average thickness of .187".
Jumbo Rectangular, Standard Rectangular
Great everything!
Product was more stout than any home improvement store and at lesser price. Top quality product! Good quality, great service, shipped out fast and received fast.I would recommend this company and the product it sold.
September 14, 2018
Purchased
over 2 years ago
NDS Sprinkler Box
Perfect replacement, good price and fast ship. Highly recommended.
August 10, 2019
Purchased
1 year ago
We found other products you might like!