Rain Bird WR2-RFC Wireless Rain/Freeze Sensor and Timer Interface
Sensor interface and controller interface (rain AND freeze sensor)
Compatible with nearly all 24 VAC controllers
Improves system performance
Perfect for water conservation
Features & Benefits
Rain and rain/freeze sensors are becoming "must-have" components for irrigation systems these days. Rain Bird designed the new WR2 wireless sensor to exceed the standard. With revolutionary features, this sensor saves time, improves system performance and enhances your reputation as a water management expert.
Reliable signal transmission and other innovations deliver superior responsiveness to rainfall and cold temperatures, while user-friendly features cut installation and programming time in half. Choose your own rainfall set points and save up to 35% on water usage while promoting lush, beautiful landscapes.
Installs faster with one-person
Rain Bird designed the WR2 so that one person can install it quickly and easily. Signal strength is displayed on both the sensor unit and the controller interface. The sensor's innovative versatile mounting bracket quickly attaches securely to a gutter or any vertical surface, such as a fence or wall.
Easier to use and program
Programming the WR2 is simplified for fast set-up. In just a few seconds, you can select set points, program the irrigation modes and save your default. On the controller interface, all settings are displayed on the easy-to-read LCD screen, so you can see signal strength, rain and temperature set points, battery life and more at a glance. Unlike other rain sensors, the WR2 has a long-lasting battery that's quick and easy to replace.
Superior signal reliability
Signal strength is displayed on the controller interface using familiar cell phone icons. Dual antennas safeguard the system from signal interference by radios, mobile phones, power lines, etc. The WR2 system overcomes most line-of-sight obstructions so you have freedom in locating the sensor. Weather data is updated every 45 seconds to ensure the most reliable communication between sensor and controller.
Wireless rain sensor shuts off irrigation when it rains
Freeze sensor shuts off irrigation when temperature drops below set point
Saves up to 35% on water usage
Intuitive, icon-driven interface for easy programming
Enhanced antenna array provides superior signal reliability that overcomes most line-of-sight obstructions
Simple battery replacement requiring no tools and no need to disassemble sensor
Easy to install self-leveling sensor bracket mounts to flat surfaces or rain gutters
Suitable for use with Rain Bird and competitor 24VAC irrigation controllers
Adjustable rainfall settings from 1/8 in to 1/2 in
Adjustable low temperature settings from 33°F to 41°F
NOTE: Not compatible with Rain Bird ESP-SMT, ESP-SMTe, SST600s or SST1200s smart
Product Details
North America (916 MHz)
WR2-RFC: Rain/Freeze Combo
WR2-RFI: Rain/Freeze Controller Interface Only
WR2-RFS: Rain/Freeze Sensor Only
International (868 MHz)
WR2-RFC-868: Rain/Freeze Combo
Dimensions: WR2 Controller Interface
Width: 3.1" (7.9 cm)
Length: 6.8" (17.2 cm)
Depth: 1.7" (4.3 cm)
Distance between Mounting Holes: 6.25" (15.9 cm)
Dimensions: WR2 Sensor Assembly
Sensor Length: 5.8" (14.7 cm)
Attachment Bracket Length: 4.6" (11.7 cm)
Distance between Mounting Holes: 4.25" (10.8 cm)
Horizontal displacement (bracket + fixed ball arm): 5.5" (14.0 cm)
Electrical Specifications
Application: suitable for use with 24 VAC controllers (with or without pump start / master valve).
Electrical rating suitable for use with up to six 24VAC 7VA solenoids plus an additional master valve or pump start that does not exceed 53VA.
Controller Interface Wire: 30" (76 cm) length of #22 gauge (0.64 mm) UV resistant extension wire.
UL, cUL, CE, C-Tick, and WEEE certifications.
FCC approved spread spectrum 2 way radio transceivers with FCC Class B approvals.
Signal transmission distance of 700' Line of Sight.
Battery life: four or more years under normal operating conditions.
6 KV surge / lighting protection.
Mechanical Properties
Adjustable rainfall settings from 1/8" – 1/2" (3 – 13 mm).
Adjustable low temperature settings from 33°F – 41°F (0.5° – 5°C).
Three irrigation modes to select: Programmed, Suspend Irrigation for 72 hours, Override sensor for 72 hours.
"Quick Shut Off" suspends active irrigation cycle within approximately two minutes.
High-grade, UV resistant polymer units resist harmful environmental effects.
Certifications
cULus [US and Canada], FCC Part 15c [US], ISED RSS-210 [Canada], CE [European Union], RCM [Australia and New Zealand], Smart Approved WaterMark [Australia], ICASA [South Africa].
Diagram Details
A - Controller Interface
B - Sensor
C - Battery Cassette and Lithium CR2032 Battery
D - Sensor Mounting Bracket Assembly
Wiring Diagram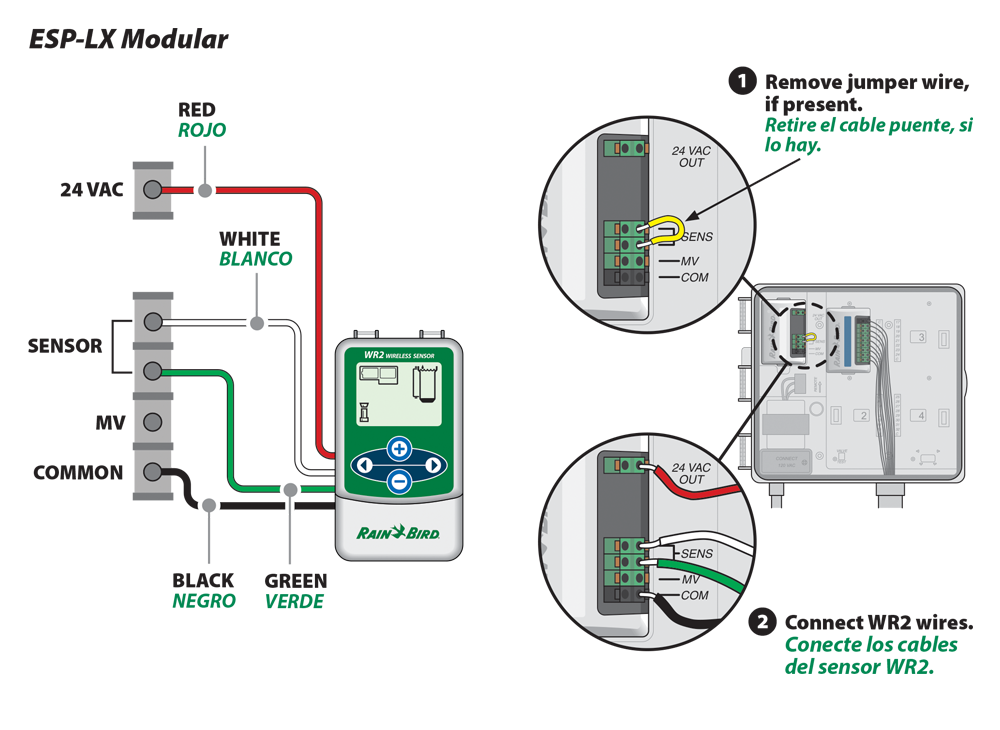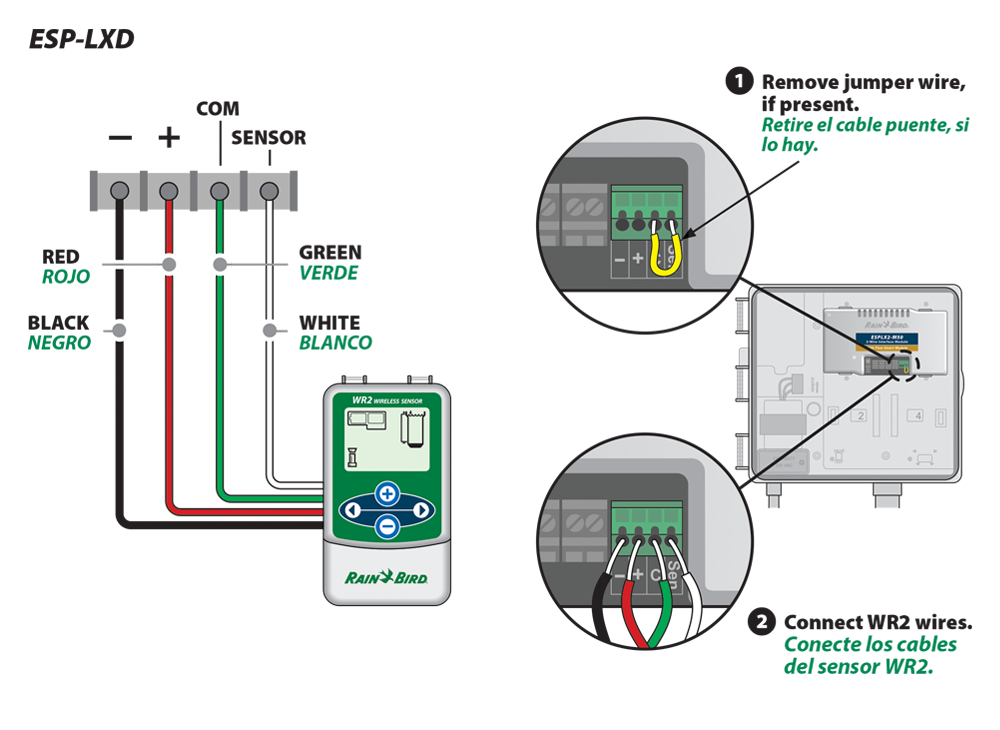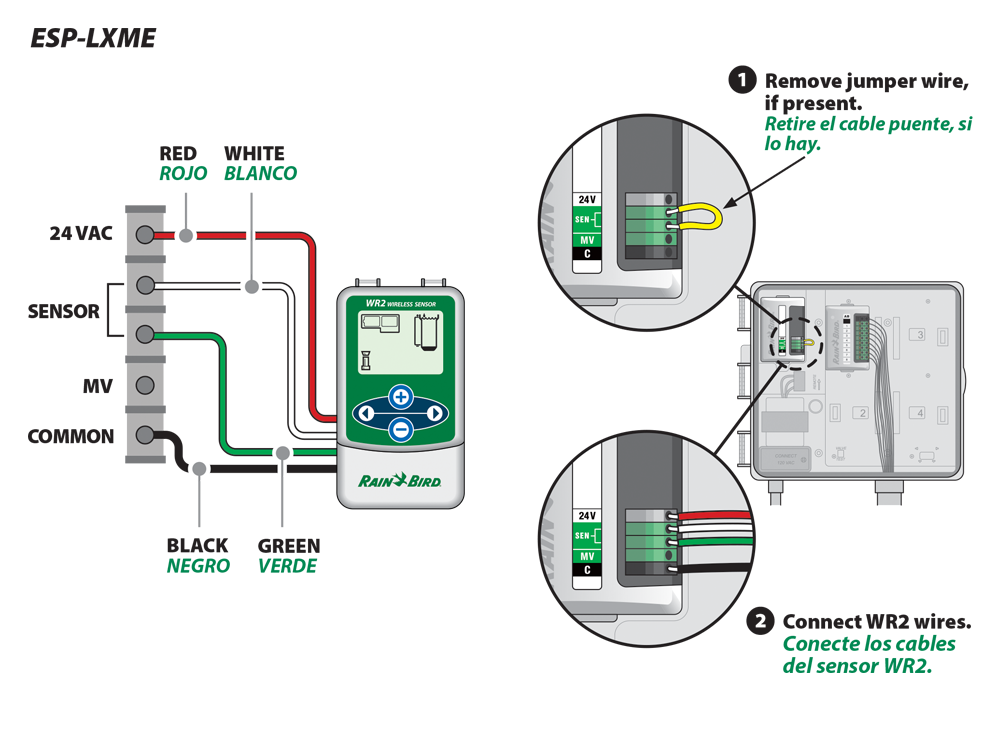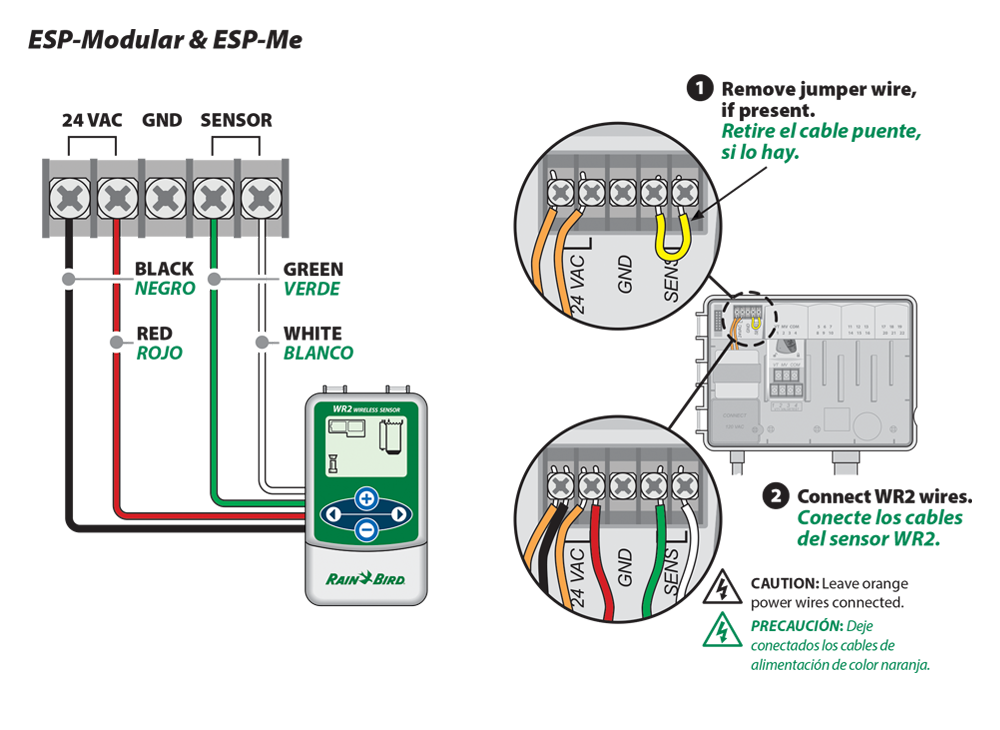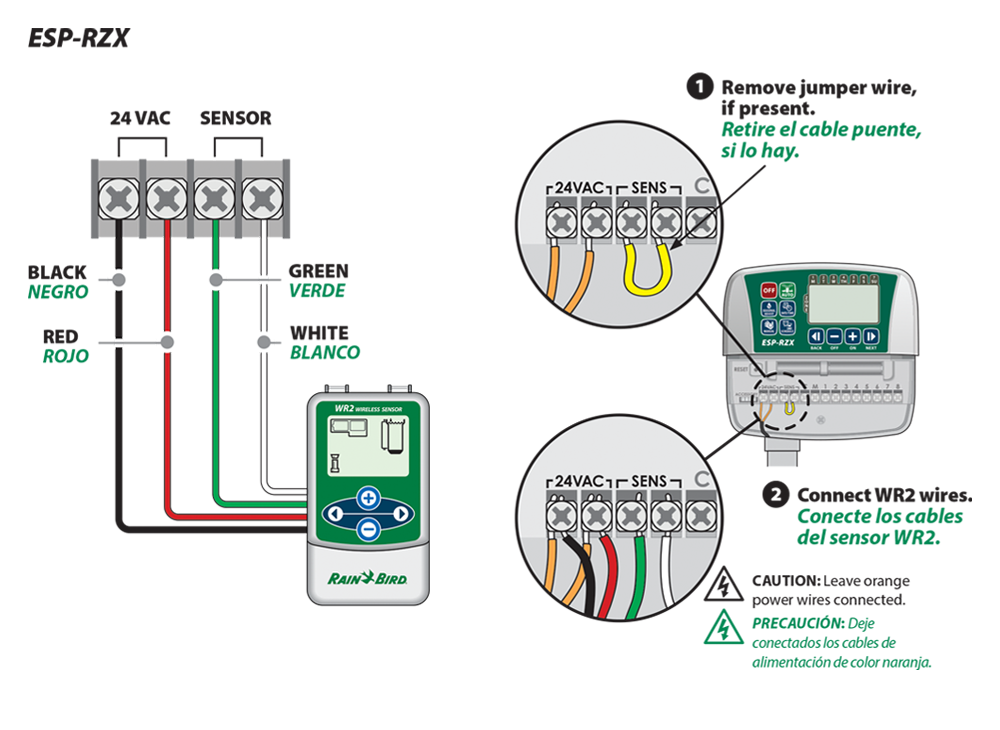 We found other products you might like!