Rain Bird 2045PJ Pop-Up Impact Rotor
Rain Bird Impact Rotor (2045PJ)
Flow Rate: 1.5 - 8.4 GPM
Spray Radius: 22 ft - 45 ft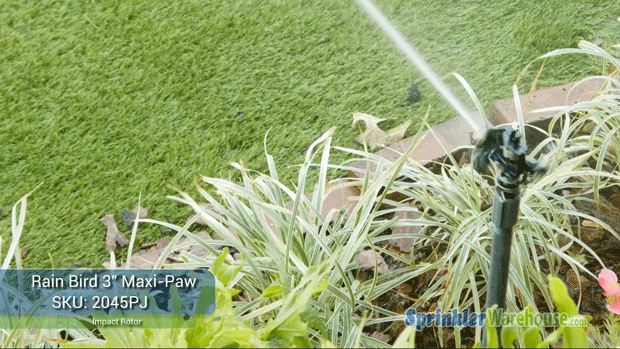 Dirty Water Applications - Spacing Up to 45 Feet (13.7 m). Designed for a variety of uses where full circle sprinklers should not overthrow water into restricted areas. The body, arm, bearing sleeve and nipple are made of durable Delrin™ plastic.
Features & Benefits
Proven impact drive with straight-through flow for superior performance in dirty water.
Double-weighted arm for slower rotation and increased distance of throw.
Adjustable arm spring for low-pressure and low-gallonage operation.
Precision Jet tube (PJ™) minimizes side splash.
5 Matched Precipitation Rate (MPR) nozzles and 2 low-angle (LA) nozzles.
Interchangeable, color-coded bayonet mount nozzles.
No tools required to change nozzles.
FP trip permits full circle (360°) or part-circle operation (20° to 340°).
Powerful reverse action.
Three-year trade warranty.
Product Details
Precipitation Rate: 0.28 to 1.21 inches per hour (7 to 31 mm/h)
Radius: 22 to 45 feet (6,7 to 13,7 m)
Radius with Radius Reduction Screw: 18 feet (5,4 m)
Pressure: 25 to 60 psi (1,7 to 4,1 Bars)
Flow Rate: 1.5 to 8.4 GPM (0,34 to 1,91 m3/h; 0,09 to 0,53 l/s)
½" (15/21) male threaded inlet
Standard trajectory angle nozzles: 06-red; 07-black; 08-blue; 10-yellow; 12-beige
Nozzle outlet trajectory is 23° for 06, 07, 08, 10, and 12 nozzles.
Low angle (LA) nozzles: 07 LA-black; 10 LA-yellow
LA nozzle outlet trajectory is 11°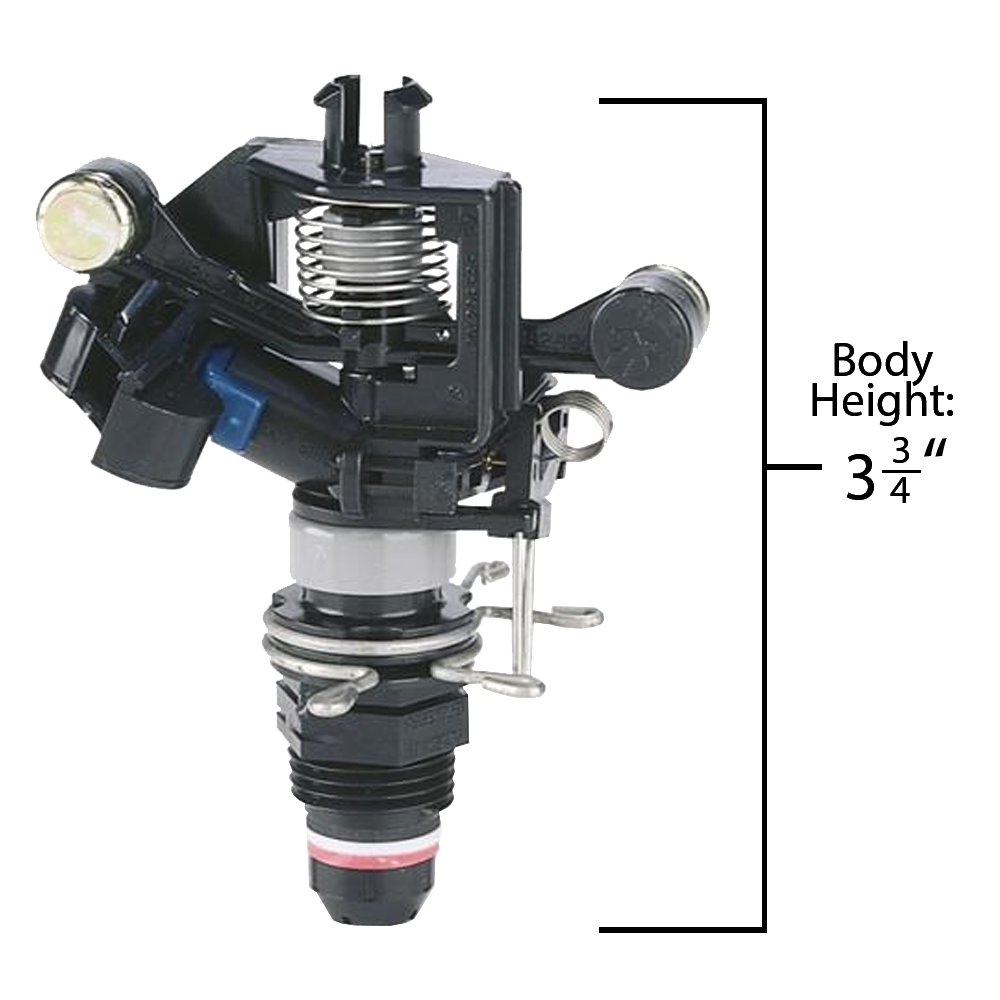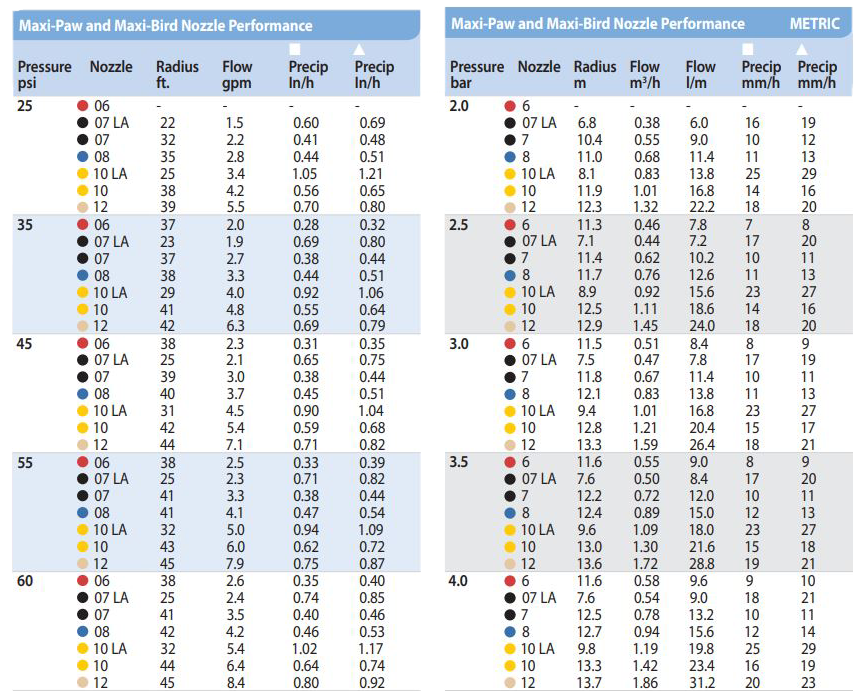 Related Articles & Videos
Articles
Videos
Part Circle Adjustable (20 - 340)
This company was great to work with and the shipping was very fast. I always like Rainbird products and I realized that one of the sprinkler heads I replaced was almost 25 years old. No wonder I like Rainbirds!
May 4, 2020
Purchased
1 month ago
Mostly good.
I've been using for several years. Most work good but some you have to clean the bugs out of the passages, spring is a good time to disassemble and clean the directional parts, spiders like to build nests that keep them from functioning. Some just work better than others even new. Really like the ability to change nozzles to fine tune.
June 1, 2020
Purchased
1 month ago
We found other products you might like!