Falcon 6504 Series Part Circle Rotors
The Rain Bird Falcon 6504 Series Rotor has superior distribution capabilities along with performance that cannot be compromised.
Rain Bird Falcon 6504 Series Rotors are ideal for large turf sites including schools, athletic fields, parks, commercial applications and cemeteries with spacing of up to 65 feet. This rotor has a multi-function wiper seal and tapered riser to keep the stem debris-free. The Falcon Series Rotor's reliability and durability make it one of the toughest sprinkler rotors in the irrigation industry.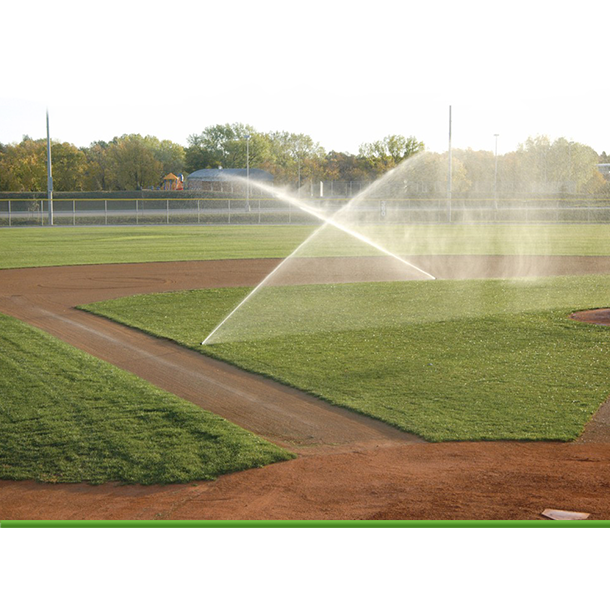 Stainless steel riser option helps deter vandalism on public turf areas.
Easy arc adjustment (part-circle model) through top of rotor from 40 degrees to 360 degrees. No special tools required.
Water-lubricated gear drive for reliable; durable rotation.
Heavy-duty; stainless steel retract spring ensures positive pop-down.
Standard black rubber cover or optional purple rubber cover for non-potable water.
Removable Seal-A-Matic (SAM) check device prevents puddling and erosion caused by low-head drainage.
Eight color-coded Rain Curtain nozzles offer design flexibility.
Patented Rain Curtain nozzles have three ports for optimal long-range; mid-range; and close-in watering; for green grass even in the heat of summer.
Nozzles are interchangeable from the front with no special tools.
Self-adjusting stator does not require replacement when changing nozzles.
Radius adjustment screw allows radius reduction up to 25% without changing nozzles.
Small 2" (5;1 cm) exposed diameter reduces the possibility of injury in play areas.
Patented; pressure-activated wiper seal and tapered riser stem on both plastic and stainless steel models protect internals from debris to ensure positive pop-up and retraction.
4" (10;2 cm) pop-up height to center line of nozzle clears taller turfgrass.
Stainless steel trip gears ensure long-term durability.
New model with faster rotation speed completes a full rotation in approximately one minute for quick wet-down on clay tennis courts and sports turf infield areas.
New freeze protection feature safeguards rotors from damage during repeated freeze/thaw cycles even in harsh winter climates (does not eliminate the need for system winterization).
Falcon rotors can be ordered from the factory with nozzles pre-installed in case quantities as a special order.
Non-Potable / Reclaimed Water
Check Valve, Non-Potable / Reclaimed Water
Part Circle Adjustable (40 - 360)
Falcon sprinklers
Have used this sprinkler for years and it works well. Good even coverage. I use ditch irrigation water and don't have much trouble. Eventually the part circle models stop rotating and there is no way to clean them. They just have to be replaced. It is usually the adjustable one and only occasionally the full circle ones.
April 24, 2020
Purchased
5 months ago
Browse 1 question
Browse 1 question
What is the difference between the NPT model and the NPN?
We found other products you might like!