Rain Bird 1300 Series Bubbler
Flower Bubblers
Rain Bird 1300 Series Flower Bubblers provide a controlled, gentle umbrella of water for irrigating trees, flowers and shrub areas. Mount these bubblers on 1/2" male risers to effectively water areas from 1' to 3'.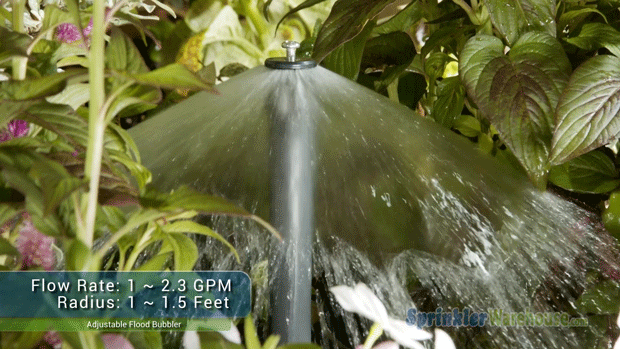 Full circle pattern only.
Stainless Steel adjustment screw regulates flow and radius for spacing between from 1 to 3 feet (0.3 m to 0.9 m) apart.
Fully adjustable flow.
Shipped with SR-050 1/2" (15/21) inlet filter screen for easy installation and resistance to debris.
Operates over a wide range of pressures.
Non-corrosive plastic and stainless steel construction for long life.
Five year trade warranty
Browse 4 questions
Browse 4 questions and 12 answers
what else besides this bubbler do I need to convert pop ups to bubblers?
BEST ANSWER:
I guess it depends on how clean your water supply is. Mine seems to be quite clean, so I did not use a filter on the line to these. I also did not use a pressure reducer. I believe my pressure is greater than 40psi, and have not had any problems. I have a lot of trees on one line, so wanted as much flow as possible throughout the system. I had the green twist top type bubblers before, and the seemed to keep reducing the flow, until I closed and opened them a couple of times. I believe these are going to be much more reliable flow wise. Have not converted all of the old ones to this type yet, but so far they seem to be fine.
what is the distance apart of the mushroom bubblers?
BEST ANSWER:
Since these are adjustable, the spacing can be anywhere between 1 and 3 feet. The adjusting screw regulates flow and radius and these will operate over a wide range of water pressure.
Will this bubbler head fit on any pop up bodies or must it be placed on a riser pipe?
We found other products you might like!