Professional Series Valve Box Green Lid ONLY
The Professional Series Valve Box provides rugged, no-nonsense dependability, with a price tag that can meet any budget. Valve boxes shall be used as durable, rigid enclosures for valves or other irrigation system components requiring subsurface protection for installation or maintenance. The valve box shall be made of structural foam HDPE resin that is resistant to UV light, weather, moisture and chemical action of soils.
Primary Application
Protects in-ground irrigation valves. Functions as a durable enclosure that provides easy access to valves for maintenance. Used in turf applications to house single valves, multiple valves, or other subsurface components of an irrigation system.
Specifications
Top: 20-1/4" L x 15" W
Double Ledge Lid Support
Lockable Lid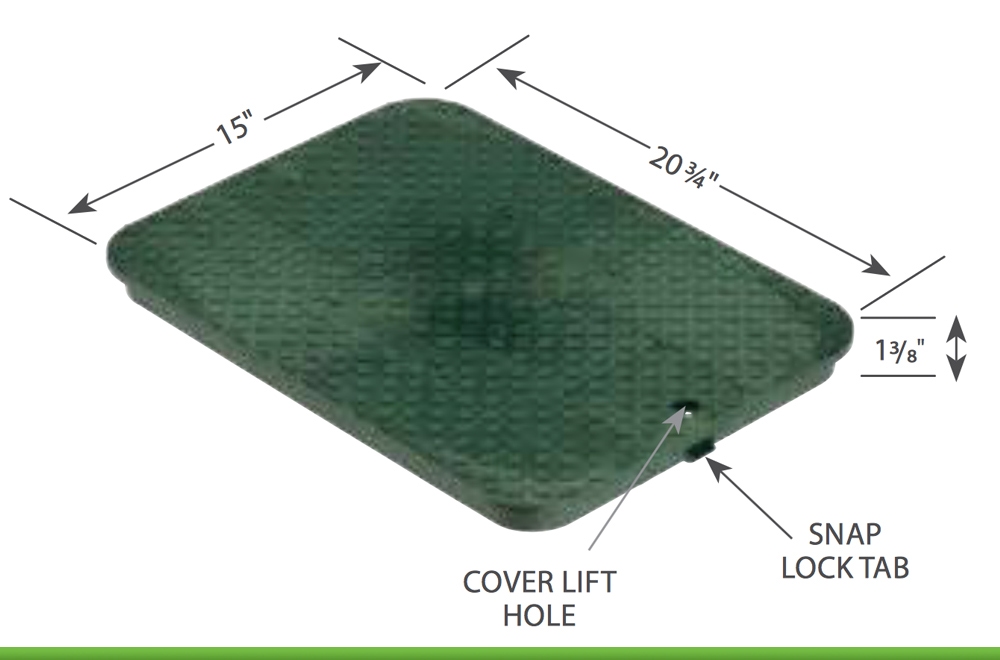 Light & Durable construction
Drop-in lockable lid
Skid-resistant lid texture
Double ledge lid support
Ridge adds additional support to sidewalls
Browse 4 questions
Browse 4 questions and 4 answers
what are the inner dimension which has to fit into the valve box? - the dimensions given only state what the overlapping lid exterior size is - not heplful when trying to find a replacement lid
What are the actual dimensions of the inside of the lid that fits into the box?
We found other products you might like!