Rain Bird VB Series VBJMBH Jumbo Rectangular Valve Box with Locking Green Lid
Rain Bird VBJMBH Valve Box
Jumbo Rectangular Valve Box with Locking Green Lid
When a project requires quality valve boxes, look no further than Rain Bird's VB Specification Series. Sure, the VB Series may be priced slightly more than a basic valve box, but they eliminate unnecessary expenses associated with a lesser quality product: lost or damaged lids, crushed valve boxes, or pest infestation, making the extra investment in the VB Series worth every penny!
Rain Bird's VB Specification Series valve boxes are loaded with industry leading features that build in strength and durability, prevent lawn equipment damage to the lids, and eliminate the possibility of dangerous pests from inhabiting the valve box.
Features & Benefits
Strength and Stability- Multiple sizes and shapes are designed with corrugated sides and wide flange bases for maximum durability, compression strength, and stability
Smart Lid Design- Designed with no holes to keep out pests, beveled edges to minimize damage potential from turf equipment, and for easy hand and shovel access
Flexible Installations- Interlocking stacing capabilities, extension models and pipe hole knockouts support deeper and flexible installations
Enviromentally Friendly- Earth-friendly, LEED-compliant material made of 100% recycled materials (black boxes and black lids only)
Easily removable knock-outs simplify pipe placement and reduce installation time
Two large knock-outs accommodate up to 3.5" diameter pipe. (Extensions do not have knockouts)
The Jumbo VBJMBH Valve Box can comfortably fit up to 5 valves.
Product Details
Length: 26.3 inches (66.8 cm)
Width: 19.8 inches (50.3 cm)
Height: 12.1 inches (30.7 cm)
Primary Application
Protects in-ground irrigation valves. Functions as a durable, rigid enclosure that provides easy access to valves for maintenance. Used in turf applications to house single valves or other subsurface components of an irrigation system.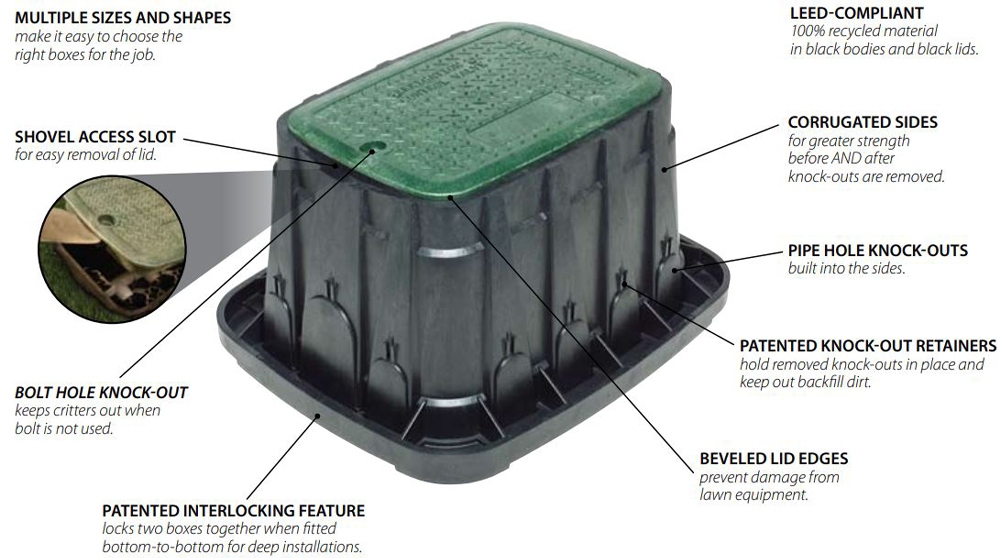 Related Articles & Videos
Articles
Related Videos
We found other products you might like!