Rain Bird VB Series VBMAXH Max Jumbo Valve Box with Green Lid
Rain Bird VBMAXH Valve Box
Max Jumbo Valve Box with Green Lid
Valve boxes are durable, rigid enclosures for valves or other irrigation system components requiring subsurface protection for installation or maintenance. Valve boxes are made of structural foam HDPE resin that is resistant to UV light, weather, moisture and chemical action of soils.
Valve box body is composed of 100% recycled HDPE.
The maxi jumbo rectangular body has knock-outs molded into the sides that can be readily removed. The knock-outs remain an integral part of the body unless removed to run pipes or wires through the valve box.
The valve box has corrugated sides. The valve box has a grooved feature on one side, just below the lid at the top of the box, for inserting a shovel blade or other prying tool to provide easy lid removal. This is useful following compaction of the surrounding soil or after the eventual accumulation of thatch over the valve box.
Boxes have a stepped feature on the bottom that securely interlocks two boxes together when mated bottom-to-bottom for use in a deep installation.
Lids have beveled edges to minimize potential damage from lawn equipment. Lids are clearly marked with the words "Irrigation Control Valve" molded onto the top. Lids have a marking area measuring at least 6.0" by 2.0" that is suitable for branding or other means of identification.
The locking bolt, washer and clip are made of stainless steel.
Features & Benefits
Strength and Stability- Multiple sizes and shapes are designed with corrugated sides and wide flange bases for maximum durability, compression strength, and stability
Smart Lid Design- Designed with no holes to keep out pests, beveled edges to minimize damage potential from turf equipment, and for easy hand and shovel access
Flexible Installations- Interlocking stacing capabilities, extension models and pipe hole knockouts support deeper and flexible installations
Enviromentally Friendly- Earth-friendly, LEED-compliant material made of 100% recycled materials (black boxes and black lids only)
Product Details
Top Opening: 29.4" x 16.4" (74.7 cm x 41.7 cm)
Maximum Top: 34.4" x 21.1" (87.4 cm x 53.5 cm)
Bottom Opening: 35.1" x 21.9" (89.1 cm x 55.4 cm)
Maximum Bottom: 40.4" x 27.1" (102.5 cm x 68.9 cm)
Height: 18.0" (45.7 cm)
Pallet Quantity (body + lid): 4
* Includes 2 hex head 3/8" x 3.0" (1.0 x 7.6 cm) bolts, washers and clips.
Other Features
Knockouts: 18
Small knockouts: 12 total (7 on one side, 5 on the other side) Height 7.0" x Max Width 3.8" (17.8 cm x 9.5 cm)
Large knockouts: 6 total (3 on each end),Height 7.9" x Max Width 5.3" (20.0 cm x 13.5 cm)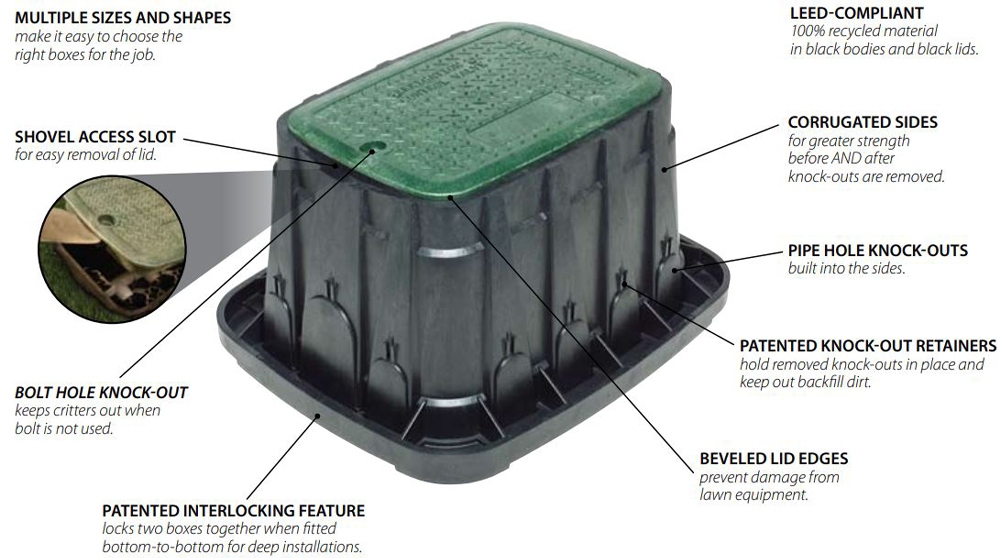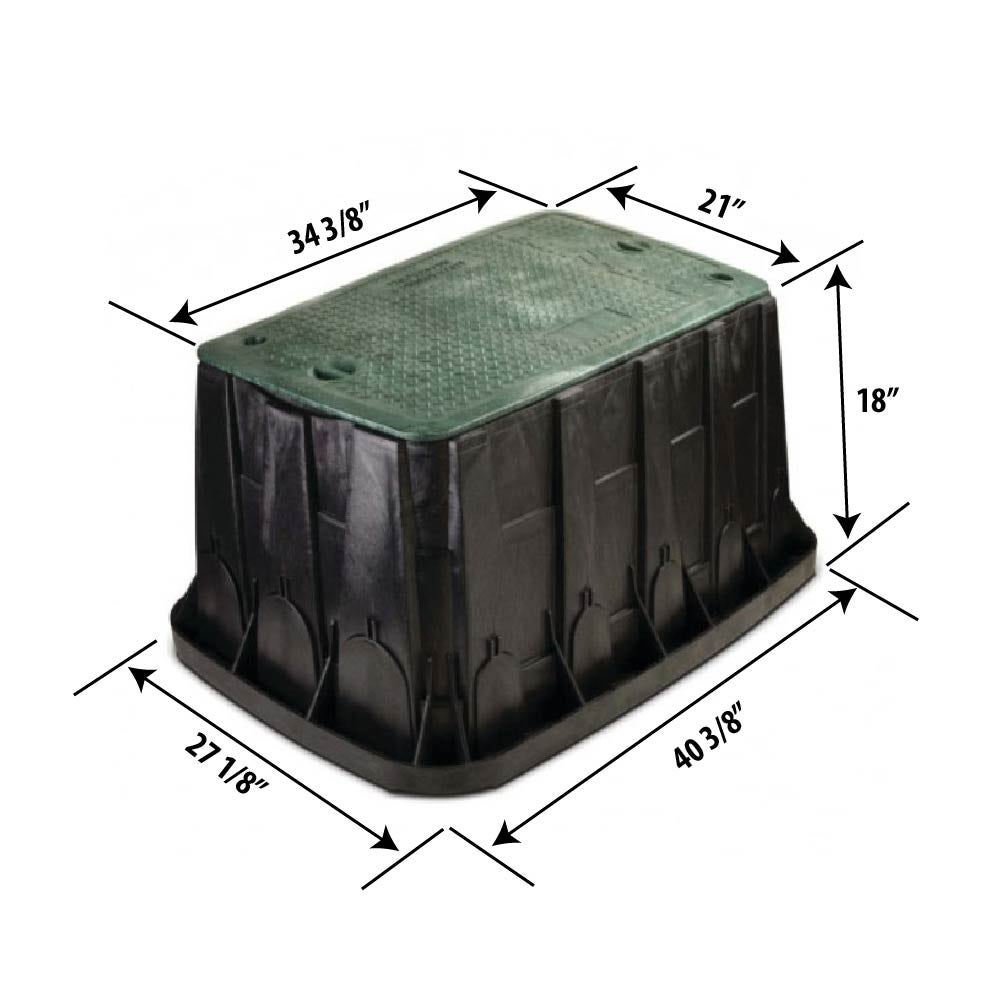 Related Articles & Videos
Articles
Videos
Excellent all around. Exactly what I ordered and great delivery service. Well done !!
May 9, 2020
Purchased
5 months ago
Browse 2 questions
Browse 2 questions and 1 answer
When can i expect delivery to Long Island, New York for a Rain Bird VBMAXH Max Jumbo Valve Box W/Green Lid??
BEST ANSWER:
If you select Ground Shipping, the transit time is about 3-4 business days. We also offer Expedited shipments to meet your needs.
what are the exact dimensions of this box? I am looking for something that is 33x24x12
We found other products you might like!