Rain Bird VB Series VBSTDH Standard Rectangular Valve Box with Locking Green Lid
Rain Bird VBSTDH Valve Box
Standard Rectangular Valve Box with Locking Green Lid
Work faster and easier with a Rain Bird Valve Box. We've created unique knock-outs for easy pipe placement and reduced installation time – so no more tedious cutting. And the knock-outs slide back into place above the pipe to keep out dirt on backfill.
All Rain Bird Valve Boxes were engineered to maintain their horizontal and vertical integrity under load, even with the knock-outs removed.
Other unique features include a bolt hole knock-out to help keep critters out of the box when the locking bolt isn't used and a shovel access slot on the side of the box that makes it easy to remove the lid.
When a project requires quality valve boxes, look no further than Rain Bird's VB Specification Series. Sure, the VB Series may be priced slightly more than a basic valve box, but they eliminate unnecessary expenses associated with a lesser quality product: lost or damaged lids, crushed valve boxes, or pest infestation, making the extra investment in the VB Series worth every penny
Features & Benefits
Two large center knockout accommodate up to 3½" (8.9 cm) diameter pipe and eleven knockouts accommodate up to 2" (5.0 cm) diameter pipe
Knock-outs built into all four sides
Corrugated sides for greater strength before and after knock-outs are removed
Bolt-hole knock-out – keeps critters out when bolt is not used
Shovel access slot for easy removal of lid
Knock-out retainers hold removed knock-outs in place during backfill
Interlocking feature locks two boxes together when fitted bottom-to-bottom for deep installations
Beveled lid edges prevent damage from lawn equipment
The standard VBSTDH Valve Box can comfortably fit up to 5 valves.
Product Details
Length: 21.8 inches (55,4 cm)
Width: 16.6 inches (42,2 cm)
Height: 12.0 inches (30,5 cm)
Primary Application
Protects in-ground irrigation valves. Functions as a durable, rigid enclosure that provides easy access to valves for maintenance. Used in turf applications to house single valves or other subsurface components of an irrigation system.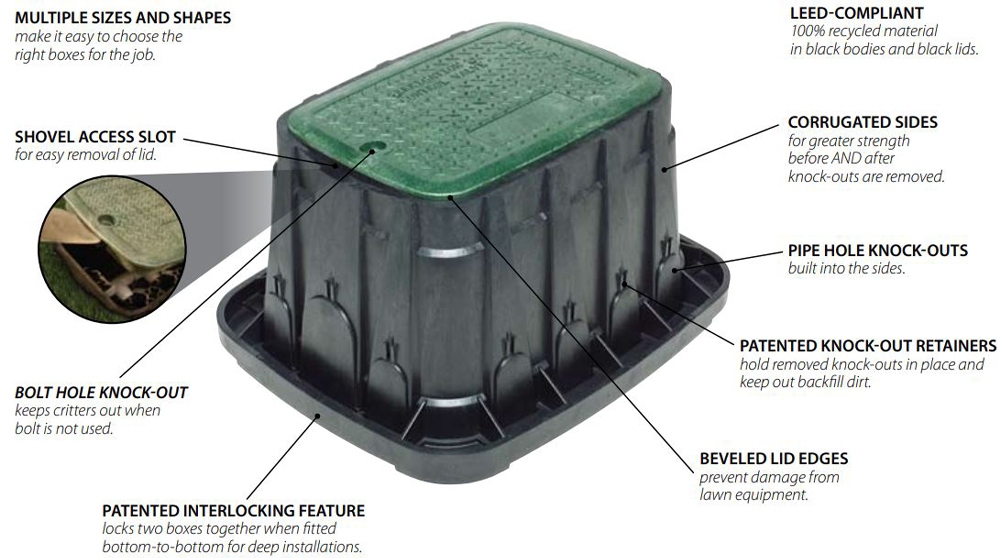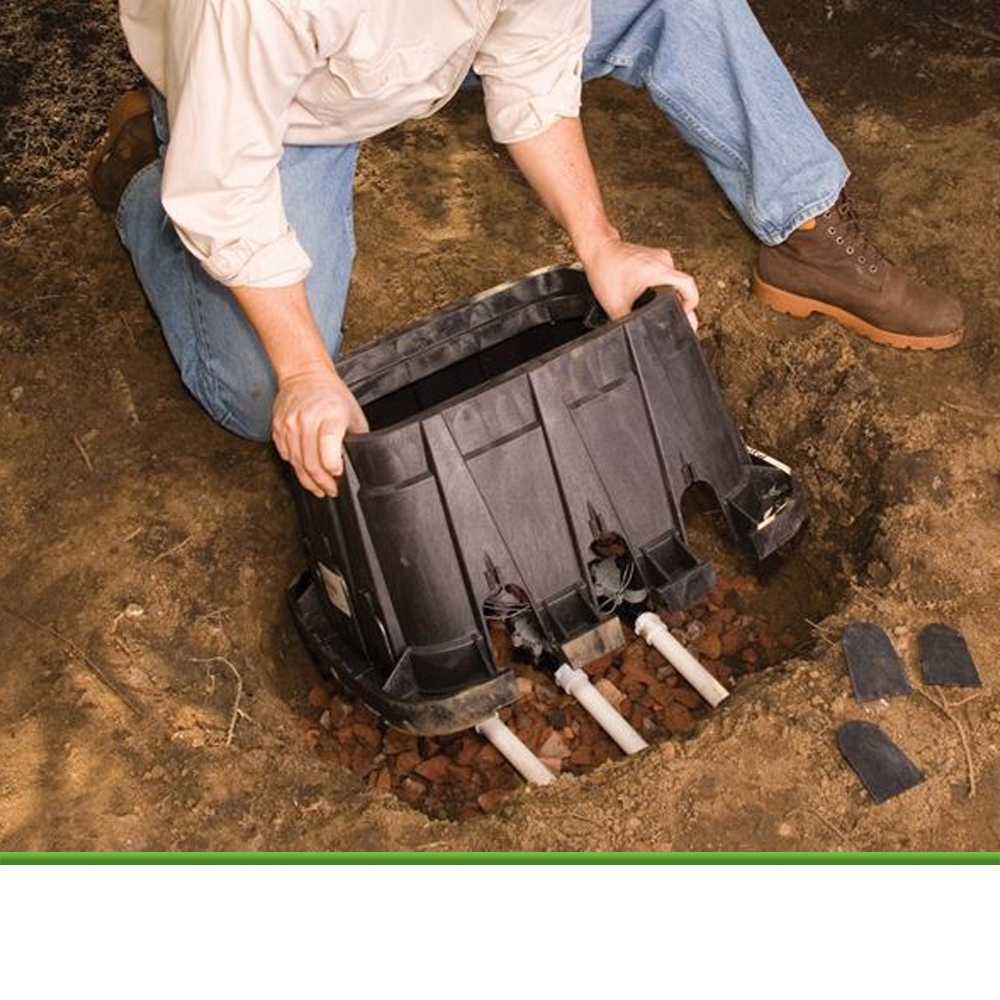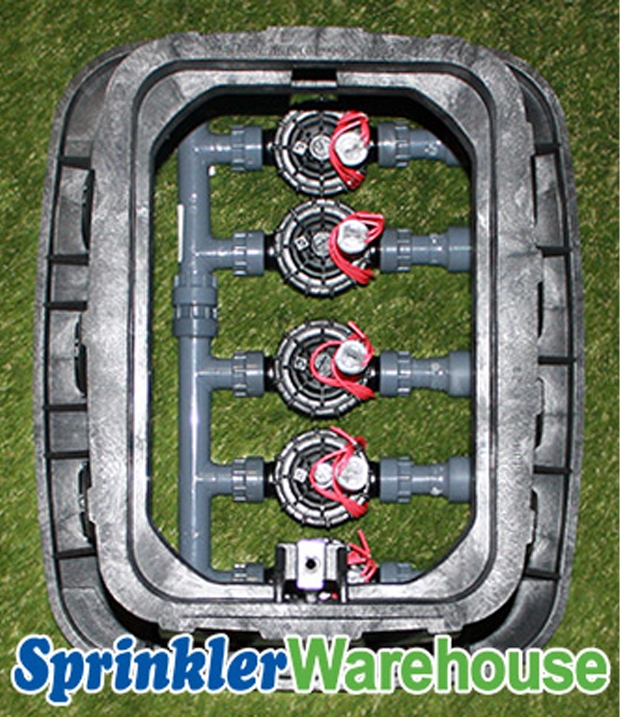 Related Articles & Videos
Articles
Videos
Browse 4 questions
Browse 4 questions and 11 answers
can the premium rain bird valve boxes withstand the weight of a vehicle if installed in a driveway?
BEST ANSWER:
I bought and installed several of these premium boxes. They clearly are the most robust and beefy ones I have seen. I drive over them occasionally with 40 hp sized tractors and other equipment in the lawn with no problem. I'm not sure the manf would recommend driving over them with heavy cars, trucks on a routine basis as in a driveway situation, but it seems as though they might endure it on an occasional basis if backfilled with gravel that can give a little. Mine all have a few inches of pea gravel installed under and around them. Hope this helps.
Steve T

on Jul 23, 2016

Purchased on Jun 5, 2016
Is there a adapter to connect 3/4 inch water line to exterior 3/4 inch PVC? Shark bites connect 3/4 copper to 3/4 indoor CPVC water line, but does not connect to the exterior 3/4 inch PVC. The indoor 3/4 CPVC has a different outside diameter than the outdoor 3/4 PVC. I am using shark bites and cooper inside and hydro lock PVC fittings outside.
We found other products you might like!