Weathermatic Battery Operated Programmable Valve Actuator
(Sensor Ready)
Max Station Run Time: 6 Hours
Expandability: Fixed
Factory Installed 3.6 V Lithium Battery
Features & Benefits
Fits Weathermatic 7900 Series valves and previously sold Signature turf valves
Valve adapter kits available for other major manufacturers
Long life factory installed 3.6V lithium battery.
Actual battery life will depend on the number of cycles run per year, valve size, operating pressure, and temperature. The battery is replaceable and is available as a service part.
LCD displays clock and programming
Timed manual ON and OFF
Length of watering time: 1 minute to 12 hours
Six watering programs available per day
Mist Cycle available on all 6 programs
Days of the week, Odd/Even, and Interval scheduling
Rain Delay is programmable from 1 to 99 days
Product Details
Dimensions
5 1⁄2" W x 3 1⁄2″ H (14 cm x 9 cm)
Electrical
Factory Installed 3.6V Lithium Battery
Battery life will vary depending environmental conditions. Test results have shown 2-3 years of Battery life.
Tech Specs
Fits previously sold Signature turf valves
Valve adapter kits available for other major manufacturers
4 zone capacityM
Three start times per program (9 total start times)
Three independent programs
Length of programmable watering time (1 min to 3 hr 59 min per zone)
Four scheduling options to suit the need of plant material or to comply with watering restrictions (days of the week, 1-30 day interval, true odd/even)
Leap year compatible (automatically includes February 29th)
0-200% Water budget programming
Three test cycles (manual open, cycle, and 3 min test)
Color coded label, wires make wiring /zone identification quick and easy!
Can have up to 250 ft (76 m) of 18 AWG direct burial wire between the solenoid and the 8024 Series Controller (Must use Waterproof design connectors for splice or your warranty is void) waterproof design tested to IP68, 6 ft (1.8 m).
Long life battery (Battery life will vary depending on environmental conditions)
Operates RainBird & Hunter DC latching Solenoids (makes for an easy controller replacement)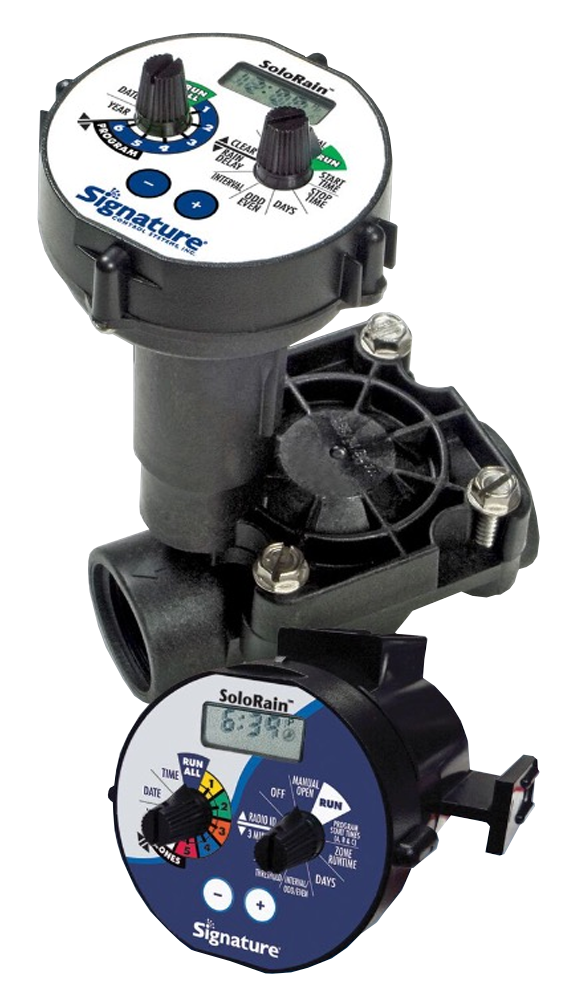 *This product contains the Valve Actuator ONLY The valve and sensor are sold separately.
Related Articles & Videos
Articles
Videos
Features & Benefits
FITS ALL SIGNATURE® TURF VALVES
Long life factory installed lithium battery*. Actual battery life will depend on the number of cycles run per year, valve size, operating pressure, and temperature. The battery is replaceable and is available as a service part.
LCD displays clock and programming
Timed manual ON and OFF
Length of watering time: 1 minute to 12 hours
Six watering programs available per day
Mist Cycle available on all 6 programs
Days of the week, Odd/Even, and Interval scheduling
Rain Delay is programmable from 1 to 99 days
Leap year compatible-automatically includes Feb. 29th every four years
Waterproof design tested to IP68, 6 ft. (1.8m)
Max Station Run Time (HRS):
great functionality - not so good endurance
I've been using for many years.
Manual open 4 up to 6 hrs.
Easy set up for daily time operations

I've purchased as many as 12 units over the years
currently 3 are working
July 13, 2020
Purchased
3 months ago