Toro PSS-SEN Wireless Precision Soil Sensor
Leveraging Toro sensing technology used on high-end commercial sites and world-class golf courses around the globe, the Toro Precision Soil Sensor reduces water waste by continuously measuring moisture levels in the soil and determining when to allow your controller to water, maximizing the efficiency of your irrigation system. Communication between the sensor probe and receiver is completely wireless, so installation is quick and easy with no digging required.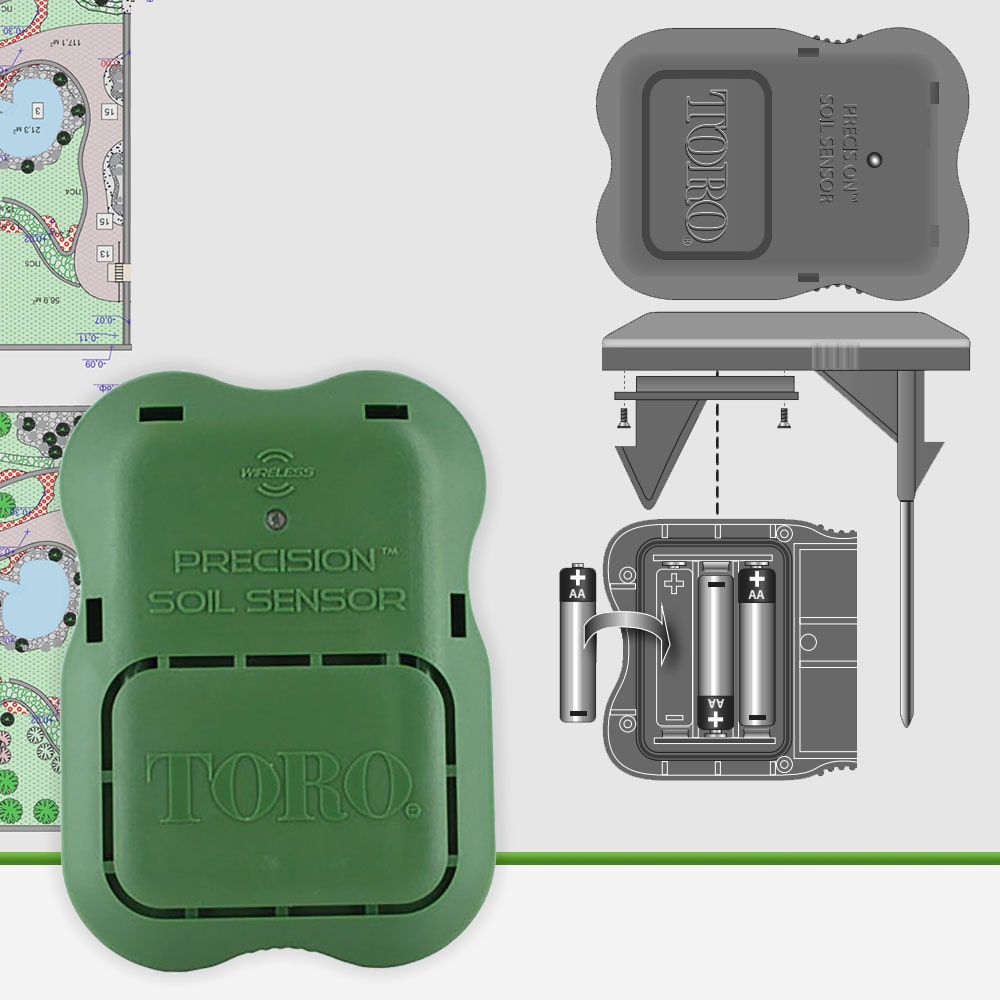 Product Details
Wireless Communication: Up to 500' (152m) line-of-sight
Automatic Calibration: The sensor will automatically detect the soil type and adjust all calculations accordingly
Freeze Detection: The only soil sensor to offer freeze detection that prevents irrigation when temperatures approach freezing
Signal Strength Indicating LED: A multi-color LED on the sensor probe indicates radio strength to assist in finding a suitable installation location
Slim Design: The sensor probe's ultra-slim 3/4" profile allows it to avoid being damaged by mowing equipment
Long Battery Life: Easily replaceable batteries last up to 2 years with alkaline batteries (longer with lithium)
Works with Any Irrigation Controller: Can be installed on any irrigation controller, including competitive models
No Digging Required: Communication between the sensor probe and the receiver is completely wireless, with up to a 500' range (line of sight). Installation doesn't disturb the soil, giving you accurate moisture readings starting as soon as the sensor is put in the ground
Prevents Overwatering: Continuously measures soil moisture levels and determines when to allow your irrigation controller to water, making sure just the right amount of water is applied
Two Year Warranty
There are two components to the system - a battery-powered wireless sensor probe and a receiver that wires into any irrigation controller's sensor port
Once installed, the sensor calculates field capacity for your soil (or the maximum amount of water the soil can hold after excess water has drained away) and sets that as "100%"
Any time the moisture level in the soil exceeds field capacity, the irrigation controller is prevented from watering until the moisture level falls below the level set in the receiver (default is 50% of field capacity, adjustable by the user)
Power: Probe: 3 AA batteries; Receiver: 24 VAC from controller
Dimensions: 5" x 3-3/4" x 2-3/4"; Probe spikes: 4-3/4"; Receiver Body: 3" x 3-3/4" x 1-1/2"
Communication Options: 900 MHz DSSS
Operating Temperature: Probe: 14 degrees F to 170 degrees (-10 degrees C to 77 degrees C); Receiver: 14 degrees F to 140 degrees F (-10 degrees C to 60 degrees C)
Sensing: Soil moisture and ambient temperature
Range: Up to 500' (152 m) line-of-sight
Wireless: yes
Works as advertised - with a little help
The item is very well constructed, and pairs easily with the evolution controller with smart connect installed. It's performance is excellent. My subtraction of one star is due to the vague, outdated, incomplete documentation that comes with it. Menus that appear on the controller are not represented in the documentation. The calibration instructions are not clear at all, and after a week of failed calibrations, a call to Toro (Weekdays - 7:30 a.m. to 6:00 p.m. Central Time) cleared got me going. I always got to speak to a person. Good customer service.
Great sensor, error in product listing :(
This is the PSS-SEN (JUST the sensor).
Error in listing: this is NOT the two-part product. That's PSS-KIT which contains the sensor and a receiver (for controllers other than the Evolution).

I have several. NOTES:
- The temp is surface temp, impacted by sunshine on the green cap!
- You may want to recalibrate at least annually, as soil tends to change over time.
No receiver included, won't work with my control unit
The description clearly states:

>"There are two components to the system - a battery-powered wireless sensor probe and a receiver that wires into any irrigation controller's sensor port"<

However the only product included is the sensor probe, NO receiver. Now I'm stuck with SW's return policy.
June 2, 2018
Purchased
over 2 years ago
Browse 9 questions
Browse 9 questions and 21 answers
Why did you choose this?
SprinklerWarehouse.com

Store
needed to optimize water use.
I have used TORO controllers and other in the past and I always seem to come back to Toro Controllers and on how easy they are to use and set up. With the new EVO controller I like how it is always being upgraded. Just needed the extras to make it even more efficient.
We found other products you might like!