Toro Flow and Pressure Gauge Kit
Maximum pressure 160 psi
Maximum Flow – 13 US Gpm
½ inch NPT female threaded inlet
Features & Benefits
Dual purpose Flow and Pressure Gauge, designed to measure water pressure to 160 PSI and water flow to 13 gallons per minute. Use the gauge to help you determine the water capacity, and limitations, that directly impact the design and performance of your irrigation system. Measures flow through an outside faucet, not an indoor line.
Makes determining your water capacity for a sprinkler system a breeze. Simply attach this gauge, and it will tell you the two key factors to designing your system, water pressure and gallons per minute. No more guesswork!
Easy to use, dual purpose flow and pressure gauge
Use adjustment knob to balance PSI with Gpm
Measures water pressure up to 160 PSI, flow up to 13 GPM
Use for outdoor lines (Use on outside tap, not in line)
This flow gauge is not intended for use on lines larger than 1 inch (where a large volume of water is available).
The gauge will only measure flow through the hose bib not in the line.
Product Details
Operation
For best results; measure water flow at approximate time watering will be scheduled.
Ensure no water is being used at the location.
Attach gauge to hose bib nearest to point of sprinkler line connection.
Open control valve slightly to allow minimum flow.
Open hose bib slowly to avoid damage to gauges
When hose bib is fully opened, close control valve and read system static pressure. Record this reading
Open flow gauge slowly. As the control valve opens, pressure gauge will drop from the static reading and flow gauge will rise. Continue to open control valve until pressure drops to the required system pressure. Read and record PSI and GPM indicated on gauge.
Note: If rapid fluctuation occurs on flow gauge, record the average reading. Additional reading of pressure and flow may be helpful for further design information.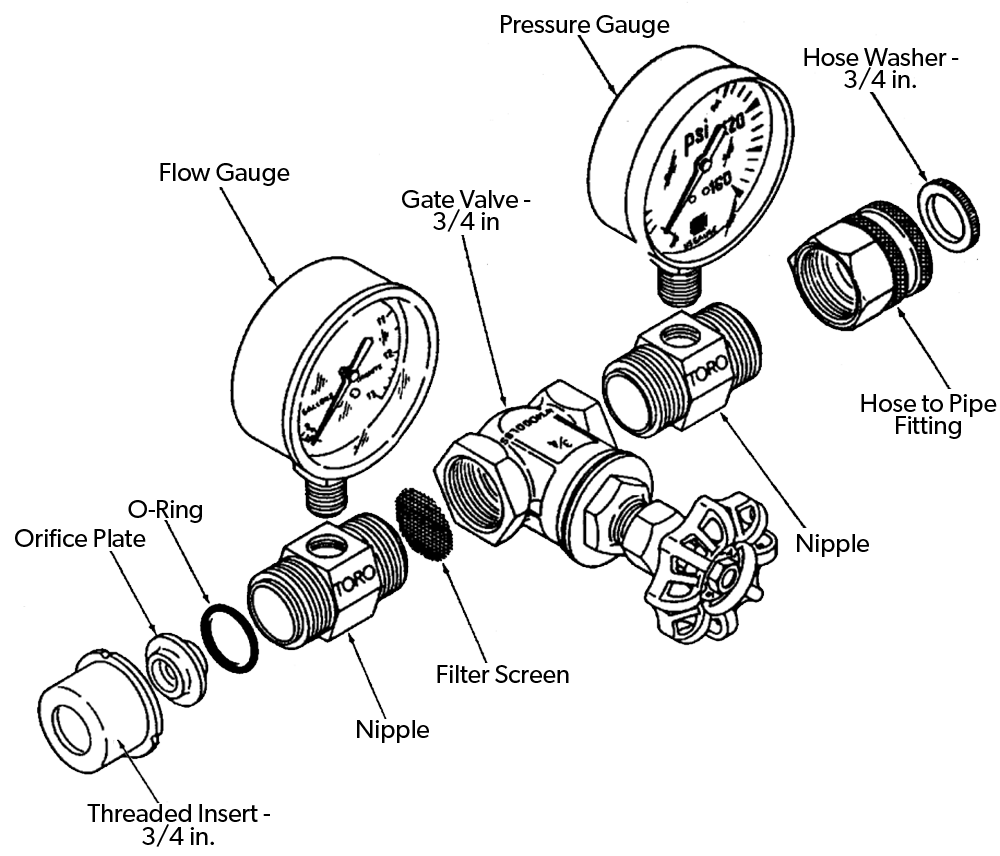 Flow and Pressure Gauge Kit
Flow and Pressure Gauge Kit