Toro 260 Electric Valve 1" FPT
Size: 1 inch
No Flow Control
Connection Type: Female Pipe Thread
Features & Benefits
The Toro 250/260 and 254/264 Series globe-style valves are made to withstand all that a large residential or light commercial application can dish out.
The durable and dependable, glass-filled Zytel* bonnet and body construction allows these valves to be rated up to 150 psi, and are available in various inlet/outlet configurations meant to meet contractors unique preferences.
The 1" in. inlet/outlet 250/260 Series valves feature female inlets with female or barbed outlets available in electric, hydraulic or pin-type styles, while the 254/264 Series valves are electric valves with male inlets and male or barbed outlets available in 3/4" in. or 1" in. sizes.
Heavy-Duty Toro Solenoid: Provides dependable operation and long life.
Optional Flow Control: Allows the ability to adjust the flow of each zone.
Comprehensive Inlet and Outlet Choices: Flexibility for new installations and retrofit projects.
Single-Piece Rubber Diaphragm: For reliable, leak-tight closing.
Tough, Glass-Filled Zytel Bonnet And Body: Durable construction that provides years of reliable operation.
*Zytel is a registered trademark of E. I. du Pont de Nemours and Company
Product Details
Manual flow control adjustable to zero flow
Self-cleaning, stainless steel metering pin
External manual bleed
18" in. lead wires (electric)
Low in-rush solenoid
Recommended flow range:
3/4" in.: 0.25 to 15.0 gpm
1" in.: 5.0 to 30.0 gpm
Solenoid: 24 VAC
3/4" in.: Inrush: 0.25 amps, 6.00 VA; Holding: 0.19 amps, 4.56 VA
1" in.: Inrush: 0.30 amps, 7.20 VA; Holding: 0.20 amps, 4.80 VA
Operating Pressure
3/4" in.: 10 to 150 psi
1" in.: 20 to 150 psi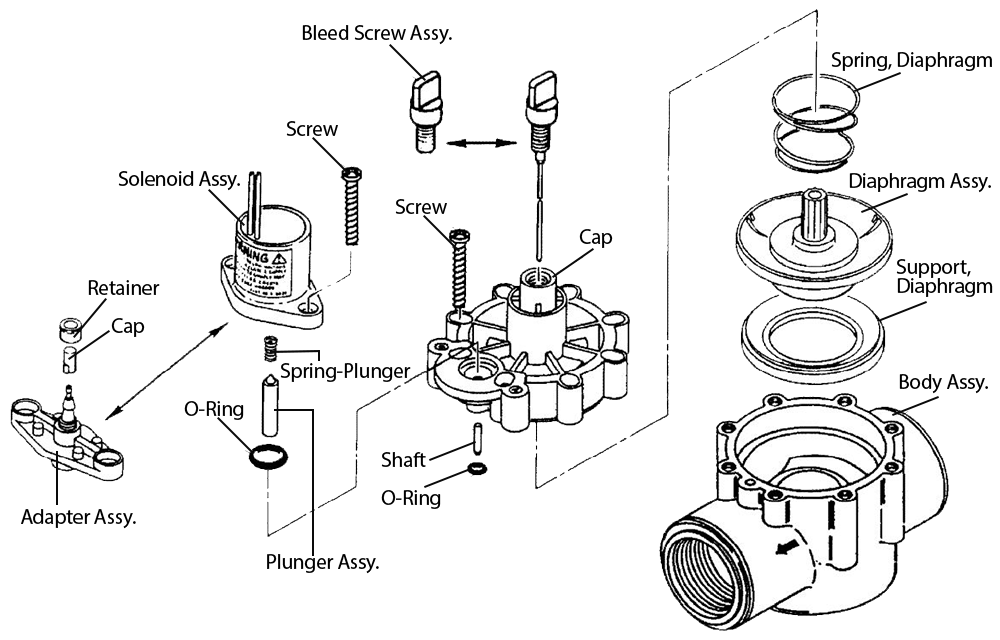 We found other products you might like!