Watts 5 Valve Backflow Preventer Test Kit
Test valves - Three needle valves
Maximum working pressure - 200 psi
Maximum working temperature - 200 degrees F
Features & Benefits
The Watts TK-99E Backflow Preventer Test Kit is a compact portable device made for testing pressure vacuum breakers, anti-spill vacuum breakers, reduced pressure zone assemblies, and double check valve assemblies. This Backflow Preventer Test Kit has been designed for simplified operation and rugged reliability in a compact package. The TK-99E consists of a gauge with colorcoded valves and hoses, hose adapters, shock cord for easy mounting, supply pressure gauge, and a carrying case. Accuracy is +/-1% of full scale.
Product Details
Lightweight body for durability & chemical resistance.
Color-coded valves and hoses for ease of use.
Large anti-parallax dial which indicates descending measurement, accurate to +/- 1 percent of full scale.
Replaceable hose filter and valve stem seals for field reliability.
Top mounted drain/purge valves and conveniently located line pressure gauge.
Complete kit contains gauge with color-coded valves and hoses, hose adapter, shock cord for easy mounting and purge hose encased in a durable case with room for tools.
Forward needle valve positions for easy access.
Watts TK-99e Backflow Preventer Test Kit Specifications
Maximum working pressure - 200 psi
Maximum working temperature - 200 degrees F
Gauge - 4-1/2 in. diameter face, dual scale 0-15 psid and 0-1 kg/cm2, +/- 1% accuracy full scale
Test valves - Three needle valves
Pressure gauge - 0-200 psi system gauge
Hoses - Three 6 ft. color-coded hoses with female threaded swivel couplings.
Adapter - Three 3/4 in. x 1/4 in. bushings
Three 1/2 in. x 1/4 in. bushings
Three 3/8 in. x 1/4 in. bushings
Three 1/4 in. Flared fittings
One shock cord.
One moisture resistant instruction guide
One lightweight durable carrying case
Test Procedure for Pressure Type Vacuum Breaker

Test Procedure for Reduced Pressure Assembly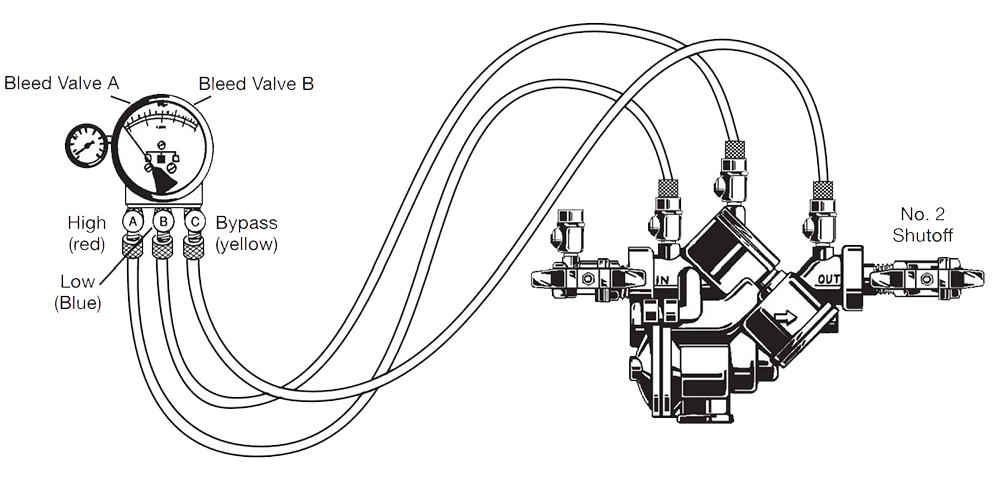 Test Procedure for Double Check Valve Assembly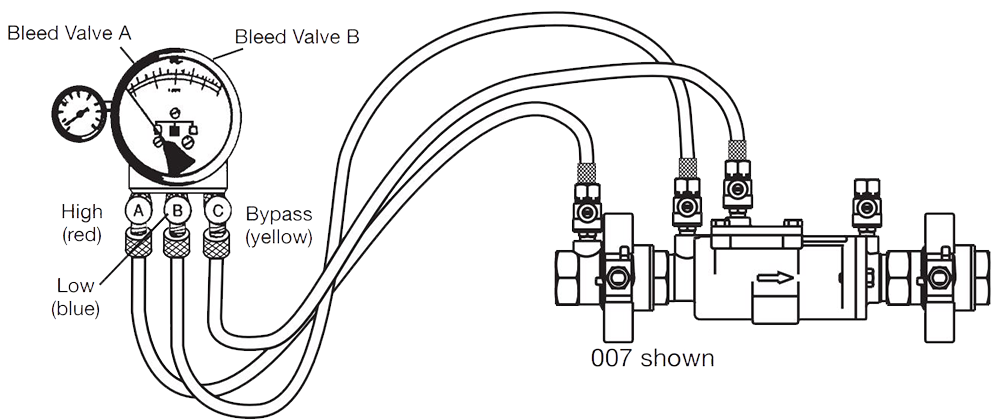 5 Stars, 4 Stars , 3 Stars , 2 Stars , 1 Star
Nice unit would buy again
Works good, one of the slots doesn't fit the 3/8x1/4 adapters, nice basic set. Has very nice valves, does not feel cheap at all.
We found other products you might like!