Weathermatic SL1600 4 Zone Base Controller
Weathermatic SMARTLINE Indoor/Outdoor Controller
4 Station (4-zone base model controller expandable to 16 zones)
Modular Controller
Features & Benefits
4-zone base model, expandable to 16 zones using SLM4 4-zone hot-swappable modules (Indoor/Outdoor rated)
Internal 120VAC/230VAC transformer with plug and play pre-installed 6' line cord (removable for conduit-wired installations)
Large backlit LCD display
2 run modes: Standard mode runs user input zone run times; Auto Adjust mode requires SLW Series On-Site Weather Station to calculate weather based run times that override user input zone run times
Rain/Freeze sensor bypass/active button located on face panel displays sensor status with tri-color LEDs (red indicates sensor is prohibiting irrigation; orange indicates an extended rain delay after weather station rain sensor permits irrigation; green indicates normal operation)
4 programs: A, B, C; program D can operate concurrently
8 start times per program
Nonvolatile memory and real time clock/calendar circuit to retain programs as well as correct date and time - with no battery required
Zone run times settable from 1 min. to 9 hrs. 55 min. with operation countdown displayed in hours, minutes, and seconds (zone run times overridden by weather based calculated values in Auto Adjust mode)
Watering day selections of custom days of the week, odd/even, or interval days
Omit settings: omit time of day window, omit day(s) of week, and omit up to 7 calendar dates
Seasonal % adjust by program, by month for simple year round water budgeting (monthly percentages overridden in Auto Adjust mode)
Product Details
Input: 120 VAC/60Hz @ 400m for 3 valves
Output: 28 VAC, 1.0A maximum
Fuse: 1.0A, slow blow
Dimensions: 9-1/8" W x 10-1/2" H x 4" D (23,2 cm x 25,7 cm x 10,2 cm)
Auto Adjust Features
ZIP Code input (5 digit) or Latitude input (+/-60 degrees from EQUATOR) establish location of site for solar radiation calculation
Sprinkler type input allows selection for zone sprinkler type (SPRAY, ROTOR, DRIP, BUBBLER) with preset precipitation rate or specific input of the zone precipitation rate (.2 - 3.0" per hour)
Plant type input allows selection for zone plant type (COOL TURF, WARM TURF, SHRUBS, ANNUALS, TREES, NATIVE) with preset crop factors or specific input of the zone crop factor (10 - 300%)
Soil type input allows selection for the soil type (CLAY, SAND, LOAM) and slope (0 - 25 degrees) for the purpose of automatically calculating a run/soak period to virtually eliminate run off
More/Less is settable by zone (-50% to +25%) for the purpose of fine tuning Auto Adjust run times to accommodate factors like shade, wind, and sprinkler inefficiencies
Advanced Functions
Fault review displays all faults, including open and shorted zones
Diagnostic test function using on-board multi-meter displays transformer voltage; milliamp measurement for each zone
Built-in valve locator function for locating hidden valves by simply listening for the audible chatter of the solenoid created by a unique electrical frequency (patent pending)
Review menu displays accumulated ET deficits by zone (in inches) and corresponding zone run times for the next available watering day
Review menu displays maximum run time and minimum soak time used during Auto Adjust mode
Review menu displays temperature readings (daily high/low) for previous 5 days
Review menu accumulates total run times by zone from the last reset date
Rain delay of 1 - 7 days may be selected (to pause and automatically resume operation)
SLW Weather Station extended rain delay programmable from 0 - 99 hours
Run/Soak cycles allow setting of maximum run time and minimum soak time by program for use in Standard mode only
Zone-to-zone delay programmable for 1 min. - 3 hrs. to accommodate slow closing valves and recharging of water supply
Master valve timing sequence with zone-valve programmable by "On Delay" (1 sec. - 1 min.; 2 sec. default) and "Off Delay" (1 sec. - 3 min.; 5 sec. default) to allow for line fill and slow-closing valves
Master valve/pump start operation assignable On/Off by zone
Clear program function to selectively delete an individual program
Clear all function to delete all programs
Irrigate From Anywhere, Upgrade with SmartLink*
Imagine having immediate access to every element of your irrigation system from inspections, to repairs and water usage. With the SmartLink Cloud-based Landscape Network, you and your landscape professional will have unprecedented control and visibility over your entire system. Now your landscape professionals are capable of making a simple programming change, monitoring the health of the system, or even being alerted if a problem occurs. They can instantly shut down your system in an emergency and help you comply immediately with local watering restrictions, avoiding costly fines.
*Note: Wifi features require the SmartLink (Sold Separately) Images not to scale.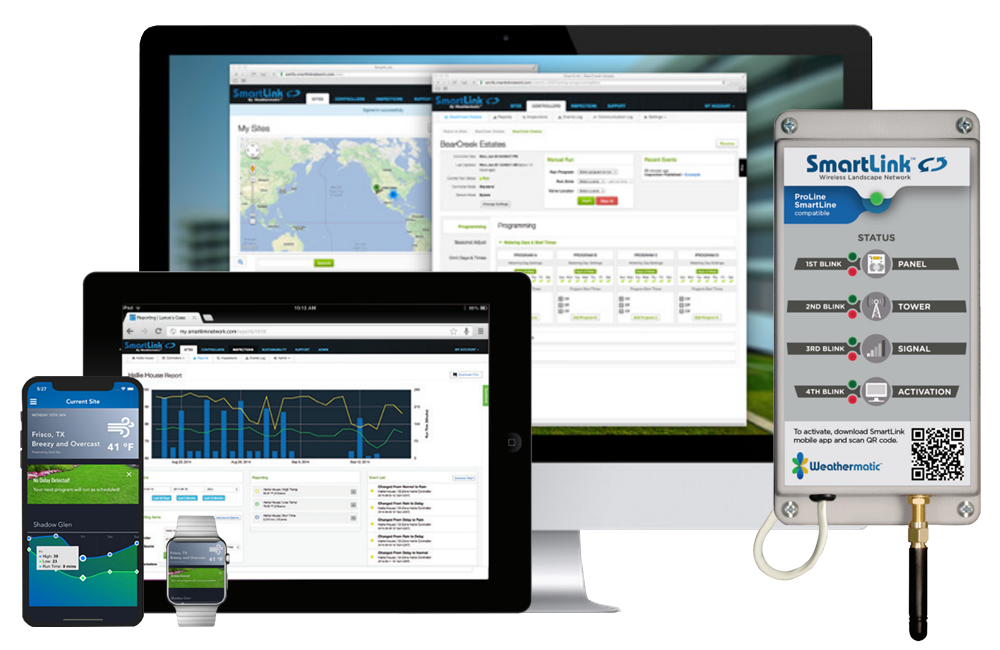 Build Your SmartLink Network*
You can now expand your SmartLine controller to maximize water savings, improve efficiency and improve landscape beauty. After ensuring you have the modules to accommodate all your zones, add an on-site Weather Sensor that takes into account rain and freeze, but also adjusts for temperature and other conditions that impact the need for supplemental watering. Adding the SmartLink aircard gives you reliable cellular connectivity and access to the SmartLink web application so you can program your controller and manage it from from your computer, tablet or smartphone. This capability also includes water use reporting so you get real-time visibility to the dramatic water savings from Smart irrigation and email alerts for indications of any issues that will impact water savings and landscape beauty.
*Note: Accessories Sold Separately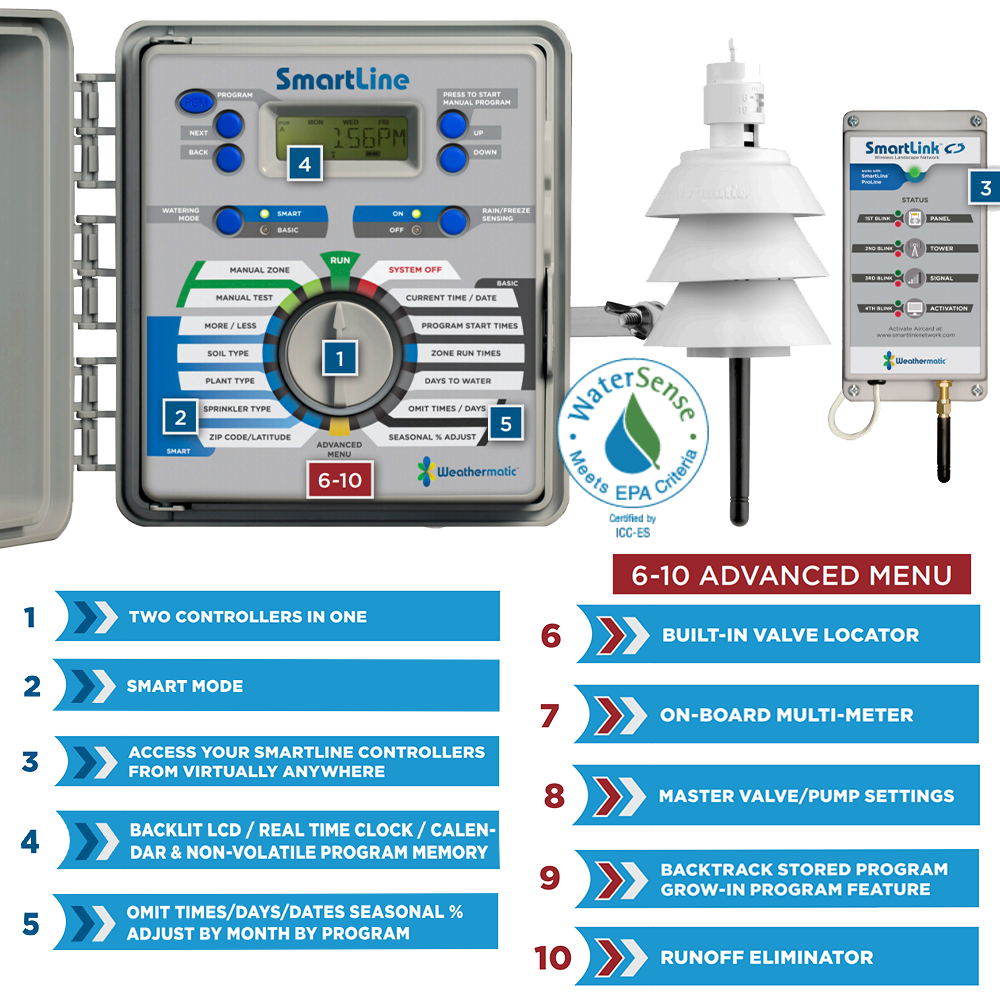 Related Articles & Videos
Articles
Videos
Max Station Run Time (HRS):
Light Commercial, Residential
Freeze Sensor Compatible:
Residential and Light Commercial
We found other products you might like!
Sku:

SL1600-1YR-FLOW-BUNDLE

Sku:

SL1616-1YR-FLOW-BUNDLE