Signature 6000 Rotor Series
Signature Rotor
Pop-Up Height: 4 inches
No Check Valve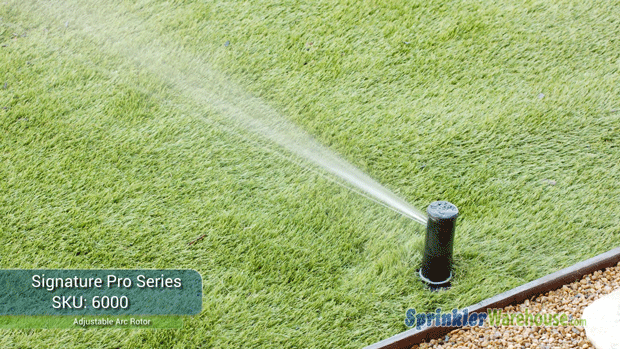 Features & Benefits
The Signature 6000 Series Rotors have top quality features including Acu-Cover nozzles for better close-in watering, continuous full or part-circle options in one head, and the NIR2 adjustment feature. The 6000 Pro series rotors are constructed of high impact plastic and all internal metal parts are made of stainless steel. The built in slip clutch protects the gears and motor from damage when adjusting for a part circle. If the rotor is manually moved out of position it will automatically reset to the defined pattern. No tools are required to adjust the arc from 40 - 360 degrees by using the easy to use Click-Set disc. The 6000 rotor comes with a rubber protective cap. In addition, the NIR2 eliminates the need to remove the cap while fine tuning the radius and inserting the nozzle.
NIR2 feature (Nozzle Insertion/Radius Reduction) on all models eliminates the need to remove the cap for nozzle adjustments.
Seven optional low-angle nozzles (13 degrees) for windy areas or for throwing under trees.
Highly reliable water-driven gear motor (over 200 million gear stacks produced).
Pro 6012 pops up a full 12". Ideal for shrubs and ground cover areas; at the base of hillsides where risers are not appropriate and where liability is a concern
Click-Set collars are quick and easy to adjust.
Continuous 360 degree rotation or part-circle adjustable 40 degrees to 310 degrees.
Ratcheting slip clutch protects gears and motor from damage while adjusting turret for part-circle adjustments - wet or dry.
Product Details
Includes: 1 adjustment tool, 1 complete set of standard nozzles per rotor and 1 Set of Instructions (1 per shipment)
Eight interchangeable Acu-Cover nozzles--ranging from 1.0 to 9.5 gpm.
Wrench and installation instructions included (Model 6001 has no clamp).
Bypass valve reduces pressure loss and standardizes rotation speed regardless of nozzle size.
5 year warranty on materials and workmanship.
Residential And Commercial
Part Circle Adjustable (40 - 360)