DIG TOP-300 12-Outlet 3.3 GPH per Zone Drip Emitter Kit (1/2" in. FPT)
The TOP concept is designed for first time installations or retrofitting an existing sprinkler riser into an efficient 12-Outlet drip irrigation system. The TOP concept utilizes unique self cleaning, pressure compensating emitters enabling long runs with even water distribution from all outlets.
Features Benefits
Constructed with 12 built-in individually pressure compensating drip emitters
Self-flushing emitters allow passage of water and minimize clogging
Interchangeable drip emitters for variable flow rates in a single head
Color-coded drip emitters and barbs easily identify flow rate at each zone
Drip emitters are individually filtered (approx. 80 mesh)
Backup mini disc filter
Rugged materials to withstand the most adverse conditions
Can be installed above grade or placed below grade in a 6" emitter box
Inlet plugs provide the option to cap off up to eight drip emitters
TOP kits contains 100′ of 1/8" distribution tubing, accessories, stakes and 1/4" converter barbs which allow the use of 1/4" distribution tubing
Product Specifications
Operating pressure: 15-50 PSI (1-3.4 BAR)
Pressure compensating range: 8-80 PSI (.5-5.6 BAR)
Flow rates: .6, 1, 2.2 and 3.3 GPH (2.3, 3.8, 8.3 and 12.5 L/H)
Inlet size: 1/2" FNPT
Used with 1/8" (.187" OD) or 1/4" (.150"-.160" ID) distribution tubing
Filter requirement: minimum of 120 mesh
Body and cover: high-impact plastic
Filter: nylon
Diaphragm: silicon
Measurements
A - Height: 2"
B - Width: 3"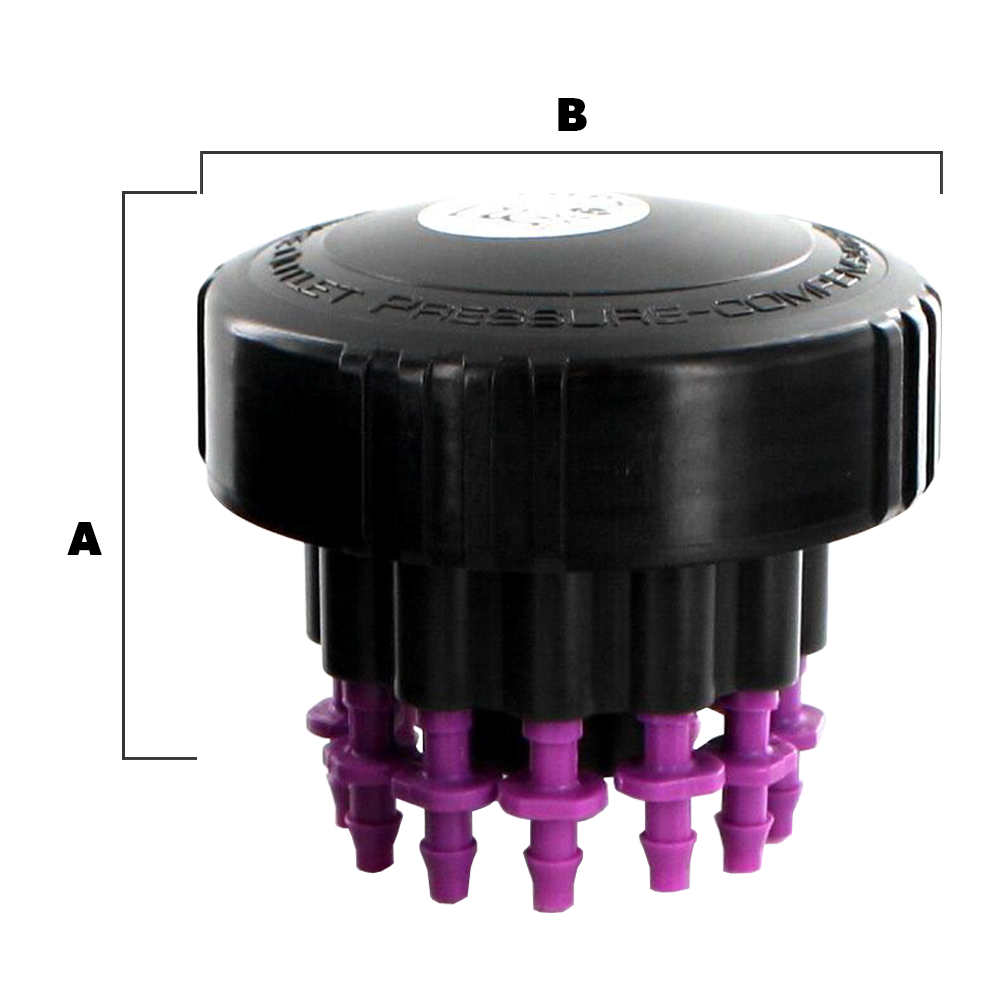 Pressure Compensating Emitters
Pressure Compensating Emitters
Pressure Compensating Emitters
Browse 3 questions
Browse 3 questions and 5 answers
are there products with fewer than 12 emitters. and if you are only using 11 of the outlets can the remaining one be plugged?
BEST ANSWER:
There are smaller emitters and you can plug the ones you don't use but large plants take 3-4 hoses so you might need more emitters than you think and having more than you need leaves you room to expand.
Top- 300-DIG 12 Outlet (3.3 GPH per zone)
is it 3.3 GPH total for all 12 outlet ?
or for each outlet?
BEST ANSWER:
I have no idea how this 3.3 gph factor comes in to play. I hooked mine up to a 265gph pump I had purchased from Home Depot and it most definitely did not restrict it to 3.3gph.