Hunter HC-1200I 12 Station WiFi Indoor Controller
Manage your irrigation controller from anywhere worldwide using your smart device or web browser with Hydrawise web-based software. Predictive watering adjusts schedules based on forecast temperature, rainfall probability, wind and humidity to provide maximum water savings while keeping your landscape healthy and beautiful. Add a simple-to-install flow meter and set up automatic notifications to alert you of broken pipes or sprinklers.
Features & Benefits
New style full-functioning controller with touchscreen
Wi-Fi enabled for simple connection to the internet
12 station standard controller
12 station expansion module allows for expansion to 36 stations
2 sensor ports
Warranty 2 years
Electrical Status
Transformer input: 120 VAC
Transformer output (24 VAC): 1 A
Station output (24 VAC): 0.56 A
Pump/master valve (24 VAC): 0.28 A
Sensor inputs: 2
Operating temperature: 0°F to 140°F
Key Benefits
Number of stations:6, 12, or 24
Standard programming option allows for 6 independent irrigation programs and 6 start times per program
Advanced programming option provides station-based programming with up to 6 total start times available
24-hour maximum station run time provides flexibility for low-flow zones
2 sensor inputs available for use with any Clik sensor and HC Flow Meter
1 P/MV output for pump start relay and master valve activation
Wi-Fi enabled for quick connection to Hydrawise software
23/4" full-color touchscreen display for simple programming at the control panel
Built-in milliamp sensor for wire fault detection and alerts
Advanced Features
TOUCHSCREEN INTERFACE (PRO-HC)
The Pro-HC controller has a full graphical touchscreen interface, which makes programming with or without Wi-Fi connectivity and manual starting from the controller a breeze.
PREDICTIVE WATERING™ ADJUSTMENTS
Daily schedule adjustments based on local weather data monitor past, current and forecasted temperature, rainfall, humidity, and wind speed. This allows for adjustments of watering times and schedules to balance water savings with water efficiency for plants.
FLOW METER DETECTION AND ALERTS
Monitor your piping and sprinklers with an optional HC Flow Meter. Receive automatic alerts when a pipe is broken to prevent property damage.
WIRING DETECTION AND ALERTS (PRO-HC)
Pro-HC controllers continuously monitor the electrical current flowing to your solenoid valves. If the current is too high or too low, Hydrawise will alert you and tell you which valve is not working properly. This allows you to correct a failed valve before damage is done to plant materials.
ADVANCED SENSOR PORTS
Two general purpose sensor ports can be used for many different functions. Sensor port works with the Hunter HC flow meters, the Hunter Clik sensor range and standard rain and soil sensors to stop irrigation. The sensor ports can also start an irrigation cycle. This allow you to create custom starts based on sensor readings.
HYDRAWISE EPA WATERSENSE APPROVED SMART WATERING
All Hydrawise compatible controllers connected to Hydrawise web-based software are EPA WaterSense approved Smart Watering Controllers. Hydrawise Predictive Watering™ allows the controller to adjust schedules based on forecasted temperature, rainfall probability, wind and humidity to provide the maximum water savings you come to expect from a Hunter smart controller.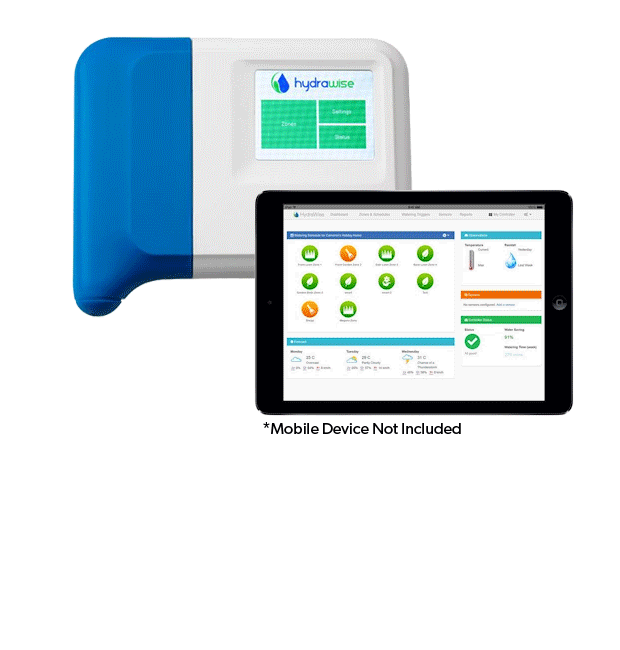 Related Articles & Videos
Articles
Videos
Max Station Run Time (HRS):
Light Commercial, Residential
Mobile App, Remote Control Ready, WiFi
Freeze Sensor Compatible:
Flow, Soil, Weather, Freeze
Weather Sensor Compatible:
Residential and Light Commercial
Browse 23 questions
Browse 23 questions and 129 answers
Why did you choose this?
SprinklerWarehouse.com

Store
Replacing an existing Hunter unit that is not web enabled