Professional-Grade Wi-Fi Controller
With Hydrawise Web-Based Software
The Pro-C Hydrawise combines the power of Wi-Fi-based irrigation management and the convenience of modular functionality into one next-generation controller. The Pro-C Hydrawise helps contractors save time, save water, protect landscapes, and meet the demands of customers who want smart home solutions. In addition, it lets contractors continue using their Roam and Roam XL remotes for quick on-site management.
Among the controller's many robust features is Predictive Watering, which adjusts irrigation schedules based on local, real-time temperature, rainfall probability, wind, and humidity. A built-in milliamp sensor makes troubleshooting wiring issues easy. By adding a simple-to-install HC Flow Meter, users can receive notifications regarding leaking pipes or broken sprinklers. Users can also manage the controller from anywhere using a smartphone, tablet, or computer.
The Pro-C Hydrawise is EPA WaterSense approved. Hydrawise is also compatible with Amazon Alexa for convenient voice control to start, stop, and suspend irrigation.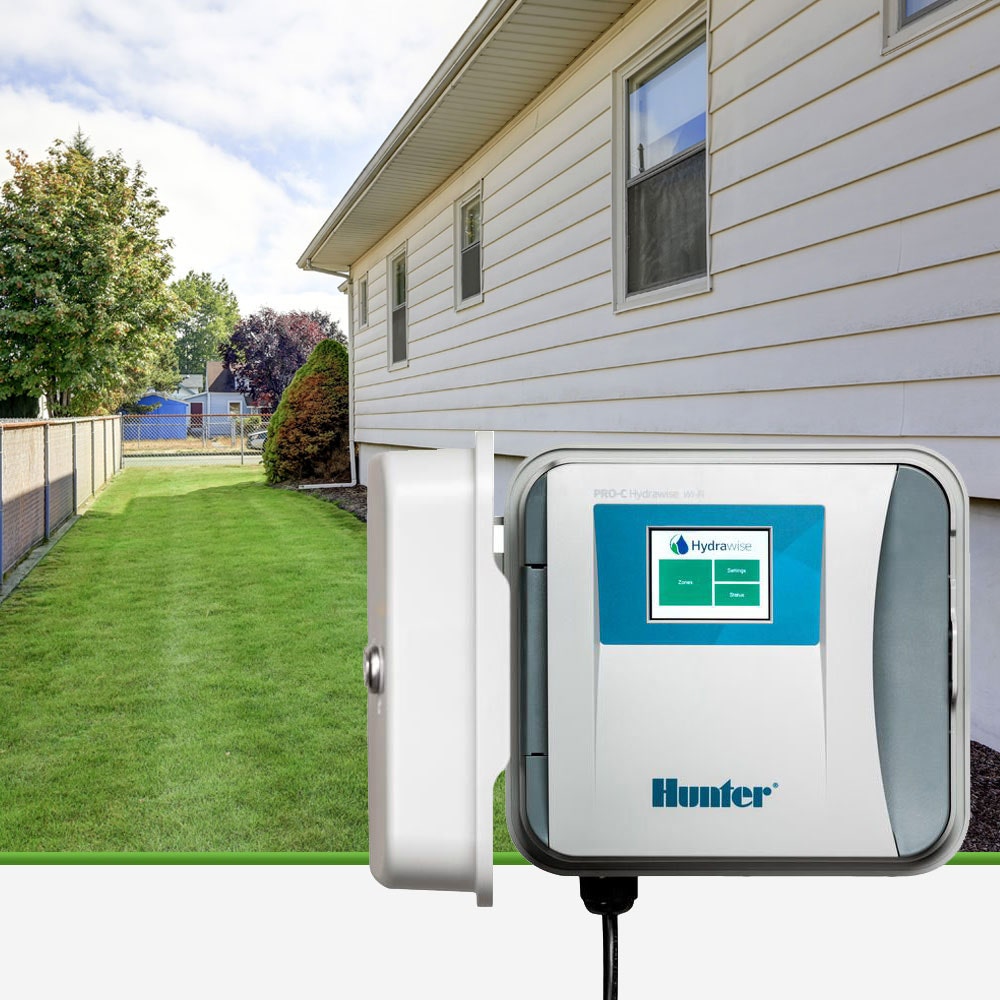 Touch-Screen Interface
(Pro-C Hydrawise)
The Pro-C Hydrawise controller has a full graphical touchscreen interface, which makes programming with or without Wi-Fi connectivity and manual starting from the controller a breeze.
Predictive Watering Adjustments
Daily schedule adjustments based on local weather data monitor past, current and forecasted temperature, rainfall, humidity, and wind speed. This allows for adjustments of watering times and schedules to balance water savings with water efficiency for plants.


Flow Meter
Detection And Alerts
Monitor your piping and sprinklers with an optional flow meter. Receive automatic alerts when a pipe is broken to prevent property damage.
Wiring Detection And Alerts
(Pro-C Hydrawise)
Pro-C Hydrawise controllers continuously monitor the electrical current flowing to your solenoid valves. If the current is too high or too low, Hydrawise will alert you and tell you which valve is not working properly. This allows you to correct a failed valve before damage is done to plant materials.

Hydrawise EPA WaterSense
Approved Smart Watering
All Hydrawise compatible controllers connected to Hydrawise web-based software are EPA WaterSense approved Smart Watering Controller. Hydrawise Predictive Watering allows the controller to adjust schedules based on forecasted temperature, rainfall probability, wind and humidity to provide the maximum water savings you come to expect from a Hunter smart controller.
Product Details
Wi-Fi-enabled for easy connection to the internet from any location
Integrates local weather data to make water-saving scheduling adjustments
Utilizes Pro-C modules to create station counts between 4"16
Convenient touch screen
Wi-Fi enabled for simple and fast connection to the internet
Uses Hydrawise web-based software to offer automatic watering schedule updates
Sends instant alerts in the event of a problem in the system
Built-in milliamp sensor
Compatible with HC Flow Meter
Roam and Roam XL compatible
Warranty: 2 years
Includes 5' lead and plug
Electrical Specifications
Transformer input: 120 VAC
Transformer output (24 VAC): 1 A
Station output (24 VAC): 0.56 A
Pump/master valve (24 VAC): 0.28 A
Sensor inputs: 1
Operating temperature: 0°F to 140°F
Approvals
Light Commercial, Residential
Residential and Light Commercial
Totally awesome
This is the best plug and play WiFi unit I have ever used. Rain bird makes a WiFi module plug in that works ok, but this complete ready to go system is great. Be ready to run your systems from your smart phone though. It makes the touch screen obsolete (you may use it occasionally). Be advised that only 3 systems can be run from the software, if you are a contractor and want to run (adjust) 10 different customers systems, you will have to pay Hunter for an extended system account
August 6, 2019
Purchased
1 year ago
Wifi
I like my new wifi controller, received my order fast and price was very good, plus I got myself a new t-shirt!!

Thanks!
August 15, 2018
Purchased
1 year ago
Hunter PRO C Hydrawise
This model is great because it lets the client manage their systems and I can operate their systems with the ROAM remote control. Most smart models are phone-only.
January 16, 2020
Purchased
10 months ago
Browse 4 questions
Browse 4 questions and 7 answers
Why did you choose this?
SprinklerWarehouse.com

Store
Want to go WIFI and save on water usage, upgrade to my current 2011 Hunter controller.
Want to go WIFI and save on water usage, upgrade to my current 2011 Hunter controller.
How many zone does this unit come with (4)? And if so how much does it cost to expand and in what increments?
does this controller have a pump starting capability?.
BEST ANSWER:
Yes. You would assign one of the zones to be pump and wire that to your pump start relay.
B R

on Aug 31, 2018

Purchased on Jul 18, 2018
Is this device completely new or refurbished?
BEST ANSWER:
Hi item is brand new, I have had mine for about year and got a new t-shirt with my order. Also people at hydrawise are very helpful with any installation or general questions.

Francis
Francis K

on Aug 7, 2019

Purchased on Jul 29, 2018
We found other products you might like!