Hunter PCC 6 Station Indoor/Outdoor Controller
Zones: 6 (Fixed)
Sensor Inputs: 1
Max Station Run Time: 6 hours
Features & Benefits
The Pro-C has proven to be the most reliable and robust controller in the industry, with the flexibility to expand on demand due to its modular design. When expansion isn't necessary, the fixed 6 and 12 station models offer affordability in a high-end residential controller.
Now, the Pro-C will easily accommodate Hunter's Solar Sync without additional wiring. The new Solar Sync dial position makes it easy to upgrade and program any Pro-C to smart control. The Hunter Solar Sync is an EPA WaterSense labeled smart device which calculates evapotranspiration (ET) and adjusts Hunter controllers daily based on local weather conditions, resulting in water savings and conservation. The Pro-C and all AC powered Hunter controllers are now EPA WaterSense labeled when paired with the Solar Sync weather sensor.
Flexible design: Modular model offers 4 - 16 stations, or choose fixed 6 or 12 station models
Enclosures: indoor and outdoor plastic
Independent programs: 3
Start times per program: 4
Max. station run time: 6 hours
Solar Sync dial position: now available with built-in Solar Sync programming for increased installation efficiency
Solar Sync delay feature: allows adjustments to be postponed for up to 99 days
Cycle and Soak feature built in: reduces runoff
Lighting programs built in: allows the ability to ad landscape lighting control
Added knockouts offer additional flexibility
Programmable rain delay: prevents watering for an extended period as needed
Non-volatile memory: keeps programs indefinitely without battery backup
Rain sensor bypass: allows the controller to ignore sensor devices when needed
One touch manual start and advance: allows user to start or test any station
Warranty period: 2 years
Product Details
Electrical Specifications
Transformer input: 120 VAC or 230 VAC (international model)
Transformer output (24 VAC): 1 A
Station output (24 VAC): 0.56 A
P/MV output (24 VAC): 0.28 A
Sensor inputs: 1
Operating temperature: 0 degrees F to 140 degrees F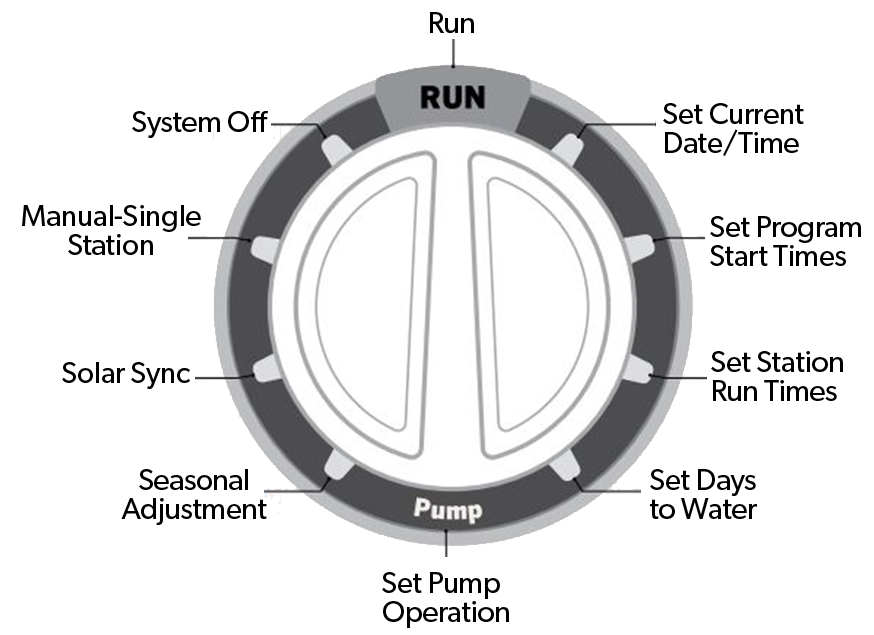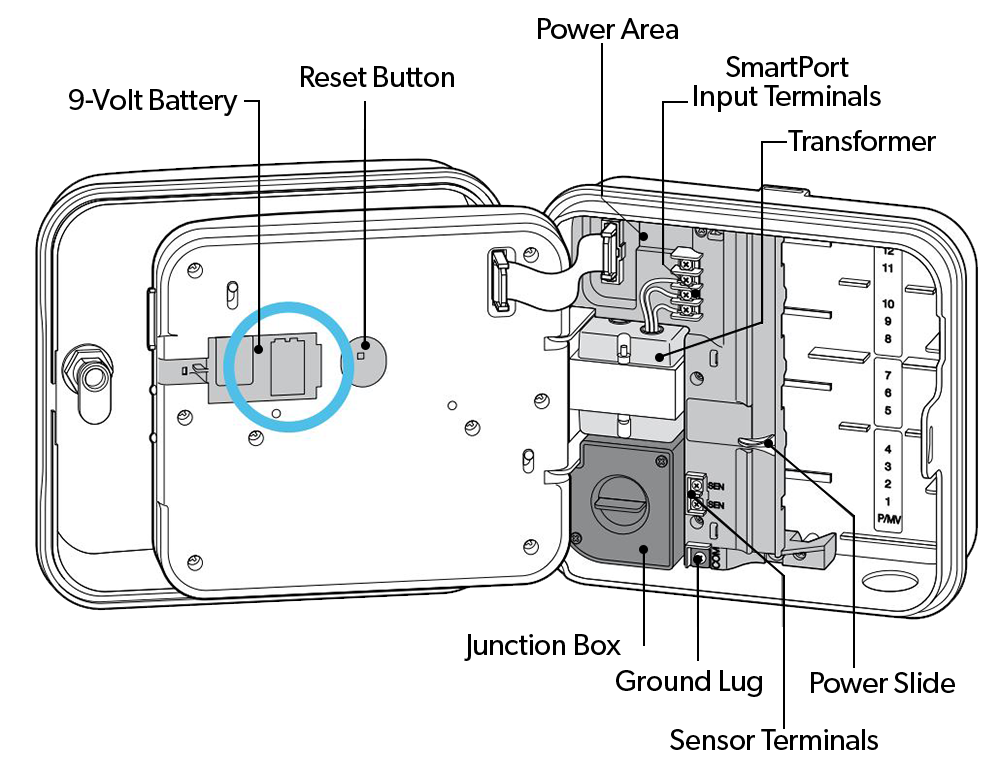 Wiring Compartment
9-Volt Battery: An alkaline battery (not included) allows programming of the controller without AC power
Reset Button: This button will reset the controller. All programmed data will remain intact
Power Area: Used to attach transformer, sensor wires, and other systems to the controller
SmartPort Input Terminals: Used to connect a SmartPort, which enables Hunter remote controls
Transformer: A transformer is installed (Outdoor models only; indoor models are supplied with a plug-in transformer)
Junction Box: This box provides an area for connecting primary AC power (outdoor models only)
Ground Lug: For additional surge protection, connect lug to earth ground
Sensor Terminals: Used to connect Hunter Solar Sync or "Clik-type" sensors
Power Slide: Release to remove or insert Pro-C modules
Max Station Run Time (HRS):
Light Commercial, Residential
Mobile App, Remote Control Ready
Freeze Sensor Compatible:
Residential and Light Commercial
We found other products you might like!