Hunter PRO-HC 6 Station WiFi Indoor Controller
Hunter PRO-HC Indoor Controller
6 Stations (Fixed)
Number of Programs: 36
Features & Benefits
Manage this durable indoor irrigation controller with Hydrawise web-based software from anywhere worldwide using your smart device or web browser. Predictive watering adjusts schedules based on temperature forecast, rainfall probability, wind and humidity to provide maximum water savings while keeping your clients' landscape healthy and beautiful. Add a simple-to-install flow meter and set up automatic notifications to alert you of broken pipes or sprinklers.
6 Station Indoor/Outdoor Wi-Fi Controller
120 VAC Transformer, Hydrawise Ready
2 Sensor Ports
Dedicated Master Valve/pump start
Outdoor model includes contractor friendly door lock
Full-functioning controller with touchscreen
Large terminal strips and wiring compartment
Built-in milliamp sensor across the full range of controllers
Warranty period: 2 years
Product Details
Transformer input: 120 VAC or 230 VAC (international model)
Transformer output (24 VAC): 1 A
Station output (24 VAC): 0.56 A
Pump/master valve (24 VAC): 0.28 A
Sensor inputs: 2
Operating temperature: 0°F to 140°F
Approvals
CE, UL, cUL, C-tick, FCC, EPA WaterSense & Smart Watermark Approved
The Pro-HC Anatomy: Wi-Fi Integrated (no add-on needed)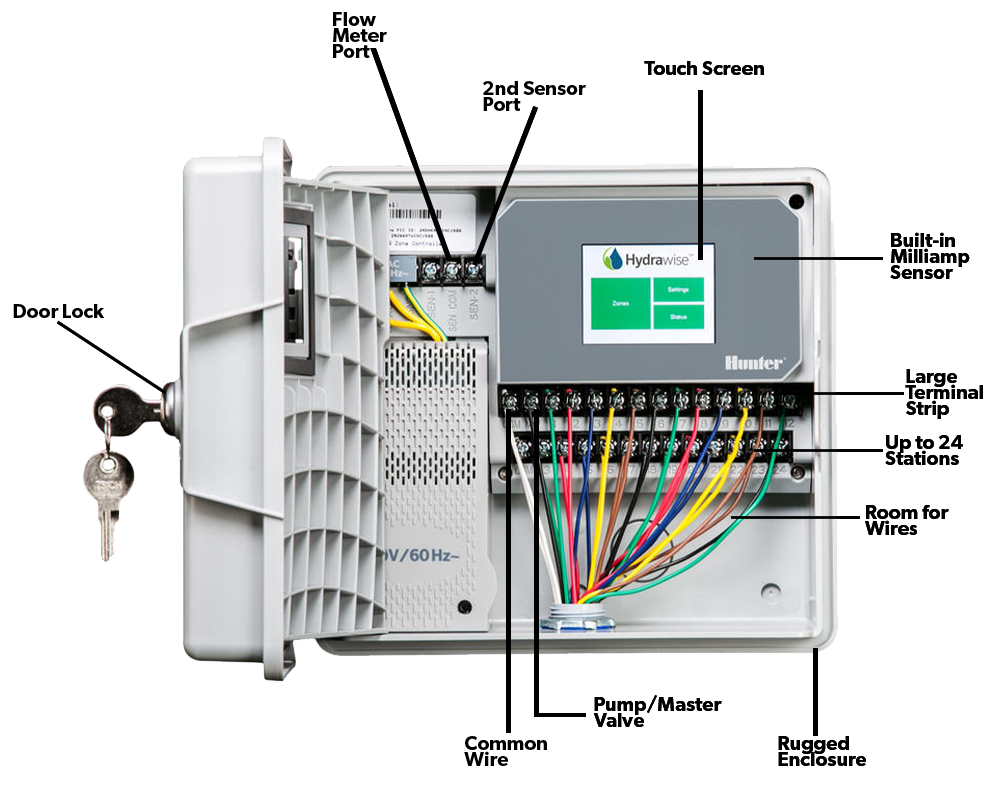 Hydrawise Ready
The Most Complete Wi-Fi Irrigation Control System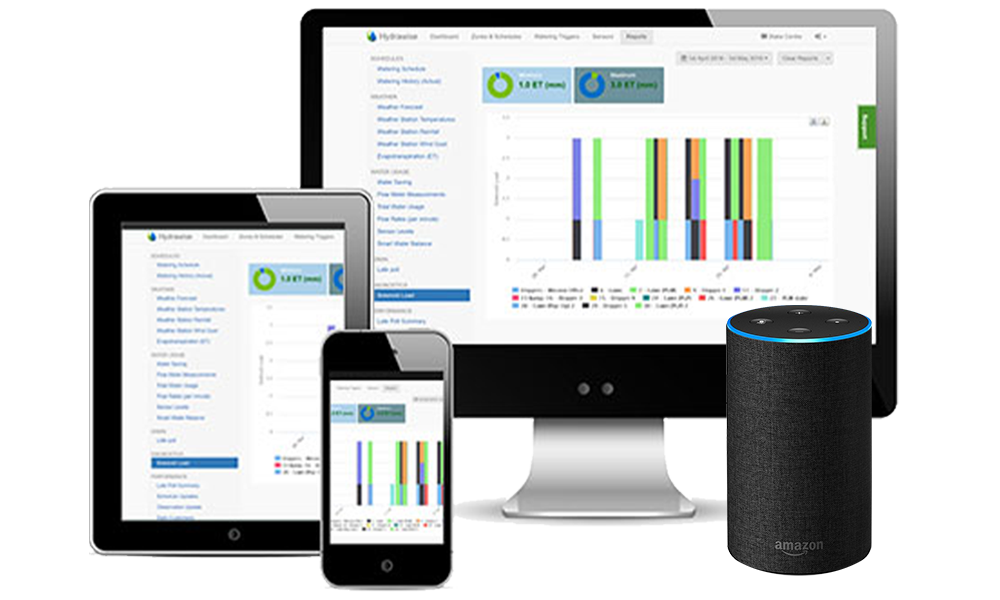 Get the App: Download the Hydrawise App for free.
Benefits of Hydrawise
Manage from Anywhere: Gain convenient system access anytime from your smartphone, tablet, or the web for a range of remote management capabilities. Remote monitoring allows you to conveniently view, manage, and monitor your irrigation controller.
Save Water: Advanced, web-based climate monitoring uses local forecast data including temperature, precipitation, wind speed, and other factors to automatically adjust your irrigation system to area weather conditions, ensuring plants remain healthy — rain or shine.
Protect Your Landscape: Designed to manage different landscapes across various climate zones, HydrawiseTM prevents over- and under-watering to ensure your plants get exactly what they need to remain healthy and flourishing.
Add Your Contractor: Built-in flow rate and valve monitoring instantly alert your professional landscape contractor in the event of a problem, so you can rest assured that your outdoor living space remains protected and your irrigation system is in good hands.
Related Articles & Videos
Articles
Videos
Max Station Run Time (HRS):
Light Commercial, Residential
Mobile App, Remote Control Ready, WiFi
Freeze Sensor Compatible:
Residential and Light Commercial
Browse 3 questions
Browse 3 questions and 5 answers
Can this purchased to replace my hunter x-core controller?
BEST ANSWER:
It loos like the only difference is the wi-fi capability from what I can see.
Both have a master valve and sensor connection and you gain the Hydrawise program.
J A

on Aug 2, 2019

Purchased on Nov 7, 2018
what soil sensor will work with the PHC600 indoor AC power controller?
BEST ANSWER:
I am using the Toro PSS-Kit Precision Soil Moisture Sensor Kit, which is a wireless unit that connects to the PHC600 as a normally-closed sensor. I run scheduled watering sessions and use the Toro unit to cancel a watering session if the soil moisture is greater than a percentage that I set. Just about any sensor should work, depending on whether your situation itself to a hard-wired vs. wireless unit.
DeSotoBear

on Jul 31, 2018

Purchased on Jun 21, 2017
I currently have a PC300 hunter pro c series 3 station controller, will this hunter pro-hc fit in my current box?
BEST ANSWER:
Hi, the PRO-HC is a complete controller and will completely replace the PC-300. It is not just an addition or replacement component for the PC300. I hope I have answered your question. Thanks!
We found other products you might like!