Irritrol 2400T 1 in. FPT Valve without Flow Control
1" Irritrol 2400T Valve
Without Flow Control
1" Female Threaded Inlet/ Outlet
Features & Benefits
The Irritrol 2400 Series globe and 2600 Series angle valves are popular with users because of the convenience of their threaded bonnets, the reliability of their double-beaded diaphragm and the durability of their heavy-duty, corrosion and UV-resistant PVC construction. Fast and easy to install and service, these 1-inch residential plastic valves offer an encapsulated solenoid, internal/external bleed, an optional flow control feature, and are available in multiple configurations.
Threaded Bonnet Design: Allows easy servicing without removal from the system
Rugged, Double-Beaded SANTOPRENE Diaphragm: Ensures a leak-proof seal
Internal and External Bleed (Flush Mode): Allows for manual operation
Full stainless-steel metering system: Allows for consistent valve operation
Heavy-duty, corrosion and UV-resistant PVC, glass-filled polypropylene and stainless steel construction: Durable, long-term performance
Available in multiple configurations - female NPT, slip, male x male and male x barb: Will handle all regional installation variances (2600 available with NPT threads only)
Added Features
Buna-N valve seat seal
Floating bleed tube allows thermal expansion without affecting performance
Encapsulated injection-molded solenoid with a captive hex plunger
Five-year warranty
Product Details
Flow range: .25-30 GPM
Pressure range: 10-150 psi
Electical Specifications
Solenoid: 24 V ac
Inrush volt-amp: 24 V ac-9.6 VA
Inrush current: .4 amp
Holding volt-amp: 24 V ac-4.8 VA
Holding current: .2 amp
Dimensions
2400: H: 5 1⁄8", W: 3", L: 4"
2600: H: 6 ½", W: 3", L: 3 ¾"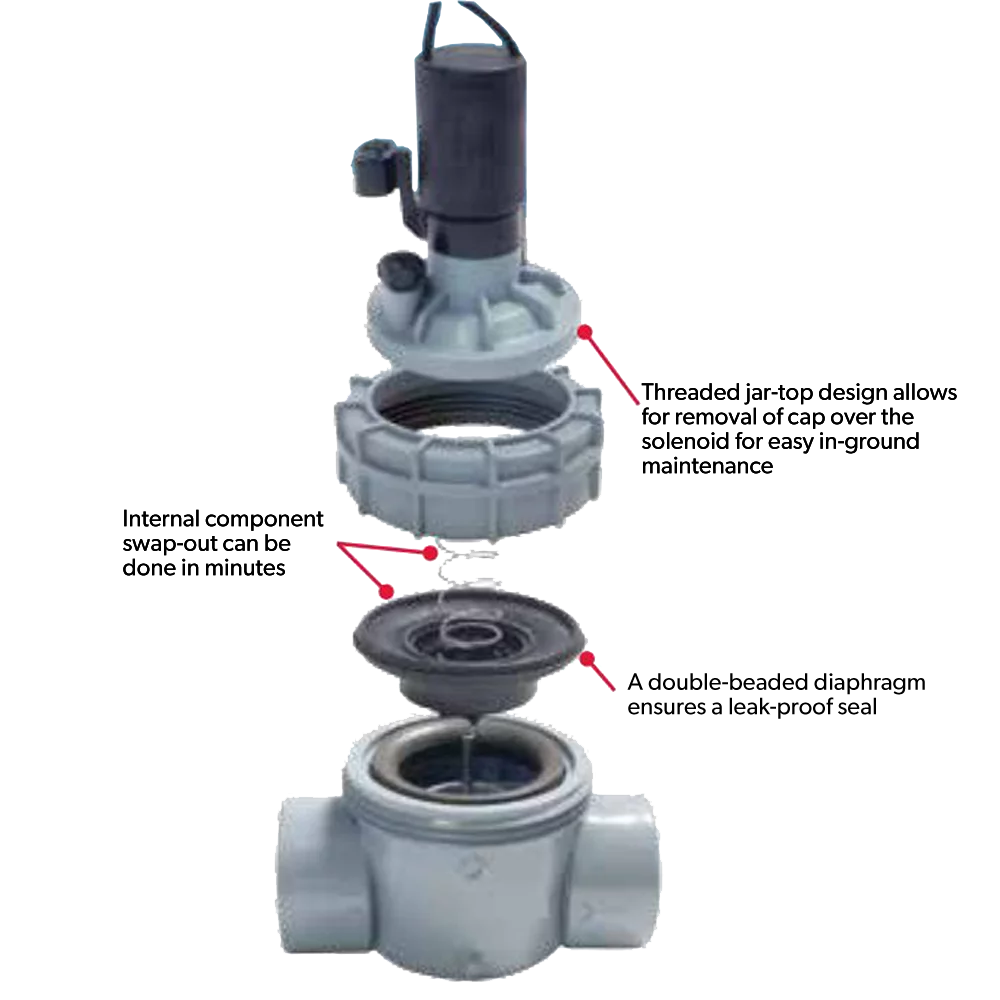 Pressure Loss Data (GPM)
Model
Size
.25
2
5
10
15
20
30
2400 Series
1"
5.00
4.60
3.50
4.00
2.97
3.26
6.20
2600 Series
1"
5.00
4.60
3.34
2.15
1.78
1.90
3.85
Related Articles & Videos
Articles
Videos
Glass-Filled Polypropylene
We found other products you might like!