K-Rain SuperPro Rotor 5"
With Check Valve
Radius: 28 ft - 49 ft
Pop-Up Height: 5 inches
Features & Benefits
The SUPER PRO Rotor has a patented flow shut-off which will render installations easier and drier. Perfect for new construction where newly installed sod can be watered while rotors installed in other areas awaiting sod can be shut off until sod is complete.
Like all K-Rain Pro series rotors, the SUPER PRO is packed with innovative features: Partial to continuous 360 degree coverage, interchangeable nozzles for matched precipitation, patented Easy Arc Set and Arc Memory Clutch, making the SUPER PRO the premier rotor in its class.
Patented Flow Shut-Off. Allows individual heads to be turned off during installation or adjustment - perfect for quick nozzle changes
5" Riser. Perfect for grasses with thick thatch
3/4" Inlet. Replaces all standard rotors
Revolutionary Patented Easy Arc Set. Simplified arc set allows for wet or dry adjustment in seconds
"2N1" Adjustable or Continuous Rotation.- Provides a full range of adjustment from 40 degree to a continuous full circle.
Patented Arc Set Degree Markings. Clearly indicates the current watering pattern and simplifies arc set adjustment
Arc Memory Clutch. Prevents internal gear damage and returns rotor to its prior setting automatically if nozzle turret is forced past its stop.
Time Proven Patented Reversing Mechanism. - Assures continuous reverse and return...over a 20 year history.
Ratcheting Riser. Allows for easy adjustment of your left starting position with a simple turn of the riser.
Rubber Cover. Seals out dirt and increases product durability
Wide Selection of Nozzles. - Including standard and low angle, provides flexibility in system design.
Check Valve included with 10003-CV. - Prevents low head drainage.
Product Details
Inlet: 3/4" Threaded NPT
Arc Adjustment Range: 40 to Continuous 360 degrees
Flow Range: .5 - 10.0 GPM
Pressure Rating: 20 - 70 PSI
Precipitation Rate: .05 to .74 Inches Per Hour (Depending on Spacing and Nozzle Used)
Overall Height (Popped Down): 8 3/4"
Recommended Spacing: 28' to 44'
Radius: 28' to 49'
Nozzle Trajectory: 26 degrees
Low Angle Nozzle Trajectory: 12 degree
Standard and Low Angle Nozzle: Included
Riser Height: 5"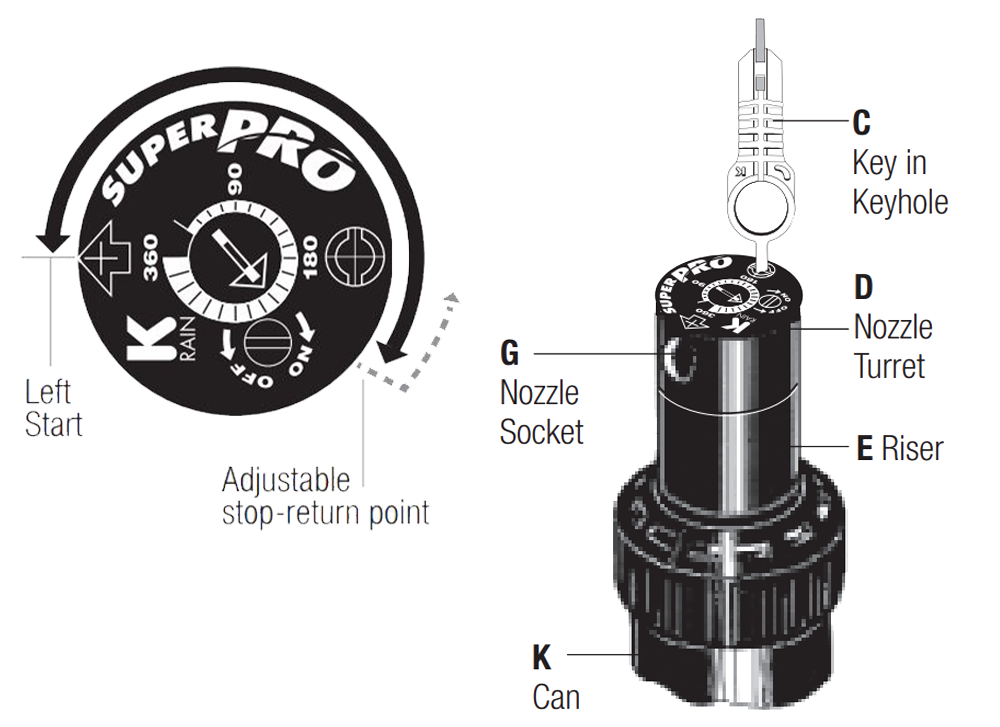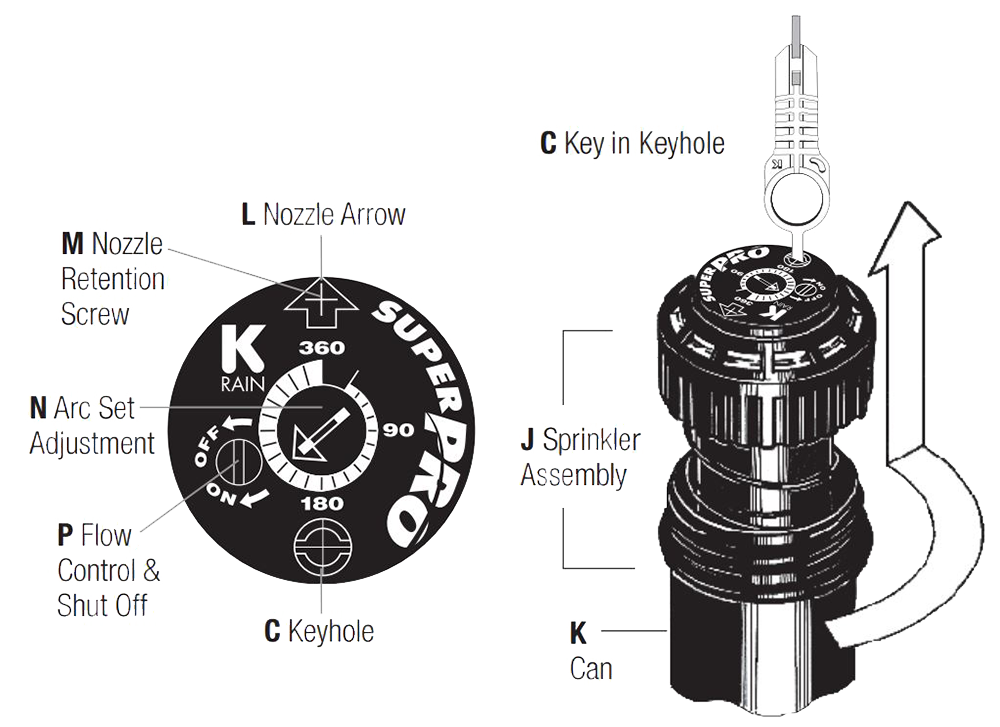 Part Circle Adjustable (40 - 360)
We found other products you might like!