SprinklerMagician 128 oz. Insect Spray
Container Size: 128 oz. (1 Gallon)
Primary Use: Fleas, Ticks, Mosquitoes, Chiggers, Lawn Grubs, No-See-Ums, Silverfish Crickets, Spiders, Fire Ants, Moths, Flies, Chinch Bugs, Gnats, Fruit Flies, Palmetto Bugs
Features & Benefits
Mosquito Magician's proprietary formula of 6 all natural essential oils is independently laboratory tested and proven to be effective at repelling and killing mosquitoes. This safe formula can be applied using one of our sprayers, any pump-up or backpack sprayer or our 100% Automatic Mosquito Killer Machines.
The mosquito killer spray is a powerful concentrate called Mosquito Magician. This concentrate is made with 100% natural ingredients and is completely non-toxic making it safe for kids, adults, pets, even Koi fish, and especially the environment.
Independent laboratory testing shows this mosquito spray is extremely unfriendly to mosquitoes. It kills them and many other biting pests on contact as well as repelling them for up to 2 weeks.
Get Rid of Mosquitos and Other Biting Insects
The mosquito spray is a powerful concentrate composed of a precise combination of 6 different active ingredients. All of them essential oils - Cedar, Citronella, Lemon Grass, Garlic, Geraniol & Rosemary. These essential oils have been used individually for thousands of years by people all around the world for biting pest control, but we have made a precision blend containing the 6 best we found.
Note: Ready to Use Formulas are not intended for use in Sprinkler Magician automated machines, use only concentrates in these machines.
The Best Mosquito Spray for your Yard
To this, we add several inert ingredients that ensure the concentrate is a true micro-emulsion that sticks well to plants and outdoor surfaces in your yard. It resists being washed off and provides up to 2 weeks of effective protection. Years of independent laboratory development and testing on actual mosquitoes makes this the best mosquito killer spray for your yard. The concentrate is mixed with clean water and can be applied with a battery sprayer, pump-up sprayer, hose sprayer, or our automated mosquito killer machine that works with new or existing sprinkler systems. One pint of super concentrate makes 4 gallons of potent repellent, which is enough to treat an average property 3 to 4 times making it very cost effective. This natural mosquito repellent spray lasts up to 2 weeks, not only killing targeted insects but also creating a protective dome over your yard repelling mosquitoes and other biting insects.
Product Details
Laboratory tested and proven extremely effective at both killing and repelling mosquitoes
A Gallon treats up to 128,000 square feet
Can be applied outdoors around your home, lawn, garden, patio, or pool
Biodegradable and environmentally friendly, effective insect control
Eliminates Mosquitoes and many other pests, such as Fleas, Ticks and Fire Ants using 100% natural plant oils
A much safer alternative to Deet, Pyrethrins, Permethrins, et.
Non-toxic, safe for kids, pets, adults, and even Koi Fish
Safe for the Environment
Creates a bubble of protection that repels mosquitos from your property (or area of spray) lasting up to 2 weeks depending on weather conditions
Suffocates mosquito larvae in standing water
Potent and precision blend of 6 essential oils that have each been used individually for thousands of years with good results
Can be used with backpack sprayers, mosquito fogging equipment, tractor mounted spray boom type apparatuses, and conventional mosquito misting systems
Proudly made in the USA
How To Use Mosquito Magician Concentrate
Step 1
Step 2

You will need a sprayer and a small measuring cup

Add 1 gallon of water to the sprayer

Step 3
Step 4

Measure out 4-6 oz of Mosquito Magician
(for each gallon of water)

Pour concentrate into the sprayer

Step 5
Step 6

Adjust the tip to produce a fine spray

Spray plants, grass and outside walls until just wet
Below are ways to apply Mosquito Magician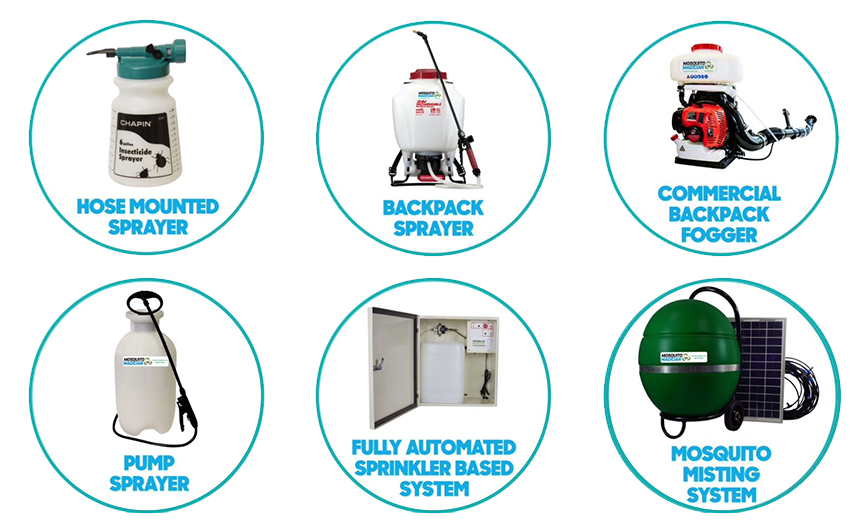 Fleas, Ticks, Mosquitos, Chiggers, Lawn Grubs, No-See-Ums, Silverfish Crickets, Spiders, Fire Ants, Moths, Flies, Chinch Bugs, Gnats, Fruit Flies, Palmetto Bugs
Fleas, Ticks, Mosquitos, Chiggers, Lawn Grubs, No-See-Ums, Silverfish Crickets, Spiders, Fire Ants, Moths, Flies, Chinch Bugs, Gnats, Fruit Flies, Palmetto Bugs
5 Stars, 4 Stars , 3 Stars , 2 Stars , 1 Star
Works Great!!!
This stuff works great. We've been using Sprinkler Magician products for just under a year now and it's really eliminated mosquitoes in our backyard. My 4 year old and I use to get eaten alive in our backyard and if we had a party we really couldn't be outside during sunset or in the evening. My husband installed this system after spraying our property with a hand sprayer a few times and seeing it work. The concentrate they have works very well and is organic which is great considering we have small children running around and playing. The system is automatic or i can run it by pressing a button before having friends over or letting the kids out back. (It only runs for a few minutes) It's nice that I don't have to wait for my husband to get home to spray. Overall we really love the product and highly recommend it to friends and family!
Sprinkler Magician Concentrate
I started out with the concentrate in a battery operated hand spray. I was recently working on a garden project and as soon as the mosquitoes started biting I gave the area two quick sprays (with a couple of hours in between) and didn't see another mosquito for the next 3 days, until the project was completed. One week later my mother commented there were still no mosquitoes in that area. Great product, very effective and not that it bothered me but the essential oil odor disappeared within 10 minutes - love it !!!
The concentrate works very well
The concentrate works very good in a large hand sprayer.
My biggest disappointment is, I have an automatic Sprinkler Mosquito Magician system installed on my full yard sprinkler system that has never worked properly. There is no one in my area that is familiar with the system. The initial installer indicated that this was the one and only installation they have attempted and have informed me they cannot get it running properly.
This was a very expensive $3,000.00 mistake.
I have resorted to manually using the concentrate.
July 9, 2018
Purchased
over 2 years ago
We found other products you might like!