Antelco A19015 360 Degree C-Frame Downspray
The C-Frame Downspray is a 360-degree spray jet that distributes water evenly across the wetted surface area. Stake assembly options provide savings in labor and installation time.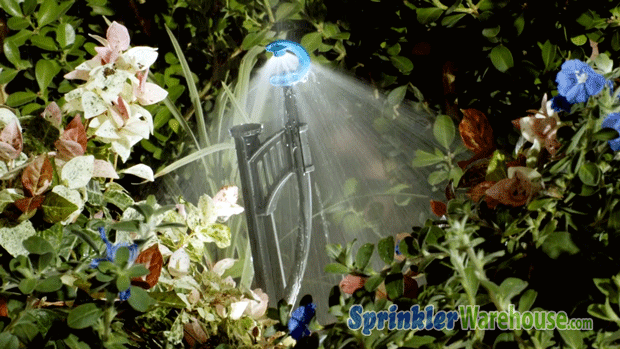 45 degree downspray reduces the effect of wind
Gentle spray minimizes damage to delicate plant foliage
"Quick" thread for easy insertion into tubing
Shut-Off Clip to stop flow
UV stabilized for long life
For nurseries, tree lots, potted plants, home and landscaped gardens
5 Stars, 4 Stars , 3 Stars , 2 Stars , 1 Star
They work perfectly; just what we needed. The coverage prevents waste of water.
June 28, 2018
Purchased
over 2 years ago
Great Spray Drip
I was struggling with drips on my roses and mangoes. Drips usually localize the water and I had dry spots. Plus no way to get fertilizer in other than pouring liquid. Found this downspray and it was a major upgrade for me. Now I get nice 24" round downspray on my roses (1 at each rose), and on my mango trees (3 to 4 at each location). I simply now fertilize on surface.

1. it helps water to dissolve ferts and fertilizing
2. waters evenly, no dry spots
3. helps mulch breakdown overtime

Highly recommended
Browse 6 questions
Browse 6 questions and 9 answers
Why did you choose this?
SprinklerWarehouse.com

Store
second time ordering this item as it works extremely well; didn't purchase enough the first time around.
second time ordering this item as it works extremely well; didn't purchase enough the first time around.
I want to use a 1/2 inch main line and then tap off with 1/4 lines to my rose bushes. Can I insert this sprayer into my 1/4" side line? Can all the spray head insert in to 1/4" ends. I have never worked with these systems.
Will this fit a 10/24 thread opening in a pvc saddle?
How wide is the aperture. I have many installed with filters in the 100 micron region. I want to increase the size of my filters to allow fungal hyphae through them without clogging the emitters. How high a micron can I go without compromising the flow through the sprayer? I am guessing the aperture is 500-1000 microns.
BEST ANSWER:
I just saw the 0.039 inches as the width of the aperture for the blue sprayer (which seems like a ridiculous measurement to use) which converts to 990ish microns. Problem solved
We found other products you might like!