EZ-FLO CAP-HPF Fine Thread High-Pressure Cap
EZ-FLO Main Line Systems attach directly to your in-ground sprinkler and/or drip irrigation system. Every time you use your irrigation system, EZ-FLO releases small, precision doses of water soluble or liquid non-hazardous fertilizers into the water stream. One system will feed through both sprinkler and drip irrigation zones without the need to make any adjustments or nozzle changes to compensate for water flow or water pressure.
Main Line Systems have been designed to connect directly to your irrigation system after an approved backflow prevention device. They are designed to withstand constant static water pressure present in your irrigation system. These units are constructed of heavy-walled, UV-Resistant PVC and have no moving parts making them very reliable, dependable and maintenance-free.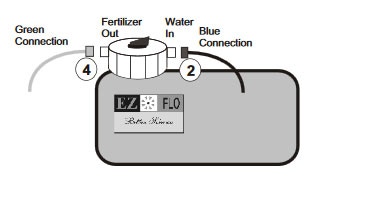 The system can be installed in minutes
Any liquid or water soluble fertilizer or water-borne supplement can be delivered - no pre-mixing required
EZ-FLO Premium Fertilizers, Organic Supplements and Premium Tested Products have been proven to provide landscape solutions
Simply fill the system every 4 to 6 weeks and it spoon feeds your landscape every time you water
Base refill frequency on desired results
One System Feeds All Zones Drip or Sprinkler
For FX main line tanks with fine threads (5 & 10 Gallon units)
Also fits all EZ001s and EZ003s made prior to 2004 with grey threads
5 Year Warranty
Fine Thread High-Pressure Cap