Hunter A2C-WI-FI ACC2 Wi-fi Module
Product Type: Wi-Fi Module
Compatibility: ACC2 Controller
Number of stations: 12 to 54
Features & Benefits
ACC2 Wi-Fi Module
Add cloud-based control and monitoring for ACC2 controllers with the mobile-friendly Centralus irrigation management platform. The mobile-friendly Centralus irrigation management platform — currently available in beta phase — provides highly secure, comprehensive cloud-based control and monitoring features to new or existing ACC2 controllers. The connectivity allows you to view a controller's status, change settings, view forecasts, save water, and receive instant notification of important system alarms — all without costly and time-consuming travel and site visits.
The addition of internet access brings your ACC2 controller seamlessly into the world of next-generation irrigation control. By adding an A2C-WIFI module to an ACC2 controller and a free Centralus beta account, you can receive SMS text alerts in the event of critical alarms, view complete alarm logs and flow histories in a web browser, use a smart mobile device as a full-featured remote control, and adjust, stop or cancel programmed irrigation as required.
Easy, tool-free installation and configuration connects ACC2 controllers with minimal effort and no guesswork, and include free access to the Centralus web central control platform. Log in to the platform through your Hunter account at hunterindustries.com. If you do not have one, you can create one for free. Direct feedback capabilities are built in to the platform, so you can join the conversation and help refine Centralus' features and capabilities.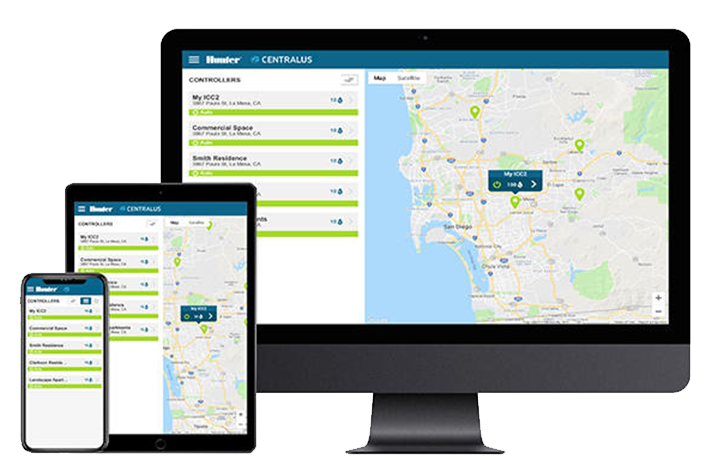 Product Details
ACC2 Wi-Fi Module
Browser-based programming and communication software
Highly secure cloud access
Map-based navigation and status
Instant remote control from mobile device
Flow monitoring and reporting
Alarm reporting and detailed irrigation history reports
Responsive web design configures for your device, allowing the same controls from your smartphone, tablet, or desktop
Wi-Fi connectivity
Built-in Solar Sync logic/Solar Sync Delay features for smart water savings
Professional crew member administration with multiple levels of access
Organize maintenance teams and their controllers into management groups
Features & Benefits
ACC2 Controller
Internal Wi-Fi module. Powerful. Intelligent. Flexible. Hunter's new ACC2 controller delivers advanced water management to meet the demands of large-scale commercial projects.
At its core, the ACC2 has a powerful transformer, allowing it to safely run up to 14 valves simultaneously, bringing maximum efficiency to large watering schedules. The ACC2 can be configured for any commercial project, from 12 to 54 stations, with up to 6 flow meter inputs, and up to 6 pump/master valve outputs. Its easy-to-read color backlit display and unique reversible facepack make program setup and diagnostics fast and efficient.
The ACC2 has built-in intelligence, with the ability to maintain preset flows on up to 6 flow zones simultaneously. It continually monitors the system for breaks, leaks and electrical faults, interrupting irrigation and pinpointing the source should problems arise. It can even respond to sensor input with specific actions like switching water supplies when water levels drop, or initiating a program when soil moisture is low, and other creative special applications.
The ACC2 offers extreme flexibility with 32 independent programs, 10 start times, and a variety of overlapping, stacking, and flow management configurations. Innovative Conditional Response features use sensor input and other conditions to automatically take pre-programmed actions. Optional external alarm output alerts maintenance personnel to alarm conditions, and the available Wi-Fi module works with nearly any mobile device.
With the ACC2, you've got the most advanced commercial controller available, with maximum capability for your largest projects.
Product Details
ACC2 Controller
Number of stations: 12 to 54
Type: Modular
Enclosure: Outdoor, metal, stainless steel, and plastic pedestal
Independent programs: 32
Start times per program: 10
Max. station run time: 12 hrs
Built in Solar Sync
Pre-wired with SmartPort
Built-in SD card reader
Color backlit display, reversible facepack
8 station block programming groups
Warranty period: 5 years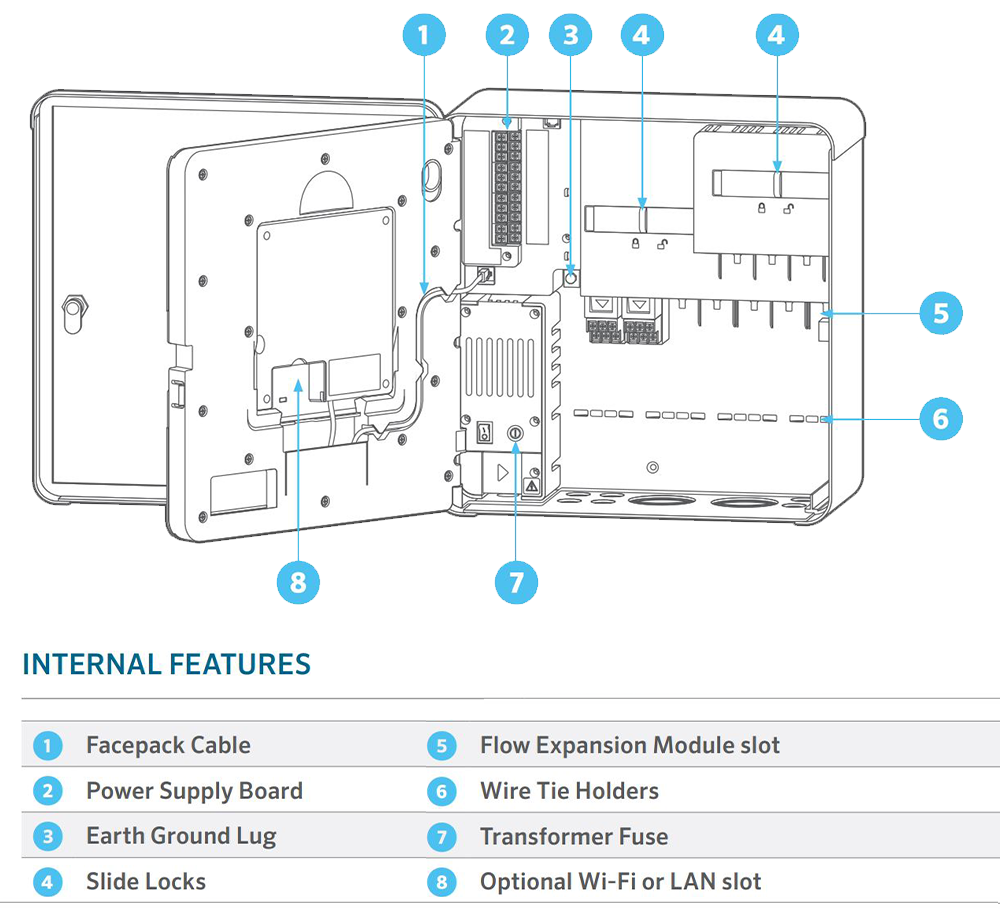 *This accessory fits into the Wi-Fi or LAN slot (number 8)
Electrical Specifications
Transformer input: 120/230 VAC
Power consumption:

120 VAC, standby: 0.17 A, typical (6 solenoids): 0.33 A, max: 1.02 A
230 VAC, standby: 0.15 A, typical (6 solenoids): 0.26 A, max: 0.62 A

Transformer output: 4 A
Station output: Up to 0.800 A
P/MV outputs: 3, expandable to 6, 0.800 A each
Sensor inputs: 3 Clik, 3 Flow (expandable to 6), 1 Solar Sync
Approvals
CE, UL, cUL, RCM, FCC
Steel: IP44
Plastic pedestal: IP24
Related Articles
The instructions for setup were easy to follow. The item works as described. A really useful addition to the ACC2 controller. I wonder why it's an addition in the first place
October 26, 2019
Purchased
12 months ago
We found other products you might like!