Hunter IC-600PL Front Panel
Repair Part ONLY
Compatibility: I-CORE Controller (IC-600-PL)
Features & Benefits
Want it all? Gorgeous turf, advanced programming capability, and an intuitive interface? Meet the I-Core. Designed for demanding commercial and high-end residential applications, the full-featured I-Core controller is easy to use, easy to install, and easy to program, with a variety of new features that will redefine irrigation intelligence.
Modular means more options. And more options mean an easy install. The I-Core plastic is expandable from 6 to 30 stations and the metal is expandable to 42, for a broad range of choices to meet all of your customers' needs.
I-Core's real-time flow monitoring capability provides overflow protection and flow totaling to minimize the potential for water waste.
IC-600-PL - 6-Station base domestic model with outdoor plastic cabinet, can be configured by adding modules up to 30 stations
IC-600-M - 6-Station base model with metal cabinet, can be configured by adding modules up to 42 stations
IC-600-PP - 6-Station base model with plastic pedestal, can be configured by adding modules up to 42 stations
Modular controller expandable from 6 stations to 30 stations (plastic cabinet) and 42 stations (metal cabinet) with 6-station ICM modules
Unique module design allows servicing of module without removing field wires from the controller
Large, easy to read, backlit graphics display
Removable front panel for remote programming
Seasonal Adjustment by Program (globally, monthly, or daily by Solar Sync)
Seasonal Adjustment: 0% to 300%
4 independent programs (A, B, C, & D)
Multi-language capability, programmable in six different languages
Diagnostic Dashboard continually monitors and displays system operation for flow, station and sensor status
Automatic short circuit detection, skips shorted stations and continues watering, no fuses to replace
Station run times: 12 hours
Eight start times for Programs A,B, and C; 16 start times for Program D
Program stack and overlap capability, any two programs can run concurrently
Real time flow monitoring capability built in
Flow learning by station and station level diagnostics, alarms and shutdowns
Flow totalizer provides cumulative flow history
Hunter Quick Check helps troubleshoot field wiring issues
No Water Window capability
Total run time calculator
Test program feature
One button manual start and advance
Easy Retrieve Memory backup feature can save and restore preferred program
Factory installed SmartPort connector for use with Hunter ROAM and ICR Remotes
All models NEMA rated for weather resistance
Programmable station delay up to 9 hours
Programmable rain delay up to 180 days
Cycle and Soak capability by station
Multiple sensor inputs
Rain sensor override
UL, C-UL, CE, C-tick
Product Details
Transformer input: 120/240 VAC, 50/60 Hz
Transformer output: 24 VAC, 1.5 A Station output: 24 VAC, 0.56 A (2 valves)
Maximum total output: 24 VAC, 1.4 A (5 valves)
Master valve output: 24 VAC, 0.28 A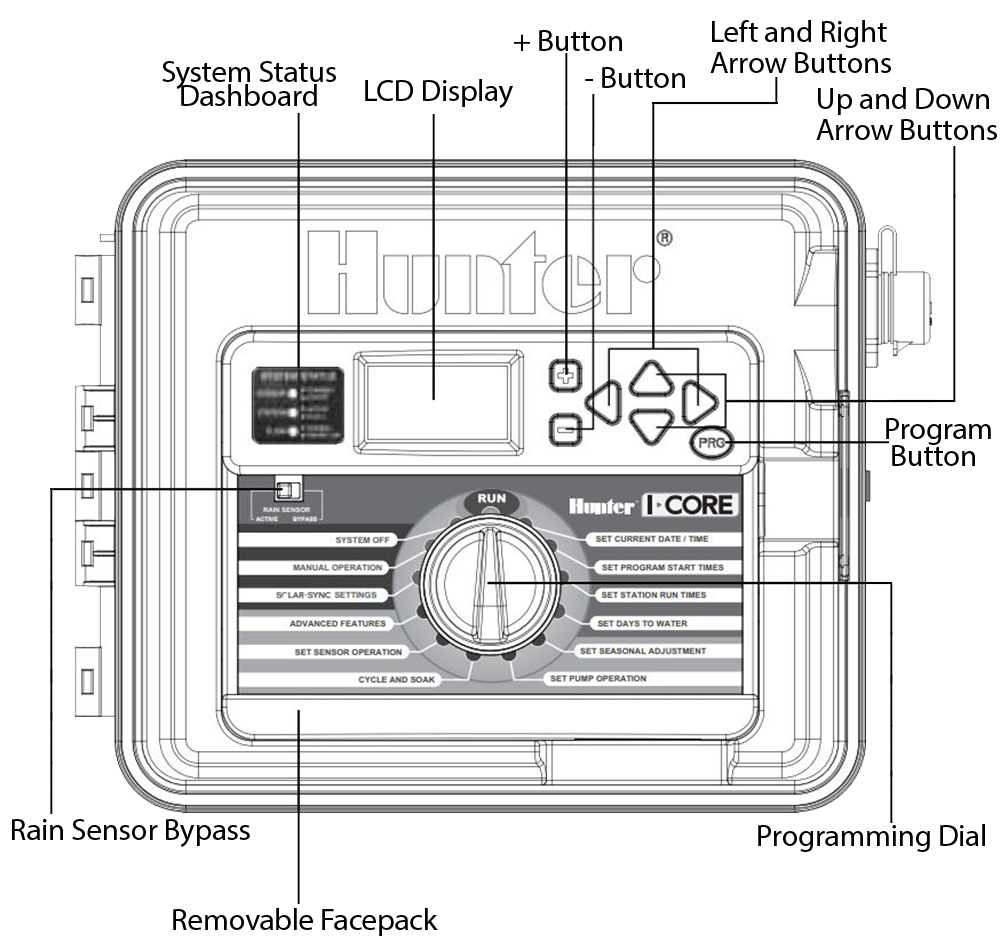 We found other products you might like!