Hydro-Rain 1/2" Blu-Lock Swing Pipe Coil (.43 ID x .59 OD) (80 PSI) (100')
1/2 in. Swing Pipe Coil (100 ft.)
Max Working Pressure: 100 PSI
Exclusive Trench and Trenchless Technology Provide Unrivaled Flexibility
Features & Benefits
Working in a sprinkler trench is tough enough-don't make it harder by using traditional pipe fitting methods that require hot, toxic glue, clamps or frustrating barbed fittings. Hydro-Rain offers a better way: Blu-Lock. Everything you do from the valve out, you can now do faster and easier with Blu-Lock. Primer? Glue? Clamps? Tools? With the Blue-Lock system, you don't need them! Simply stated, Blu-Lock by Hydro-Rain is the fastest, greenest, irrigation installation method in the world. Blu-Lock is for non-constant pressure, valve-out, cold water, outdoor direct burial irrigation connections only.
Every fitting installed from the valve out, you can now install faster and easier with Blu-Lock fittings. Simply stated, Blu-Lock by Hydro-Rain is the fastest, greenest, irrigation installation method in the world.
50% Faster Installation
No glue, no tools, no primer, no claps
Patented quick release mechanism
Environmentally Friendly & chemical free
Heavy-duty construction
Product Details
Built for Speed Advantages Patent Pending "Push-and-Go" Design - 100% tool and chemical free approach that cuts installation time in half or more.
Blu-Lock Pipe is Green Environmentally - friendly, recyclable HDPE pipe provides a superior alternative to PVC.
Blu-Lock Fittings are Green - Outside diameter (OD) technology ensure lower friction loss for better efficiency.
Both are Chemical Free - Glueless, tool-free installation protects the environment and the long-term health of your crew.
Heavy-Duty Construction - Built tough fittings made from UV-resistant ABS, stainless steel and EPDM seals are designed and tested to ensure toughness.
Patented Retaining System - Stainless steel teeth grip pipe tight for a strong, leak-proof connection.
Outside Diameter (OD) Technology - Flow is unimpeded for 25 percent increase in flow versus traditional insert fittings.
High Quality and "Easy-Flex" - Blu-Lock lateral and swing pipe are made from virgin resins and meet ASTM standards.
Patented Quick-Release Collar - 1/2" in. swing fittings feature quick-release mechanism that allows tool-free removal.
Hydro-Rain Warranty - 3 - year limited warranty on fittings.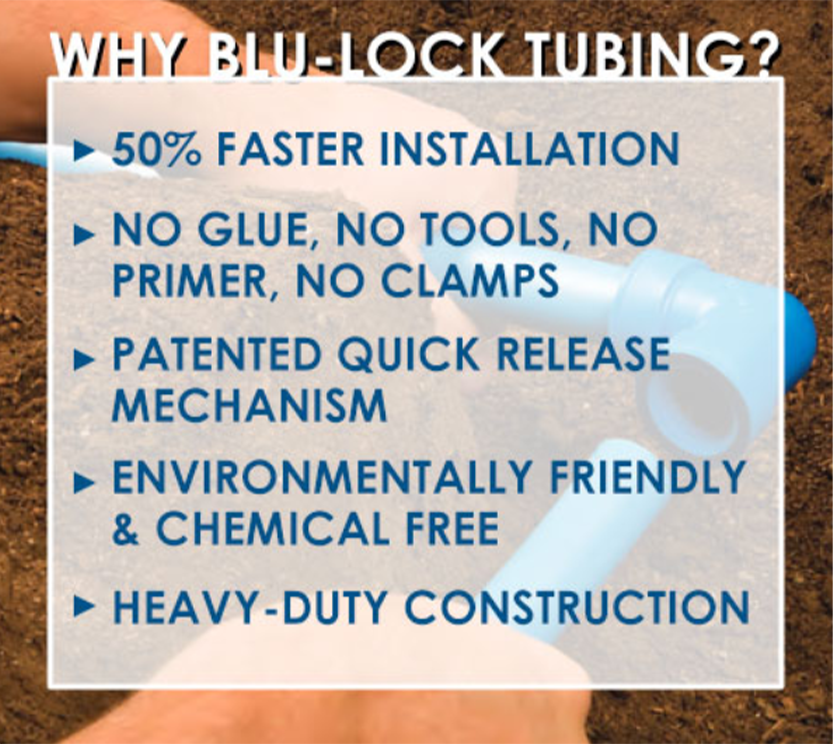 Related Articles & Videos
Articles
Videos
5 Stars, 4 Stars , 3 Stars , 2 Stars , 1 Star
Wounderful product
Great product installed in about half the time of normally and you know it seals no double checking that your clamp is good.
Will definitely be buying again for our next install!
July 29, 2018
Purchased
over 2 years ago
Easy to use. I've found that I didn't really need the swivel 90's. With the flexible tubing I could easily set the heads with the straight 90's.
June 30, 2018
Purchased
over 2 years ago
Browse 3 questions
Browse 3 questions and 7 answers
How can I get the 1/2 hydro-rain piping since it cannot be ordered on line?
when will it be available and will the orbit green hose work with these fittings?
We found other products you might like!