Munro 1 Phase 230V Self-Priming 2HP Centrifugal Pump
This very unique pump offers multi-stage performance with single-stage simplicity. The Munro LP 1502 self-priming centrifugal pump provides higher operating pressure like a multi-stage pump without the additional maintenance concerns multiple impellers present. Built for maximum durability and longevity.
Brass impeller – tough and long lasting, one brass impeller means you'll see less maintenance than with other pumps that offer similar performance
Stainless steel wear ring – eliminates impeller friction due to rust build-up
Cast iron body and internal components – lasts longer and provides application flexibility
Common Applications
Residential clean water turf irrigation: Small to mid-size community or commercial turf irrigation
High-pressure booster
Water transfer
Advantages
Multi-stage performance with single-stage simplicity – This self-priming pump is truly unique and in a class by itself, delivering almost 60 gpm at 60 psi. The high-pressure capabilities of this pump can be compared to other brand's multi-stage or 5hp pumps.
Durable and long lasting – Before the LP 1502, only a multi-stage pump could achieve this performance to horsepower ratio. However, additional impellers require a longer shaft, which puts more load on the motor bearing and creates maintenance issues, including misalignment and wear. Keeping the shaft short makes the pump more stable and durable. Add to this our cast iron construction and brass impeller and it's clear that this is a pump made to stand the test of time, even in more unusual or difficult environments.
Easy to install and maintain – Two priming ports make the Munro LP 1502 easy to install and two drain plugs make winterization a snap. A stainless steel wear ring reduces oxidation and friction, minimizing wear and repairs. If you should have to service the pump, stainless steel bolts and dry-socket design provide easy access.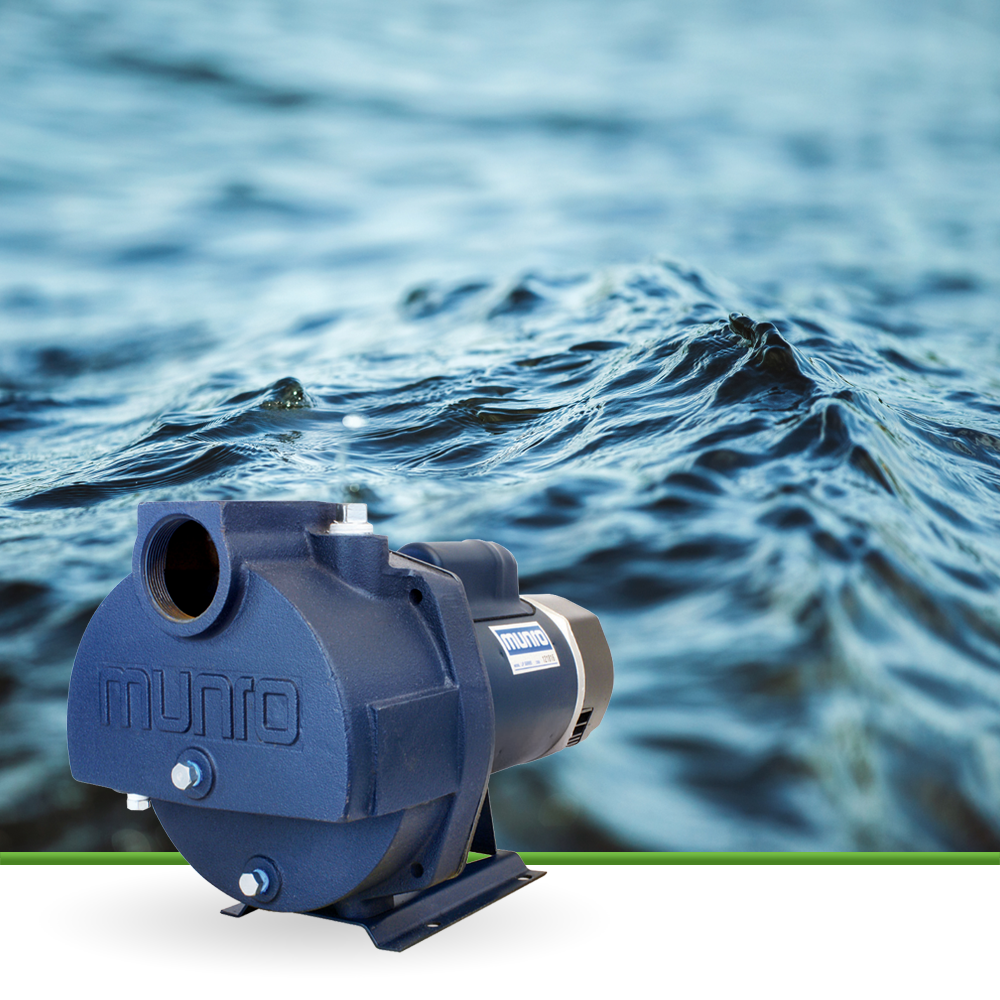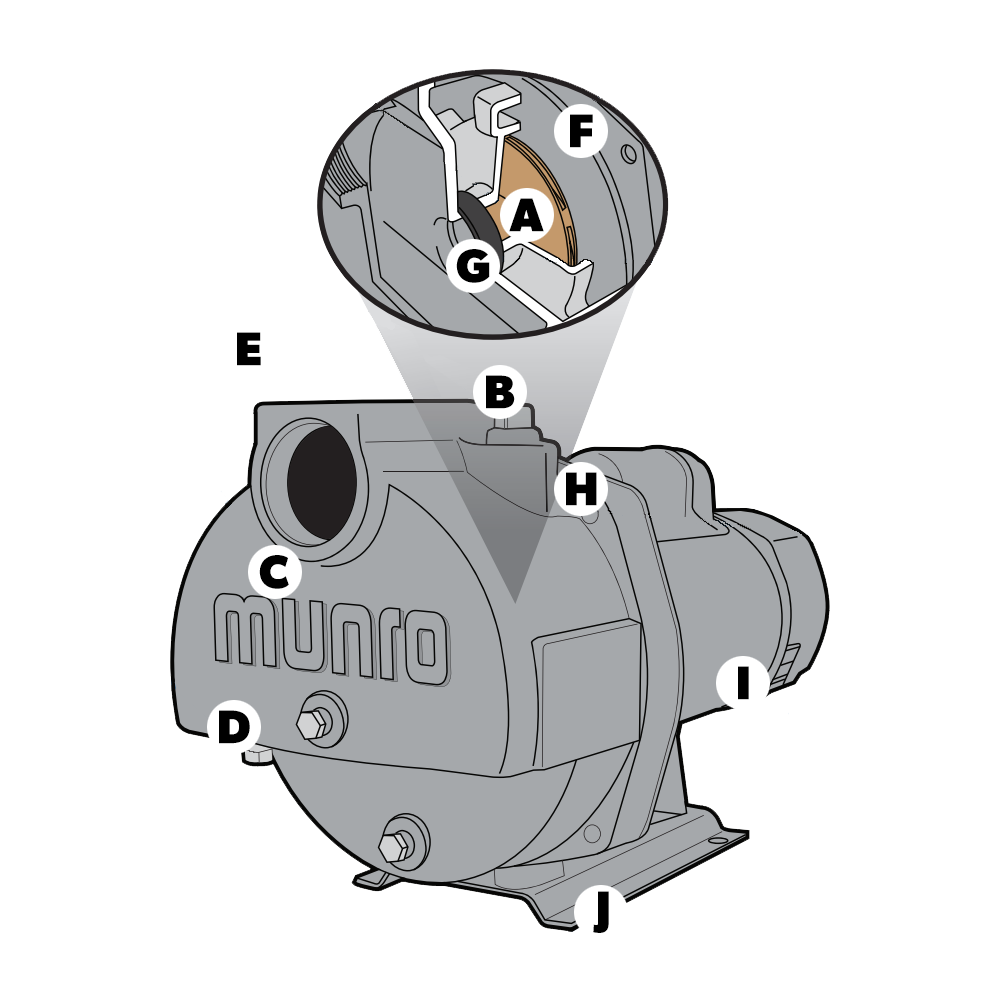 Munro LP Centrifugal Pump
A) BRASS IMPELLER – Longest life in its class. Offers greatest durability and reduces costly maintenance vs. traditional plastic impellers.
B) BUILT-IN PRIMING & DRAIN PORTS – Added start-up and maintenance convenience, with stainless steel plugs and no extra parts to buy.
C) CAST IRON CONSTRUCTION – Designed for long term performance, season after season. No plastic case to warp or crack.
D) SENSOR PORT – Allows temperature monitoring to avoid costly maintenance issues.
E) SILICON CARBIDE/CARBON SEAL – Proven tough, this seal is an industrial standard for challenging applications, including higher temperatures and more abrasive conditions.
F) CAST IRON DIFFUSER – Assures durability for the life of the pump.
G) STAINLESS STEEL WEAR RING – Reduces springtime oxidation and impeller friction.
H) STAINLESS STEEL BOLTS – No more "busting knuckles" to remove bolts during maintenance.
I) THERMALLY PROTECTED MOTOR – Shut down protection protects motor from damage due to over amping.
J) STEEL BASE PLATE – Easiest, most stable mounting. Provides four handy bolt holes.
Product Details
Two 3/4" prime or accessory ports
Cast iron diffuser
2" Threaded suction port
1-1/2" Threaded discharge port
Brass impeller
Heavy-duty cast iron construction
Drain cocks on upper and lower case chambers
Steel base plate
Heavy-duty cap start pump motor
5HP only: lifting ring
Stainless steel bolts with a dry socket design
Threaded discharge
Location of Pump
Pump can be located at the water source or can be offset some distance away. For best performance, it should be located as close to the water source as is practical.
Location can be in the basement, a pit below ground, or in a pump house above ground.
To prevent motor damage, due to moisture, ventilation and drainage must be provided.
The pump and all piping must be protected from freezing.
Pump and pipe line must be drained when not in use or if there is any danger of freezing.
1 year or 1000 hours of operation
5 Stars, 4 Stars , 3 Stars , 2 Stars , 1 Star
Worked like a dream, easy to install
I purchased this LP 1502B based on the specs provided in the Munro data from their website. Once we completed the installation, we found the pump performed as it should, at 56 ft lift, it made 30gpm at 65 psi. Wonderful! And very quiet too!
July 2, 2017
Purchased
over 3 years ago
Browse 2 questions
Browse 2 questions and 1 answer