Hunter Long-Range Remote Control And SmartPort Kit
Programmable Adresses: 128
Line-Of-Site Range: 2 Miles
Run Times: 1 min - 90 min
Features & Benefits
Large-scale sites such as shopping centers, industrial complexes, college campuses, and multi-unit housing complexes require high-powered remotes that can cover long distances. The Roam XL is as powerful as they come and features a simple user interface with 128 different programmable addresses. Within line of sight, it can function up to two miles from the controller. The compact, high-powered remote is a single unit that can be carried from job to job and used to remotely access any Hunter controller that has a SmartPort connector. It eliminates the need to physically visit the controller to start or stop a cycle during maintenance, installation or winterization.
Rugged Aluminum Shell
The Roam XL has a heavy duty aluminum and rubber shell, which ensures reliable operation day in and day out.
Water Resistant Remote
The water-resistent Roam XL is built to work even when exposed to sprinkler spray.
Compatible with Legacy ICR Transmitter and Receiver
The Roam XL transmitter and receiver both work with ICR transmitters or receivers. So, if you upgrade your ICR remote to Roam XL, you can still use your old ICR receiver. Or if you bring an ICR to a site that has a RoamXL receiver, they will work together.
Works with Hunter X-Core, Pro-C, PCC, Pro-C Hydrwaise, ICC2, HCC, I-Core, ACC, and ACC2 controllers through a SmartPort connection
Up to 2 miles (line of sight) range for remote manual operation of Hunter irrigation systems
Operate up to 240 stations
128 different programmable addresses
Display shows remaining battery life
Programmable run times: 1 to 90 minutes
Large LCD display, push-button operation
Manually run watering cycles without modifying regular program
Rugged plastic carrying case included
Warranty: 3 years
Product Details
Transmitter power source: 4 AAA batteries included
Receiver power source: 24 VAC, from controller through a SmartPort connector
System operating frequency: 27 MHz band
SmartPort connector can be mounted up to 50' (max.) from controller (use ROAM-SCWH shielded cable wiring harness)
FCC approved: No FCC license required
* Not available in all countries.
Height: 6¼"
Width: 3"
Depth: 1¼"
Related Articles & Videos
Articles
Videos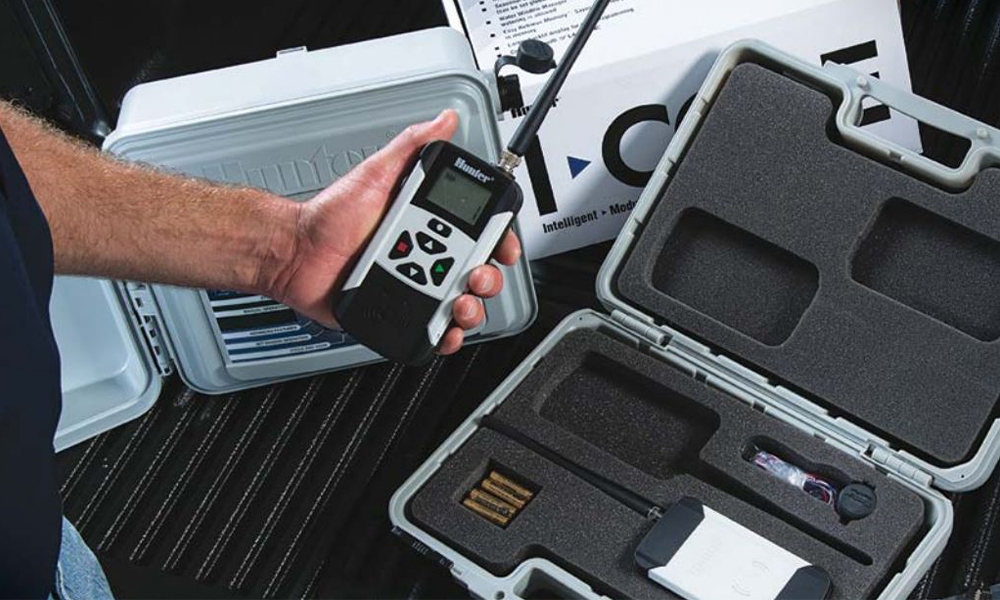 Troubleshooting Guide

| Problem | Causes | Solutions |
| --- | --- | --- |
| Transmitter display is blank. | Transmitter is Off. Battery is dead. | Press the MODE button for 5 seconds. Replace battery. |
| Can't access all the desired stations on the transmitter. | Maximum station number is set wrong. | See "Changing the Maximum Station." |
| Receiver doesn't beep 4 times after plugging it into the SmartPort®. | SmartPort is not connected properly. Controller has no power. | Recheck SmartPort® wiring. Check controller power. |
| Receiver won't respond to Transmitter. | Receiver and Transmitter addresses don't match. | Relearn address at Receiver. |
| Transmitter display stays on. | Transmitter will turn off automatically. | Wait approximately 5 minutes without pressing any buttons. Transmitter will "fall asleep." |
| "ERR" message in controller display when controller is in the run position. | SmartPort® wiring leads have been extended and are receiving electrical or radio interference. | Replace lengthened wire with shielded cable to reduce radio interference. Use Hunter SRRSCWH. See "Extending Wiring on SmartPort® Harness." |
| Receiver does not receive signal from remote held at close range. | Mismatch of addresses in transmitter and receiver. | Reset address of receiver. |
| Remote has short range. | Check for interference causes. | See "Maximizing Operating Range." |
System Operating Frequency:
X-Core, Pro-C, PCC, I-Core and ACC controllers through a SmartPort connection
We found other products you might like!